Home Heating Heroes
Some of the links below are affiliate links, meaning, at no additional cost to you, we earn a commission if you click through and purchase. Learn more
Your Guide to Home Heating and Cooling Systems
9 Best 120V Electric Garage Heaters of 2022
It is now much easier to heat our favorite hobby space and home utility room — the garage — than ever before. Gas is not required, nor is it necessary to have costly 240v wiring installed in your garage to heat it. You'll only need to read this review of the best 120v electric garage heater to discover how you can heat your favorite workspace with the existing wiring in your garage.
If you're looking for a way to stay warm while working on your home projects, here are nine of the best 120v electric garage heaters on the market and some considerations for buying the right one for your needs.
Trustech has created a portable space heater using infrared heating technology that heats people and objects rather than the air surrounding them. Infrared heat doesn't waste energy heating up air that will quickly cool. It also uses less energy to create invisible warming waves than convection or blower-type heaters. If you're looking for the most cost-effective way to heat yourself in your garage, the MagicHeater infrared heater can ensure you're working in comfort.
9 Best 120V Electric Garage Heaters Reviews
1. MagicHeater Infrared Portable Heater: Best Overall
Key Features:
5 modes and fan levels
3-second heating feature
2 carrying handles for easy grip
Tip-over safety feature
Cool to the touch
The MagicHeater uses an
infrared emitting carbon-fiber heating element
to generate heat. The heating element can heat objects directly in front of it via infrared, and the fan circulates heat into the space.
The fan has 5 modes
that let you distribute the heat at the speed you want while emitting infrared heat to warm you directly.
The 5 heating modes let you choose your garage's comfort level, and the included remote gives you the option to adjust the settings without interrupting your work. When you turn the heater on, it only needs 3 seconds to warm up to operating temperature and begin raising your garage's temperature.
Safety is always a concern in the garage. MagicHeater has included a tip-over sensor that turns the unit off if it is bumped a little too hard or placed on an unstable surface.
With a horizontal footprint of about 1 ft2, the heater should fit on most flat spaces in your garage. It is a bit hefty and weighs in at almost 16 pounds. However, it is easily moved with the 2 carrying handles, and you can place the heater just about anywhere in your garage because of its size.
Can heat up to 1,000 ft2

Ultra-quiet operation

Carbon-fiber heater element

Remote control for convenience
Price is high

Needs to be placed off the garage floor
Who Should Get This?
The 1500W MagicHeater is an excellent choice for someone who wants to heat a large insulated garage, heat their smaller uninsulated one, or place the heater beside them.
2. Homeleader ETL Portable Radiant Heater: Best for the Money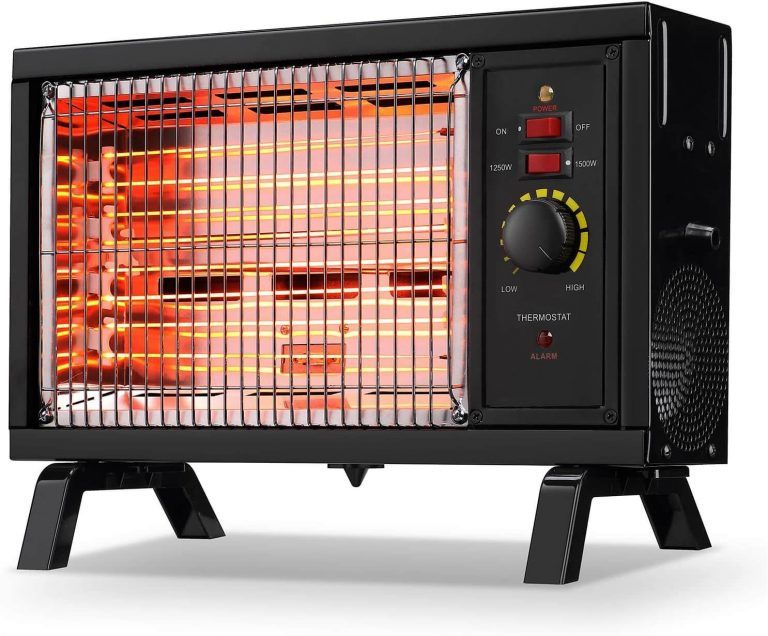 Key Features:
Lightweight with carrying handle

Fan pushes heat into garage

2 heat settings, 1,250W and 1,500W

Cool-touch plastic housing

Overheat protection
Radiant heaters have been around for a long time. Homeleader has improved upon the traditional build by giving this unit a thermostat, tip-over sensor, and a fan. The metal backplate on the radiant heater reflects heat out into the garage while the fan boosts the heater's range.
One of the features we like the most about this heater is the vintage look. Growing up, our parents and grandparents had heaters very similar to these in their houses and garages. Working in the garage is a time-honored weekend tradition, and the vintage look of the ETL Portable brings you back to your childhood, a reminder of times that seemed much more simple.
The heater comes in 2 different colors, black or gray. It has 2 power settings to choose from to allow you to heat your room quickly, then reduce the amount of electricity you use with a flip of a switch. When you start the heater, you can use the 1,500W setting to heat it quickly, then switch to the 1,250W setting to maintain the garage heat.
Thermostat regulates the temperature

Low maintenance heater

Small footprint – 16.1" x 7.1"

Has a vintage look
Needs to be placed off the floor
Who Should Get This?
This is an excellent heater for almost everyone. If you're a garage owner looking for an affordable, efficient vintage look, this is the heater for you.
3. NewAir NGH160GA00: Best for Small Garages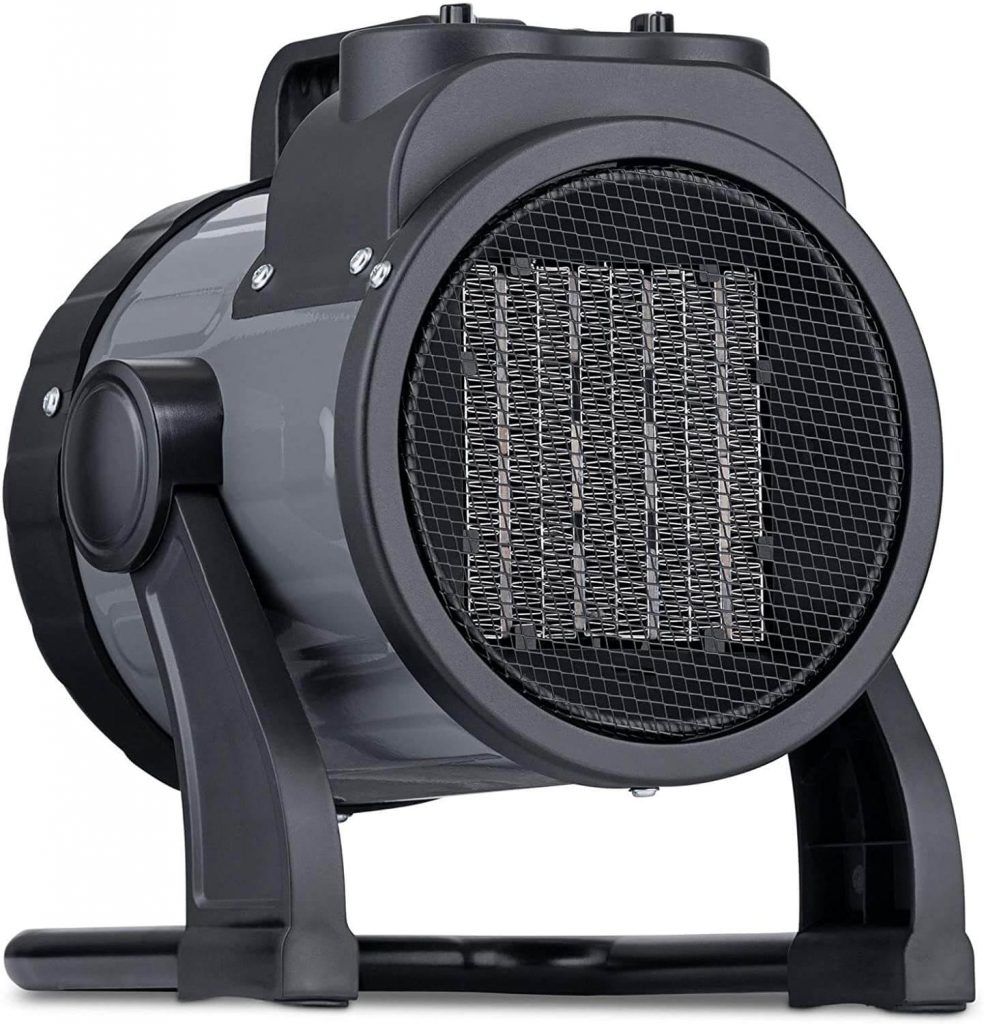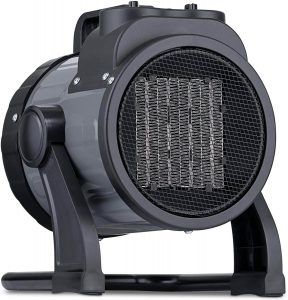 Key Features:
Internal thermostat with automatic shutoff

200 CFM fan forces heat into garage

Ceramic plates maintain constant temperature

Adjustable temperature control

Cool to the touch when operating
The NewAir NGH160 is designed for those with a small space to heat or prefer that their heater be right beside them. The heater uses ceramic plates, which ensure a constant and efficient heat source. The fan blows the air over the plates and forces heated air out of the cylinder at a maximum of 200 cubic feet per minute. The fan has 2 settings, low and high, which project a fantastic amount of heat.
The heater's body can be tilted to direct the flow of heated air however you want, while the small size and stand let you place it where it best provides heat for you and your garage. The carrying handle is well-placed on top of the heater, allowing you to pick up the heater to move it around quickly.
NewAir designed the NGH160 for garage use. It is built to withstand the tough use it will receive in a garage. The housing is screwed together, and the durable aluminum construction protects the internal components from damage.
Adjustable airflow direction

Small size lets it be placed anywhere.

Rugged design for tough use
Only heats a small garage

No tip-over sensor
Who Should Get This?
If you have a small garage you've turned into a workshop, the NGH160 is an excellent choice that will withstand the rigors you'll put it through.
4. Stanley ST-400LED-120: Best Forced Air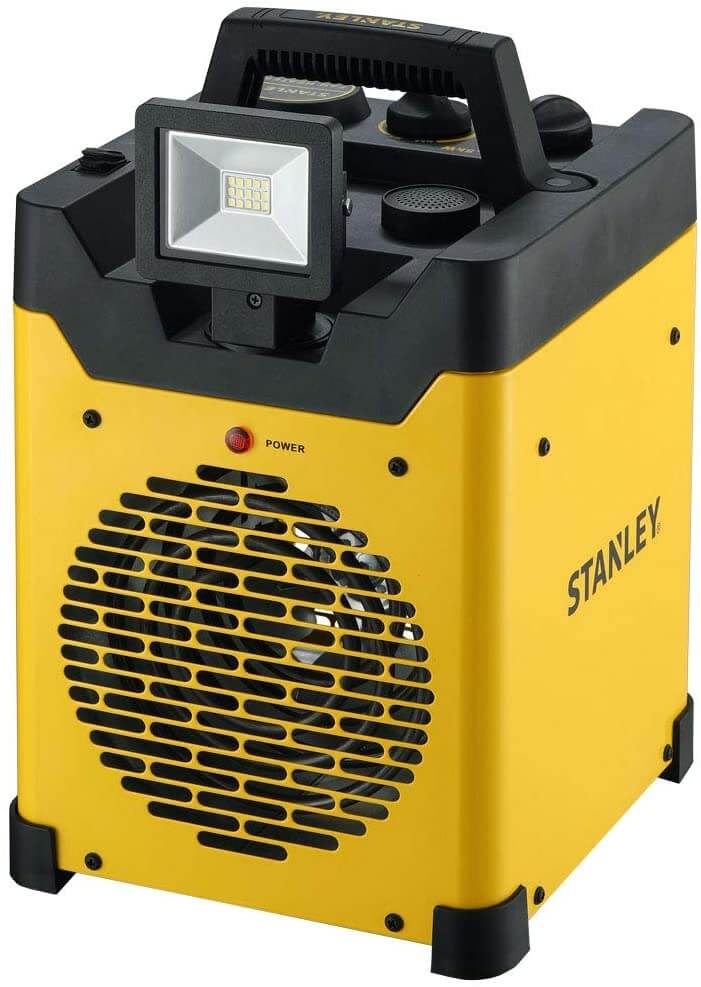 Key Features:
Steel outer shell
On-demand LED light
USB charging port

Adjustable thermostat

5,100 BTU heat output
Stanley is one of the best-known names for tools. It should be no surprise that it has an excellent heater for garages and workspaces. The ST-400LED is a 120v heater designed for use in tougher environments like a garage. One feature not seen on many space heaters is the USB charging port for your mobile devices.
The steel shell of the ST-400LED is what makes this heater stand out. It will take a beating and keep on heating. The heater has a very rugged appearance that reinforces Stanley's name and build quality.
The ST-400LED is a little on the large side, but it is still compact enough to fit onto most of the flat spaces found in a garage or take up a minimal amount of floor space.
The LED is very bright. It is a fantastic addition on Stanley's part and can light up a garage when used in addition to the garage's lighting. The ST-400LED is an excellent heater for small garages.
Small size for placing in small areas

Heats up to 165 ft2

LED is very bright
Lacks any power cord storage or winding points

Can't adjust the vertical airflow direction
Who Should Get This?
If you're looking for a heater for your garage that can also charge your mobile devices, this is an excellent addition for your cold workspace.
5. Heat Storm HS-1000 WiFi: Best Wall Hanging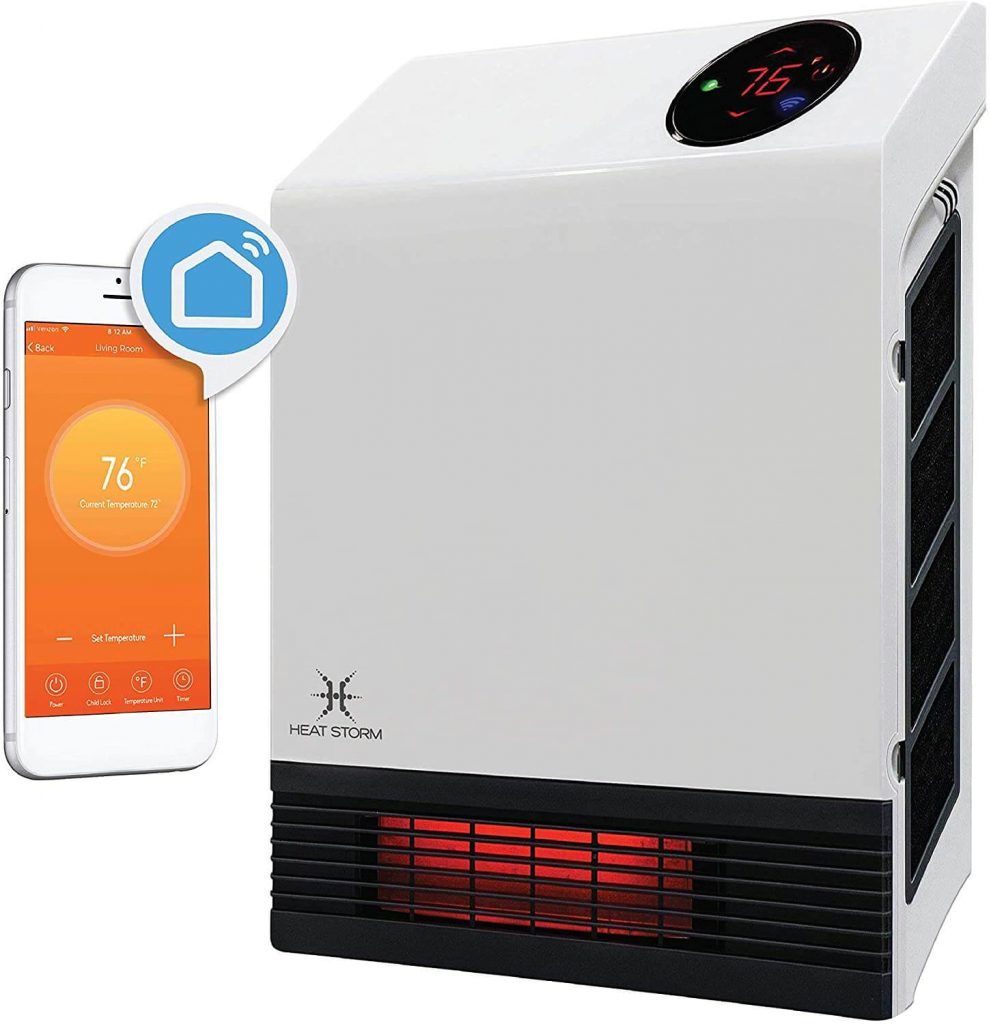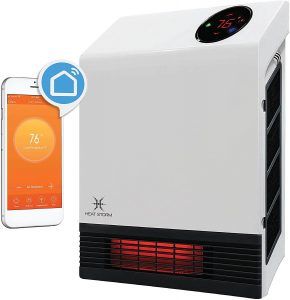 Key Features:
Wall-mount for minimal space impact

Infrared heating technology

Adjustable thermostat for comfort and efficiency

Remote control for convenience

Safe touch grill and housing

Wi-Fi control app
HeatStorm is a relatively new space heater manufacturer that is producing a range of phenomenal products. We believe it is a heater capable of multi-uses. In this case, the HS-1000 WiFi is an excellent choice for a garage because of the Wi-Fi app for your phone and the infrared heating system.
Using the app, you can turn on your heater before going out to your garage and know that it will be warmed up when you go out there. With that said, your garage will heat faster with infrared technology if it has objects in it that will absorb and retain heat. Infrared heat works to heat all of the items in a garage instead of working to heat the air, which creates a heat source out of everything.
Leaving the HS-1000 WiFi heater on throughout the day and night will keep the objects in your garage warm, thus keeping your garage warm and reducing the amount of energy you use.
Compact build uses less than 2 ft2

Heats objects in the room

Begins heating within seconds

Wi-Fi connects heater to a smartphone
Doesn't directly heat the air

Can take longer to heat empty garages
Who Should Get This?
Infrared heats objects to retain heat in an area. If you have a garage with objects that retain heat, this is an excellent, efficient choice.
6. Heat Storm HS-1500-PHX-WIFI Infrared Heater: Best for Techies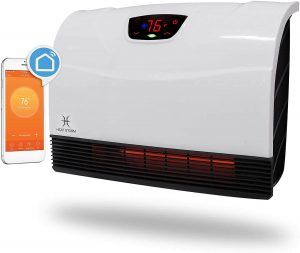 Key Features:
Wall-mount for minimal space impact

Infrared heating technology

Adjustable thermostat for comfort and efficiency

Remote control for convenience

Safe touch grill and housing

Wi-Fi control app
The big sibling of the HS-1000 WiFi, the HS-1500 WiFi, has 500 more watts of power to heat your garage. As this is an infrared heater, it might be better suited for a garage with objects that retain heat. Lots of metal cools very quickly and causes the heater to run more, reducing its efficiency, where concrete and wood retain heat and add warmth to the garage.
Heat Storm has put its full effort into this design. It is shorter in height than the HS-1000, but it is wider. The vent is wider, which allows for more infrared heat to release into the garage.
Mounted on the wall, the HS-1500 can broadcast the infrared waves to more objects in the garage and keep it warmer longer. What this means for you in your garage is that you will be warm if the heater is directed toward you. As you move about the garage, the infrared waves will continue to heat your body so that you stay warm even if the air temperature in the garage is cold.
Wi-Fi connects your phone and heater

Cool to the touch grill and housing

Extra cord can hide in the heater
No Wi-Fi on floor option of heater

Doesn't directly raise the air temperature
Who Should Get This?
Infrared warms objects to retain heat in an area. If you would rather have your heater heat you than the air in your garage, this is an excellent, efficient choice.
7. Comfort Zone CZQTV5M Ceiling Mounted Radiant Quartz Heater: Best Ceiling Mounted Infrared Heater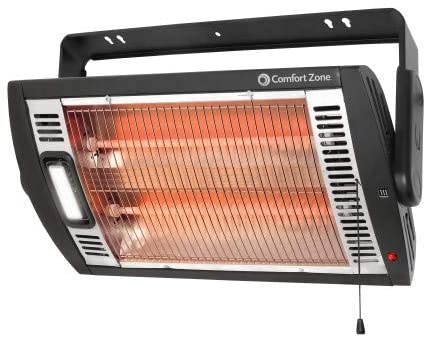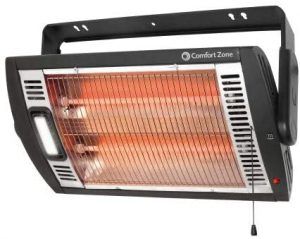 Key Features:
Ceiling mounted design saves space

Radiant quartz bulbs

Overheating sensor automatically shuts off the unit

Adjustable tilt for directional heating
Halogen light bulb for additional lighting
Radiant quartz heating (used in most infrared heaters) uses a quartz tube as the radiating source of infrared waves to heat objects. A heating element inside the quartz tube heats the quartz, which then radiates the infrared light (heat) in the heater's direction.
The ComfortZone infrared heater heats your garage the same way the other infrared heaters in this review do, by heating the objects in the garage and not the air. This creates a very energy-efficient source of warmth.
You'll see heaters like this one mounted on ceilings and corners at outdoor restaurants, professional garages, or warehouses where doors are open and closed frequently. Infrared heating warms you instantly as you step into the rays; mounted properly in your garage, you'll be warm as soon as you step into it.
You'll save precious floor space in your garage with this heater, and the included halogen light bulb will flood your area with light. Additionally, you can mount the heater on a wall if you have space, giving this heater more versatility.
Dual settings for heat

Bracket can tilt 90 degrees

Easy installation and hookup
No remote control or thermostat
Who Should Get This?
The Comfortzone Radiant Quartz heater is an excellent choice for anyone who needs more warmth in their garage without increasing their utility bills.
8. King Electric 120V Portable (PSH1215T): Best for Smaller Spaces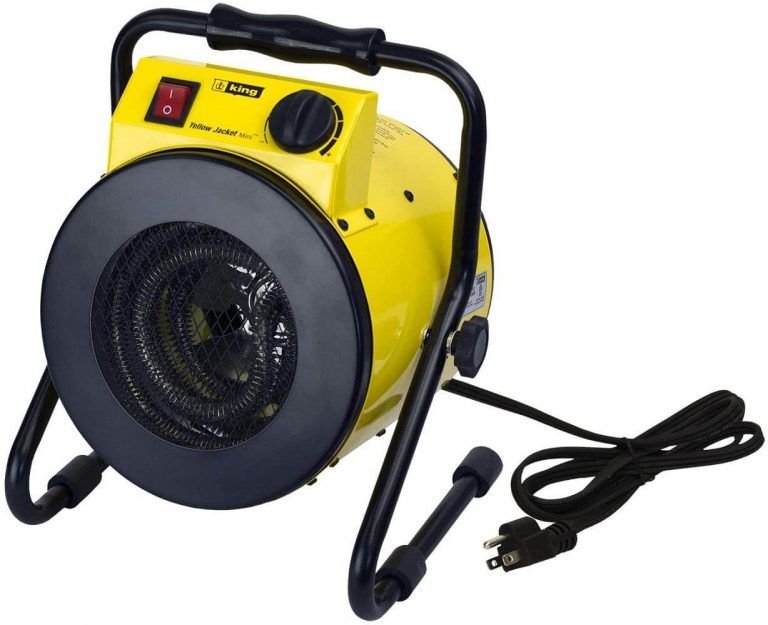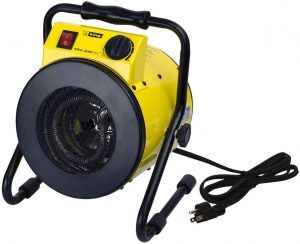 Key Features:
Stainless steel heating element
Rugged and durable build
Built-in thermostat
Motor is permanently lubricated
Compact size for portability and placement
The little King Electric 1500W is an excellent heater for small spaces. It has only 2 legs to stand on that give a minimal space requirement for your small garage. The legs are part of the handle that is designed for easy movement or for tilting the heater to redirect airflow.
Not designed to heat an entire garage, the King 1500w Portable puts out an admirable 5,100 BTUs, which is enough to heat 144 ft2 with an average ceiling height. If your garage is a 12' x 12', you should be able to heat it nicely with the King 1500W.
An exceptional heater for its size, the PSH1215T's only limitation is that it doesn't have any tip-over protection. A heater of this size should have this feature because it is small enough to be knocked around or off a workbench. It might not have been included because the grill is fairly effective at keeping the hot elements out of contact with anything.
Some smaller heaters don't come with a thermostat. The King 1500W does, which makes it easy for you to maintain the temperature you want in your garage while the temperatures outside are changing.
High-temperature limiting switch
Safety grill protects from burns
Adjustable airflow direction
No cool-touch housing
No tip-over protection
Who Should Get This?
Small garage and workspace owners might benefit from this heater the most with the adjustable tilt for airflow and small size for their smaller space.
9. King Electric 120v 1500W Portable (PUH1215T): Best Portable Garage Heater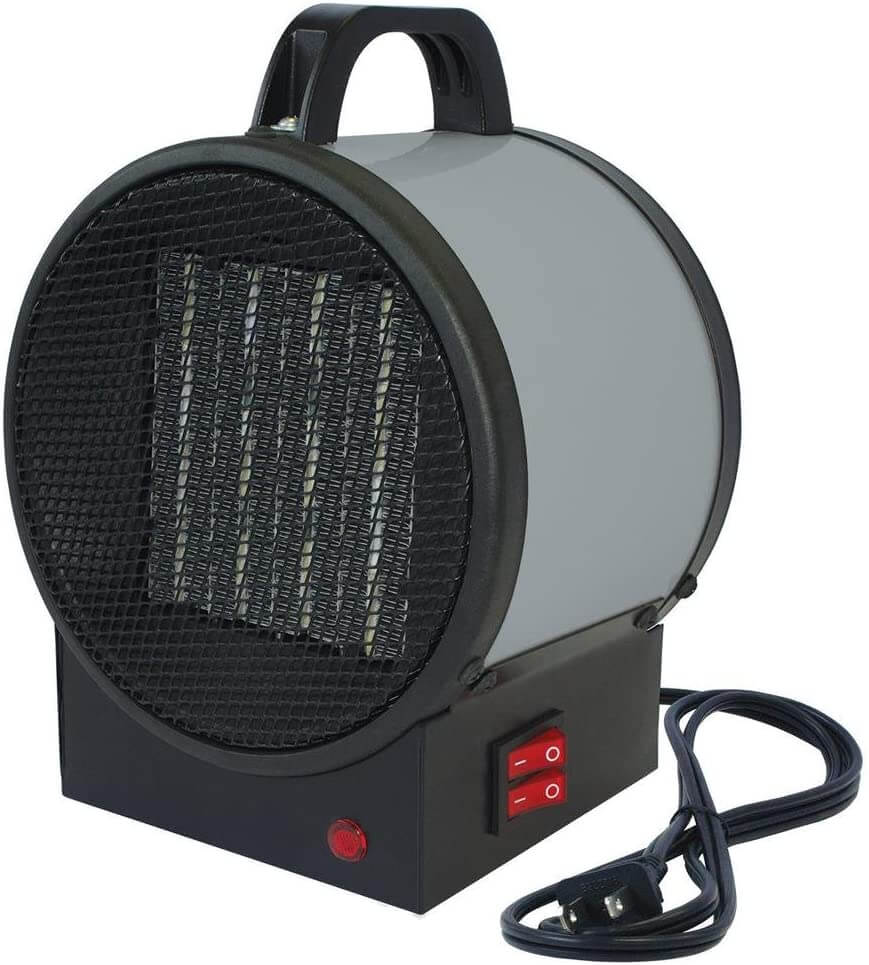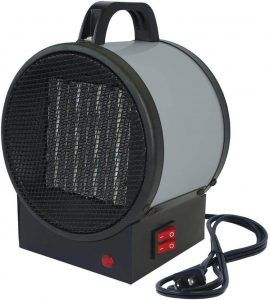 Key Features:
Built-in thermostat
Dual on/off switch for selective heating
Permanently lubricated motor
Minimal space requirement
5,100 BTUs for 144 ft2 heating capacity
The King Electric PUH1215T is the smallest of the heaters from King Electric. It has the same name as the 1500W reviewed previously, but it is a much different heater. It heats the same amount of square footage as the PSH (144) but is much smaller in size.
The PUH uses a built-in thermostat to regulate the heat in your garage regardless of the outside temperature but uses 2 switches to engage the different heating modes. Each switch turns on 750W of heating power, so you can use either 750W or 1500W to heat your garage and reduce the cost of using the heater.
The PUH is built just as rugged and durable as the PSH but instead uses ceramic convection heating to put out heat rather than forced air over an element. The heater has a fan in the rear, which projects the heat out into the garage; it just doesn't move the same air volume as the PSH.
This is not to say the PUH isn't capable — far from it. The PUH is an excellent little heater designed for people who need a small, very effective heater for their garage.
Size lets it fit anywhere
Neutral color fits into any setting
Simple design, no fancy technology that breaks
Who Should Get This?
If you're very limited in space, this little heater can fit wherever you can put it and crank the heat into your small garage.
We chose the MagicHeater Infrared Portable Heater for our top choice because of its versatility in heating different environments and its ability to heat a 1,000 ft2 garage. The infrared heating elements keep the objects and people in the garage nice and toasty. The portability of the heater also makes it an excellent and efficient choice for a garage heater.
If you're looking for the best 120v garage heater for your garage workspace, the ultra-quick heating MagicHeater generates enough heat for all sizes of garages and tasks while providing all the safety features a garage heater should have.
How to Choose the Best Electric Garage Heater 120V?
You're presented with numerous choices when it comes to buying a 120v electric heater for your garage. It's easy to become overwhelmed by your choices, so we've put together some considerations for you when making your purchase.
Heater Placement
The number one factor to consider when choosing an electric heater for your garage is where you will place it. There are only a few choices here. Generally, the best place for a 120v electric garage heater is on an elevated platform. Elevating the heater lets hot air flow out of the heater before it encounters most garages' cold concrete floor.
Hanging the garage heater is preferable to placing it on a bench if you can do so. Hanging keeps it out of the way of your projects, tools, or any other tasks that might tip it off its flat space (if you've maneuvered 2x4s around a small shop and knocked things over, you know what we're talking about).
Cold concrete floors act as heatsinks, absorbing heat from your heater if placed on the floor. If you prefer a forced-air or convection-type heater for your garage, you should try to find somewhere off of the concrete floor to place the heater. The concrete remains cold, but you will be heating the air within your space.
An infrared heater puts out waves of invisible light that continuously heat objects. These heaters use less energy, and concrete absorbs infrared heat. Most of us have felt concrete after the sun has been shining on it on a cold day. The concrete is warm and maintains its heat for a few hours after the sun ceases to shine on it.
Using this concept, you can use infrared heaters to warm the concrete floor in your garage and yourself by placing the heater at an angle that directs the heat toward the floor, such as directly over your working area pointed down.
Garage Insulation
An insulated garage retains heat better than an uninsulated one. If your garage isn't insulated, you'll have to purchase a powerful enough heater to overcome the heat loss or warm the occupants differently.
If your garage is an uninsulated 144 ft2, you might buy a heater that can warm double that amount. Something to keep in mind is that 120v heaters are only rated up to 1,500W due to the wiring in most houses. If you need more than 1,500W/5,100BTUs (heats a little more than 144 FT2), you might need to consider 240v heaters or gas heaters.
Infrared heaters don't need more than 120v because they use much less power to generate heat waves. They work well in a non-insulated environment because they project heat onto you instead of trying to heat air that transfers heat very quickly away from you.
Put the Factors Together
Once you determine the type of heat you want, your garage's heat-retaining ability, and the best position for the heater's placement, you can decide which heater will work best in your garage workspace
Homeheatingheroes.com is a participant in the Amazon Services LLC Affiliate Program, an affiliate program designed to provide a means for sites to earn advertising fees by advertising and linking to amazon.com.