Home Heating Heroes
Some of the links below are affiliate links, meaning, at no additional cost to you, we earn a commission if you click through and purchase. Learn more
Your Guide to Home Heating and Cooling Systems
9 Best 240V Electric Garage Heater of 2022 - Ultimate Buying Guide
Electric garage heaters offer you a safe and affordable method of heating a cold space. Whether you need supplemental heat while carrying out DIY tasks or use your garage to store household appliances such as washing machines and dryers, adding a touch of warmth can make the space homier.
Increasingly, consumers use their garages as a gathering space when friends come around for a social event. To help keep your guests warm, we've tested a wide range of electric garage heaters 240V to help you make a purchase.
Although we had to choose one as the best electric garage heater 240Vs, it was nearly impossible to separate it from its rivals. Read on and see if you agree with our pick.
The Fostoria Heat Wave Portable Electric Salamander Heater 240V is the best all-around choice for heating a garage. It wasn't too cold when we began testing this model, so we appreciated the fan only function, allowing us to circulate the room's warm air. When the evening chill began, it provided extra warmth almost instantly.
The long-life tubular heating elements can last for many years, and the wheels made it easy to move the unit to heat specific areas of the garage. If you are ready to invest in a robust performing electric garage heater, look no further than the Fostoria Heat Wave Portable Electric Salamander Heater 240V.
9 Best 240V Electric Garage Heaters Reviews
1. Fostoria Heat Wave Portable Electric Salamander Heater: Best Electric Garage Heater 240V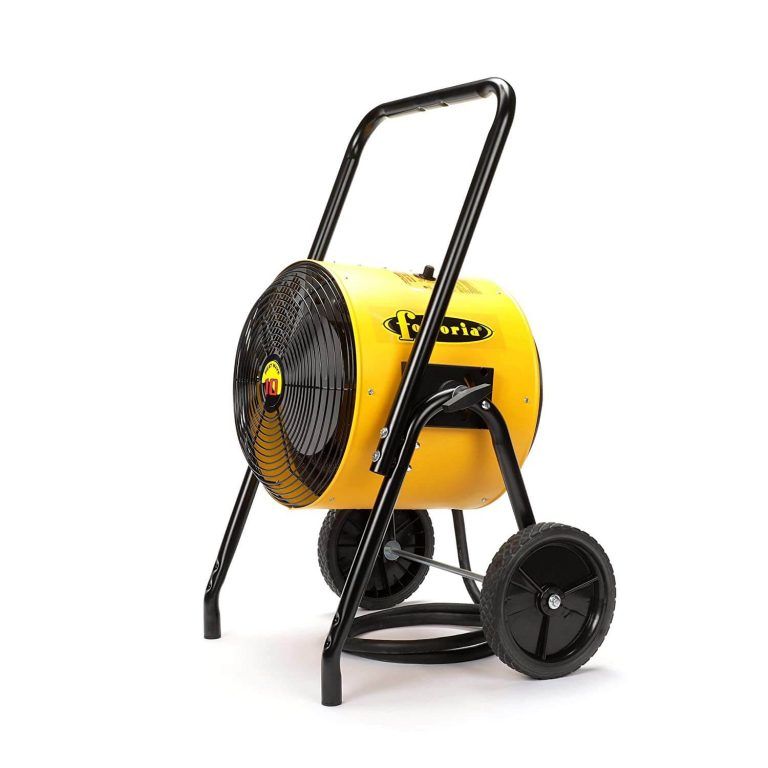 Key Features:
High limit thermal cut out switch
10' cord and plug included
Heats spaces up to 750 ft2
Single-phase electrical service
Made in the USA
This unit brings powerful heating performance to your garage. You can warm areas measuring up to 750 ft2 and let the machine do the work because with an electric power source, you don't have to worry about refueling.
There is minimal maintenance and no danger from hazardous gases such as carbon monoxide. The steel enclosure is a bright yellow color to avoid accidental collisions, and the high-limit thermal cut-out switch prevents damage from overheating.
We were impressed at the near-silent operation of the fan-forced 3-paddle blade, which was excellent for heat distribution, ensuring warm air made it to every corner of the garage. The 10' cord meant we could position this electric garage heater away from the plug sockets and closer to our workspace, and it was easy to adjust the thermostat between the generous 40°F-100°F range.
The control panel cover is useful if you perform DIY projects in your garage. It can protect sensitive components from dust and particles that can come from materials or the outside atmosphere.
High visibility yellow steel enclosure
Quiet fan-forced 3-paddle blade
Minimal maintenance and no refueling required
One of the more expensive electric garage heaters
Who Should Get This?
This model is an excellent choice for anyone who spends time in their garage. The unit fills a substantial-sized space with warm air quickly and makes little operational noise.
Related article:
2. DuraHeat 5000-Watt Electric Garage Heater: Best for the Money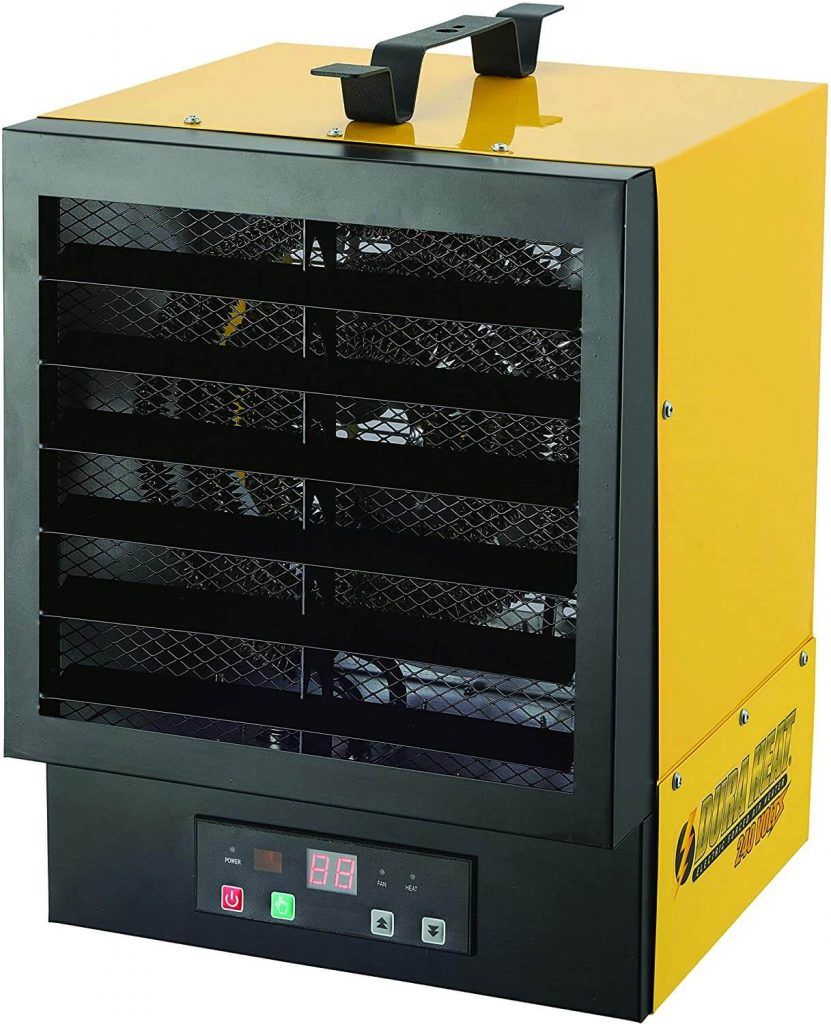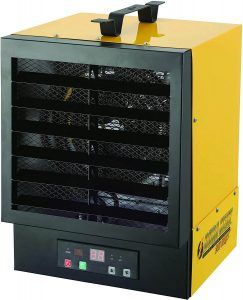 Key Features:
Directional airflow louvers

Wall and ceiling mounting kit included

Temperature range from 45°-99°F

Comes with a 1-year warranty

Anti-freeze setting
DuraHeat has brought exceptional quality to the market with its affordable electric garage heater 240V. Using a forced-air flow system and directional louvers, we could direct air to all levels of the garage. This process was easy using the included handheld remote control.
We wall-mounted our unit, but there is no doubt the louvers are flexible enough to direct warm air towards the ground from ceiling height if that is your preferred heater position.
The fan circulates air at an enormous 500 cubic feet per minute (CFM), so the warmer air mixes with the cold air quickly, warming your garage area more rapidly than less powerful models.
It can be hard to retain heat in garages in the colder winter months, but by turning the thermostat to the MAXIMUM 99°F SETTING, you can ensure warm air quickly replaces the cooler drafts.
If you worry about the effect of icy conditions on your electric garage heater, there is an anti-freeze setting to protect the internal components from frost damage.
Convenient remote control operation

Overheat safety shut off feature

Blower output of 500 CFM
Who Should Get This?
If you are shopping for an efficient 240V electric garage heater on a budget, this is the model for you. This heater has features you'd expect to see on more expensive units.
3. KING KB2410-1-B2-ECO KB ECO2S 240V Garage Heater: Best for Stylish Design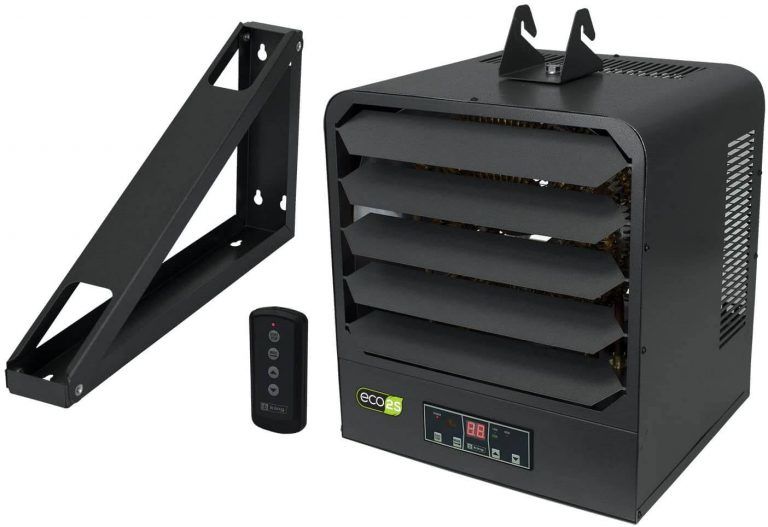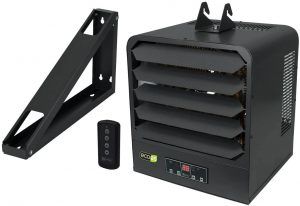 Key Features:
Easy installation in under 30 minutes

Electronic controller for precision temperature setting

Heat garages up to 600 ft2
Built-in electronic thermostat

Spiral steel fin heating element
This intelligent 240V electric garage heater uses a smart ECO2S energy-saving design that utilizes a 2-stage heating system. Using the lowest required wattage for powering the heater, it operates efficiently without sacrificing the output necessary to heat a large area. Capable of warming air in garages measuring up to 600 ft2, it is suitable for all but the largest spaces.
Although some users experienced difficulties with the instructions, we attached the unit to the wall in less than 40 minutes. The heater material feels solid, and internally the spring spiral fin heating element is durable.
There is a permanently lubricated unit bearing motor that reduces wear-and-tear for an extended lifespan, and the 5-year limited warranty provides peace of mind if there are any future issues.
After several uses, you'll know how long the electric heater takes to warm your garage, and you can use the timer modes for automatic shut-off without manual intervention.
Energy-efficient 2-stage heating system

Stylish modern design

Fan delay for improved heat distribution
Some users report the instructions could be better
Who Should Get This?
An electric garage heater 240V can perform heavy-duty heating work in cold environments, but that doesn't mean it can't look good at the same time. An ideal choice for a clean and tidy workspace.
4. TPI H474TMC474 Series Dual Wattage 240V Portable Heater: Best for Durability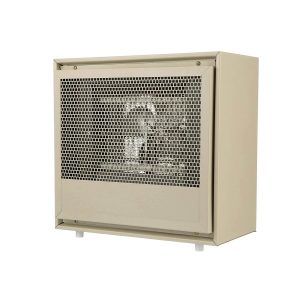 Key Features:
Uses gold-anodized aluminum reflectors

Upward and downward airflow

Corrosion-resistant construction material

6' long, 3-conductor cord

Produces a maximum 13,106 BTUs of energy
With a heater tube featuring gold-anodized aluminum reflectors and an infrared heating system, this model delivers an even distribution of warm air throughout your garage.
The first feature we noticed was the outer material, which, while not exceptionally stylish, is one of the most robust surfaces on any of the models we've had the pleasure of reviewing.
Corrosion-resistant and shockproof, this unit is ideal for use in a garage where there are damp conditions or a busy environment where you could scrape or bump it with other tools. Despite the sturdy construction, the unit weighs only 16 lbs., allowing one person to move it to new locations.
We found that set-up and operation was straightforward, and this model is suitable for those who value convenience and don't want to employ a tradesperson for a complicated installation. The painted steel finish was easy to clean after use, which is crucial if you're going to keep your unit in pristine condition through the years.
Straightforward DIY installation saves time and money

Suitable for smaller sized garages even in colder weather

Easy to clean with a dry cloth
Not the most aesthetically-pleasing electric garage heater
Who Should Get This?
When investing in a 240V electric garage heater, you want to be sure it can last for many years. This robust model has durable features that are built to last.
5. Dr. Heater Dr. Infrared Heavy-Duty Hardwired 240V Garage Heater: Best for Medium to Large Garages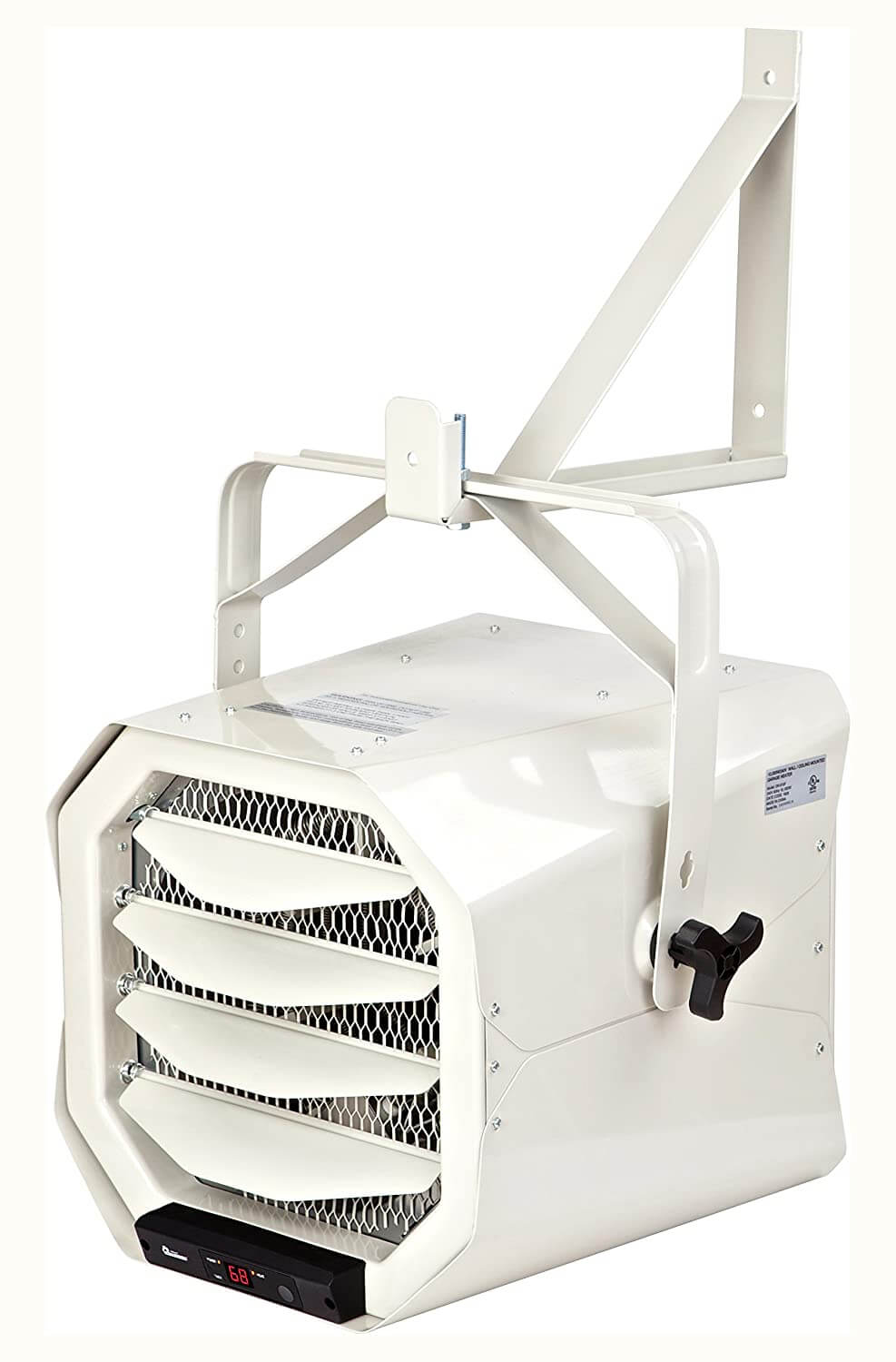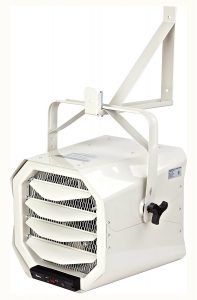 Key Features:
Space-saving ceiling and wall mounting options

5 adjustable airflow louvers

Heavy-duty enclosed motor

Remote-controlled thermostat

Useful front-mounted digital display
Although this unit is suitable for wall mounting, we decided to test the heat levels when the model was on the ceiling. The remote control means you can turn on your electric garage heater without having to stretch or use a stepladder, and the front-mounted digital display confirmed we had selected the desired settings.
The heavy-duty enclosed motor reacted quickly to our requests and was surprisingly quiet for such a mighty machine. The 5 adjustable airflow louvers directed heat to our workstations, and the temperature changed promptly when we adjusted the heat levels.
Because this model was on the ceiling, it was easy to forget it was there. We could walk underneath the unit and carry on with our daily activities in a pleasant warmth without thinking maneuvering around a large unit in the corner or in the middle of the room.
The set timer feature was useful because we could enable automatic shut-off to occur at a preset time. This Dr. Infrared Heater meant we could leave the garage without the risk of leaving the heater running for an extended period.
Sturdy bracket support

Temperature range between 50°-90°F

Set timer functionality
Does not have a fan-only function
Who Should Get This?
If you are heating a substantial-sized garage, you need a 240V electric garage heater that is up to the task. This model can provide warmth in larger garages even in the winter months.
6. QMark HT Smart Series 240V Programmable Digital Wall Heater: Best for Smart Technology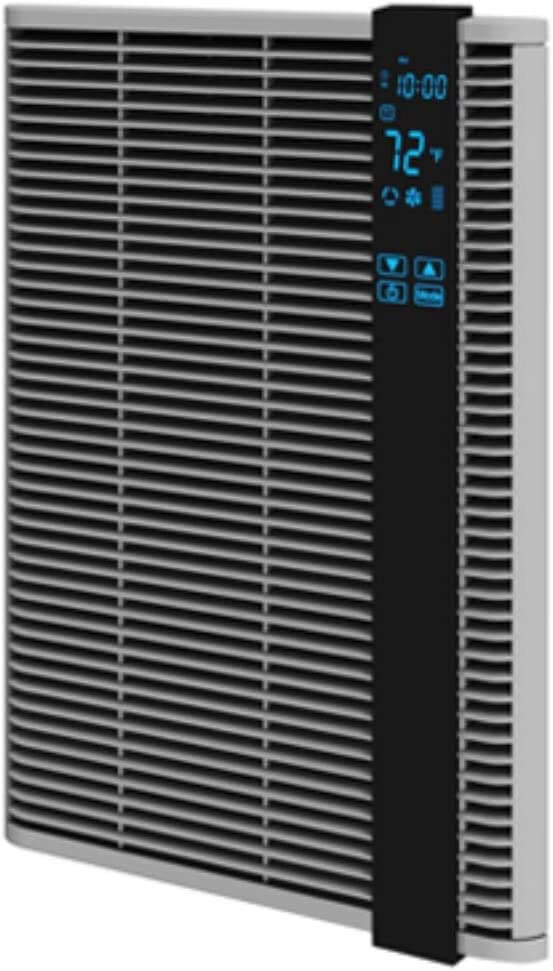 Key Features:
Easy-to-read LED

Thermal safety limit alert

Ultra-low noise fan operation

Heat areas up to 200 ft2

Touch screen nighttime illumination
If you know when you'll be in your garage, you can set this heater to come on so the warm air greets you as you walk through the door. Use the smart technology to program the heat for 4 different periods throughout the day.
Choose a hotter heat level in the mornings and cooler evenings, while selecting a cooler warm air temperature to operate in the afternoon can reduce your heating bills. Although this model is not suitable for heating larger garages, it is ideal for warming areas up to 200 ft2, which is plenty for most standard 1-car spaces.
There is a padlock feature to secure your preferred settings, saving you the time and hassle of reprogramming your unit before each use. The touch screen display has a useful night light feature, allowing you to keep the light on in darker conditions.
This feature is especially useful if you don't want to turn the main garage light on before going to bed but need to check your electric heater is on the correct setting.
Program the temperature for 4 periods in one day

Padlock feature protects your settings

Vacation mode for energy efficiency
Not suitable for heating larger garages
Who Should Get This?
If you enjoy the convenience of modern smart technology on your devices, then you can appreciate the advanced features of this stylish r 240V electric garage heater.
7. Dimplex DGWH4031 4000-Watt Garage Heater: Best for Reliability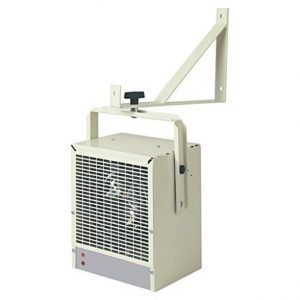 Key Features:
4000-watt stainless steel heating element

Automatic temperature control

6' foot electrical cord

Long-lasting powder-coated epoxy finish

Dedicated customer support team
One of the most popular reasons for purchasing a r 240V electric garage heater is its reliability. You can plug it in and enjoy the heat without the need to refuel, and there is minimal maintenance. This unit has a long-lasting powder-coated epoxy finish over corrosion-resistant steel, protecting the internal components from damp or dust particle damage.
The 4,000-watt stainless steel heating element provides an extended product lifespan, and the automatic temperature control uses only as much energy as required to warm your garage.
The swivel bracket allows you to direct the heater in the desired direction. By only warming the area you use, there is less energy spent on heating the rest of the garage, leading to reduced wear-and-tear on the moving heater parts.
The unit uses an intelligent shut-off system to stop the heater's electricity supply if it senses a restricted airflow. The 6' electrical cord means you can operate the heater away from plug sockets where other electrical appliances could suffer from excess heat.
Swivel bracket for heat distribution

Fan-forced heating technology

Electric power source does not produce carbon monoxide
Must use a wall or ceiling mount for safe operation
Who Should Get This?
Whether you use your garage heater regularly or keep it in storage for emergency use, you need to know it works when you need it most. This model offers superior reliability.
8. NewAir 5600 Watt Garage Heater: Best for Compact Design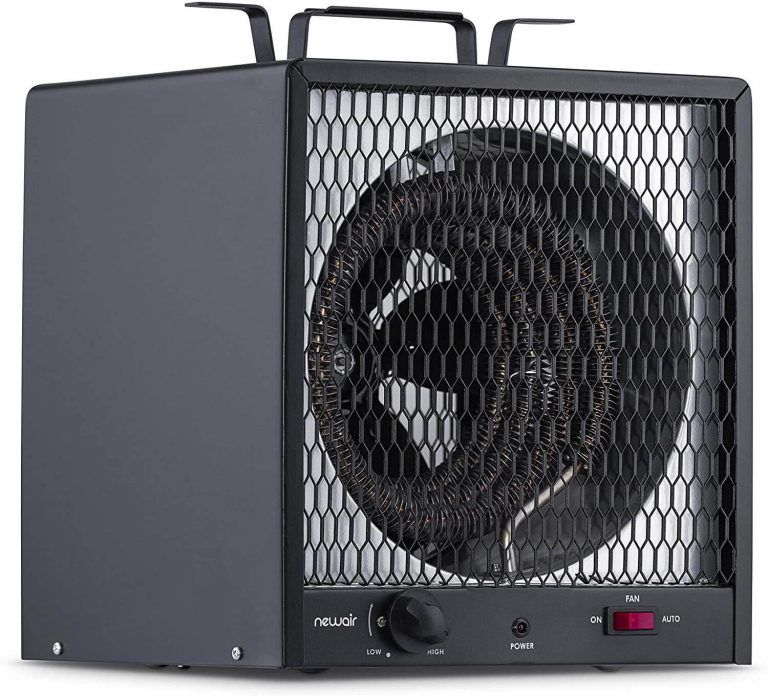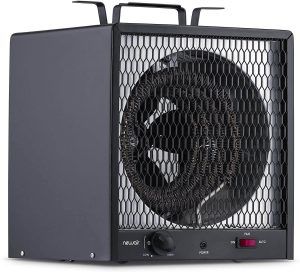 Key Features:
Useful carrying handle

Single pole thermostat

Comes with UL certification

Blower output of 236 CFM

Heats garages up to 560 ft2
A powerful r 240V electric garage heater doesn't have to take up much garage floor space. This neat model from NewAir fits unobtrusively on a shelf or worktop, leaving you plenty of space to potter in your garage. Despite its small frame, this unit achieves an incredible blower output of 236 CFM, ensuring plenty of air circulation for rapid heating.
Because this r 240V electric garage heater can warm air in spaces measuring up to 560 ft2, it is suitable for most garages. There is a carrying handle, allowing you to move the unit around your garage, and you can turn the temperature to a low setting, so you don't get too warm when working.
The durable steel construction ensures it can withstand accidental bumps and scrapes in a garage or during transportation. The black color scheme prevents it from looking dirty or dusty when in a busy workspace.
For your peace of mind, this unit comes with UL certification and a 1-year manufacturer's warranty.
Neat and compact design fits most spaces

Easy turn thermostat control knob

Weigh only 16.6 lbs.
Some users report this model is slightly noisy
Who Should Get This?
Buying a r 240V electric garage heater doesn't mean you add more clutter to your garage. This compact model can fit into smaller areas and doesn't impact your workspace.
9. King Electric 240V Garage Heater: Best for Efficient Operation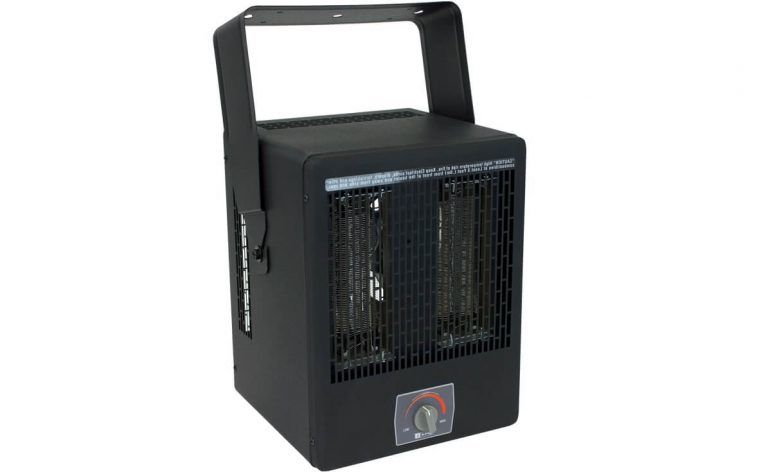 Key Features:
Dual NiChrome coil elements

Long-life motor

Swivel bracket included

Efficient high-capacity heating

Flow-through design for improved air circulation
We love appliances that have a small carbon footprint, and this King Electric 240V electric garage heater is a superb model that doesn't use excessive energy. The dual NiChrome coil elements transfer heat rapidly so that you can benefit from near-instant heat in a short time.
The flow-through design uses a proactive system to pull air from the heater's back and sides, expelling it out the front for impressive airflow. A swivel bracket is included in the package, allowing you to direct the heat to specific garage spaces. The accurate built-in thermostat maintains a steady temperature, and the Smart Limit safety technology prevents the unit from overheating.
The temperature range between 40°F and 85°F should be enough for most users, even if some cooler air drafts enter your garage. There is a long-life unit-bearing motor for durable performance, while the light assembled product weight is a mere 14 pounds. for easy transportation.
Backed by the trusted King Electric brand name and a 1-year warranty, you can enjoy using this electric garage heater for many years.
Built-in thermostat

Oversized carrying handle for easy transportation

Comes with a 1-year warranty
Temperature range does not go higher than 85°F
Who Should Get This?
Choosing an environmentally friendly 240V electric garage heater can be kinder to the environment and lower your household bills. Choose this model for efficient air heating and circulation.
It's been challenging choosing the best 240V electric garage heater. Although numerous models bring an incredible array of benefits, ultimately, the most suitable model for your garage comes down to your specific circumstances.
Efficiency, powerful performance, safety, and an automatic thermostat are superb features for any garage owner. Modern technology brings added convenience, and environmentally friendly features bring further quality to the debate.
We wholeheartedly recommend buying the Fostoria Heat Wave Portable Electric Salamander Heater 240V for the best all-around performer.
How to Choose the Best 240V Electric Garage Heater?
Modern technology and advanced engineering design make it considerably easier to choose a 240V electric garage heater that is durable and energy-efficient. For many households, saving on electricity costs is essential. To identify the best model for your garage space, there are several crucial considerations.
Automatic Temperature Adjustment
One of the most vital features of an energy-efficient electric garage heater 240V is an automatic temperature adjustment function. Judging the exact temperature in a room is nearly impossible, so having a system-operated thermostat ensures the heat level does not rise above a preset level.
By keeping the temperature at lower levels, you can reduce the amount of energy your heater uses and lessen the effect on the environment.
Size of Electric Garage Heater 240V
While it can be tempting to choose an exceptionally powerful electric garage heater 240V, it may exceed your requirements. Producing more heat than you need can lead to heat escaping through the walls or gaps around garage doors.
You may even open a window, bringing in colder air to cool down your garage. Matching the heater output to your garage's size can result in significant cost savings and reduce your carbon footprint.
Handheld Remote Control
We often enjoy relaxing in our garages, and sometimes we become distracted by DIY work or enjoying time with our buddies. It's easy to forget to turn the heating down or even off when the temperature is just right. However, it's much easier to adjust the heat level if you have a remote control by your side.
Handheld remote controls are especially useful if you suffer from mobility issues or use a difficult to reach ceiling-mounted model.
Air Purifier Convenience
It's easy to overlook the quality of materials when considering an electric garage heater's energy efficiency. However, more durable materials last longer and can retain heat more capably than thinner metals. There is also an ongoing cost if you need to replace lesser quality materials more often.
By purchasing high-quality, robust units, you can keep your unit running optimally throughout years of use.
Thermal Limit Safety Features
Overheating electrical appliances are a safety risk, but they are also inefficient as they use more energy than they require. If this event is a regular occurrence, it can result in increased household bills and excessive wear-and-tear on the operational heater components, resulting in the need for expensive replacement parts.
Purchasing a model with an automatic thermal limit shut-off feature ensures your electric garage heater doesn't use excessive electricity during a malfunction. You can repair the issue when it occurs, reducing the risk of this issue recurring.
Length of Electrical Cord
Most electric garage heaters provide plenty of heat to warm a substantial garage space. However, you may not need to heat the entire area. If you are using just one location, having a longer electrical cord allows you to move the heater to a specific area, so you can work in the warmth while the rest of the garage remains cool.
Homeheatingheroes.com is a participant in the Amazon Services LLC Affiliate Program, an affiliate program designed to provide a means for sites to earn advertising fees by advertising and linking to amazon.com.