Home Heating Heroes
Some of the links below are affiliate links, meaning, at no additional cost to you, we earn a commission if you click through and purchase. Learn more
Your Guide to Home Heating and Cooling Systems
15 Best Air Coolers - F
or Humid Climate (2022)
Summer days are getting hotter and hotter. You can sit in front of a fan in your underwear and still feel like you're slowly broiling.
If you really want to stay cool, what you need is a top-of-the-line air cooler. The problem is, there are a lot of brands out there claiming they have the best air cooler.
To help you separate the true temperature droppers from the big talkers, we've put together a comprehensive air-cooler review that looks at the best products and what they have to offer. Our top pick is the Hessaire MC37M portable Evaporative Air Cooler.
It's powerful enough to keep a medium- to large-size room cool. Yet, it's energy-efficient enough not to send your electricity bill through the roof. What's more, it's mobile, easy to install, and suitable for outdoor use.
Later in our best air-cooler review, we'll delve deeper into what makes the Hessaire MC37M and our other top coolers unique. But before we get to that, let's take a look at everything you need to know about finding the best air cooler for your home.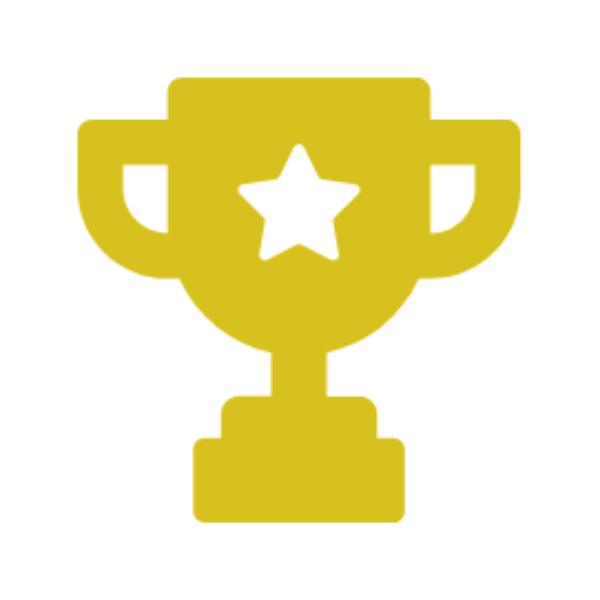 Best Choice
Four casters and lightweight design for increased portability and mobility

Uses oscillating louvers for dispersing and circulating cool air

Compact size for convenient placement
Direct connect-to-hose feature

Easy-to-use control panel

Consistently generates more cool air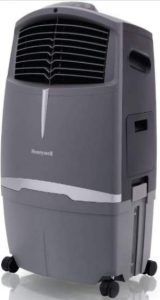 Quick and easy installation

Compact enough to fit into most spaces

Ice compartment for better cooling
Comes with a remote control

Suitable for outdoor use

Has caster wheels,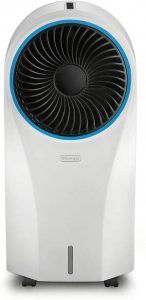 DeLonghi America Portable Evaporative Cooler
User-friendly LED and control

Energy-efficient appliance

Easy mobility with caster wheels
Comes with a built-in ionizer

easy-to-understand remote control and LED

Energy-efficient
Honeywell 1540-2471 CFM Outdoor Portable Evaporative Cooler
Water-hose connection option

Weatherproof design

Powerful cooling
Generates a gentle breeze via water evaporation

Energy-efficient

Also suitable for chilling outdoor patios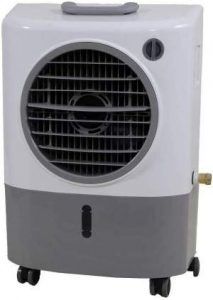 Hessaire Products MC18M Mobile Evaporative Cooler
Minimal electricity consumption

Many positive customer reviews

Top handle and lightweight design for enhanced portability
Has caster wheels for easy mobility

Top handle for portability

Energy efficient
15 Best Air Cooler Reviews
1. Hessaire MC37M – Best Overall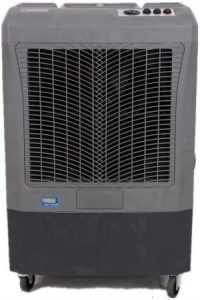 Are you looking for the best evaporative air cooler for your home?
Our firsthand experience and the average customer reviews indicate that the Hessaire MC37M is a fantastic choice.
It's not the biggest air cooler on the market, yet it consistently generates more cool air than many of its bigger counterparts. It's also powerful enough to keep you cool, inside or out.
Another thing we like about the MC37M is its easy-to-use control panel, which makes setting and controlling it super-easy.
We also like its pre-installed wheels and lightweight design that make it stress-free to move the cooler to any room or outside. Its compact size also ensures that you can find a space to place it.
Unlike other air coolers that limit you to the hassle of refilling a water tank, the MC37M Evaporative Cooler has a direct connect-to-hose feature. The hose connection lets the air cooler take as much water as it needs, when it needs it, without you getting involved. Now, that's convenient!
2. Honeywell 525-729CFM Indoor & Outdoor Portable Air Cooler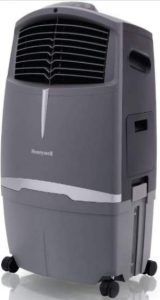 Here's another evaporative air cooler that you can rely on for efficiency and cooling. It's not as effective as the MC37M at cooling large rooms, but it is smaller and comes with various useful features.
Among those features, this unit comes with a remote control that lets you control the air cooler without leaving your seat. There's also an ice compartment at the top for getting the appliance to generate even colder air.
The Honeywell 525-729CFM is suitable for outdoor use, too, thanks to its weatherproof design. But it still looks good enough to fit into a medium-sized room or office.
This unit also has caster wheels, so it's convenient to roll it to wherever you need its cooling relief. And its versatile control panel lets you manage everything from humidity levels to fan speed.
3. DeLonghi America Air Cooler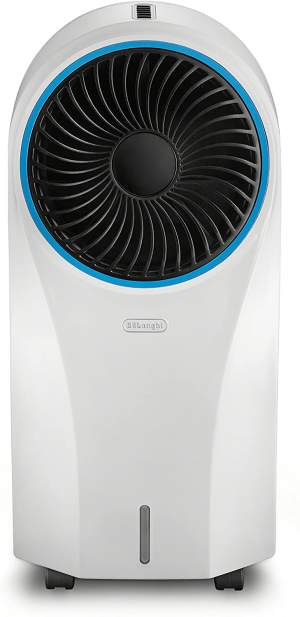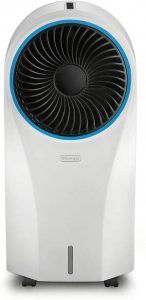 The unique aesthetic of this air cooler is the first thing that will grab your attention. But that's not the best thing about it. Unlike other air coolers, the DeLonghi not only generates cool air but also improves air quality.
It accomplishes this by cleaning its air intake with a built-in ionizer before releasing and circulating clean air to cool you. It also humidifies the air, making it easier to breathe and relax.
You can increase the coolness of its air output by adding ice to the water reservoir. You can also monitor and control its performance via its easy-to-understand remote control and LED.
This Delonghi unit is energy-efficient and easy to maintain and clean. But because its water reservoir has a capacity of only 1.2 gallons, you might find yourself refilling it more often than you'd like.
4. Honeywell 1540-2471 CFM Outdoor Portable Air Cooler
The Honeywell 1540-2471 isn't a compact evaporative cooler, but it's still lightweight and portable. More importantly, its bulk translates to more cool air for your indoor and outdoor enjoyment.
This cooler generates a gentle breeze via water evaporation, which also makes it an efficient humidifier. Unlike an air conditioner, it doesn't use coolants, so its operation is both energy-efficient and environmentally friendly.
Its body is built tough to withstand the rigors of exposure to the outdoor elements. This makes it suitable, not just for cooling large rooms, but also for chilling your outdoor patio during your next barbeque or when you're relaxing in your lounger.
For even cooler air, add ice to the cooler's top ice compartment.
And you can avoid the hassle of refilling this 15.9-gallon evaporative water tank by hooking it directly to a water source.
5. Hessaire Products MC18M Mobile Air Cooler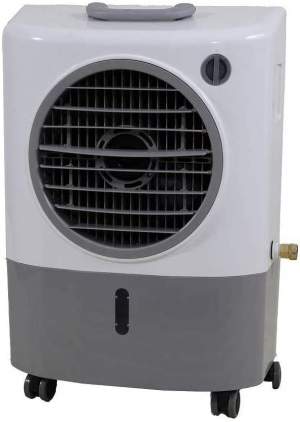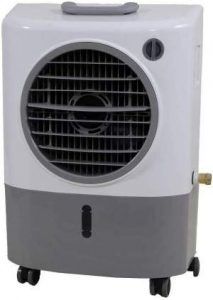 At 16 Pounds, the MC18M is a more portable version of the MC37M, but it's still very powerful.
It has caster wheels for easy mobility and a top handle for portability. Because of how effective it is in small rooms and at spot cooling, it's a definite top contender for best truly portable air cooler.
You can take it with you when you head outdoors or enjoy the cool breeze at your favorite spot in the house. What's more, it's energy-efficient, so you don't need too much power to keep it going.
6. Whirlpool WPEC12GW 214 CFM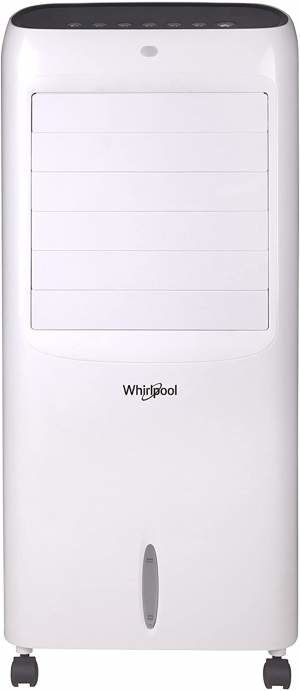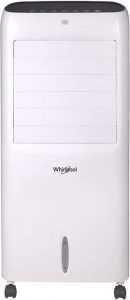 The Whirlpool WPEC12GW offers the best results when it's in a small room, and the humidity is below 60 percent. Its water tank can hold as much as 1.59 gallons of water, and its simple appearance lets it blend into the décor of most rooms.
This unit isn't bulky, so you won't have trouble finding a convenient space to place it. You can control the cooling output by selecting from one of three fan speeds and get even distribution of cool air, thanks to the cooler's automatic louvers.
7. Luma Comfort EC111B Portable Air Swamp Cooler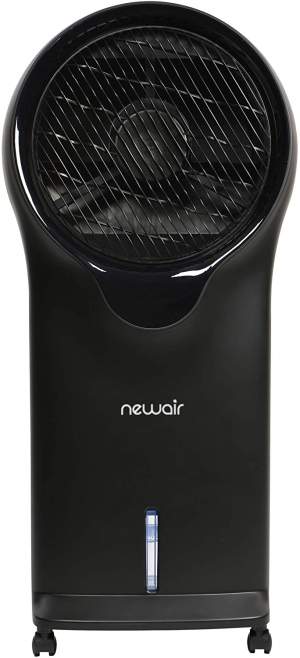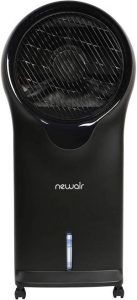 You can enjoy the Luma Comfort as an oscillating fan or an evaporative cooler. For the cooler function, simply add water to its detachable, 1.8-gallon tank and prepare for an energy-efficient yet potent air-conditioning alternative.
The Luma Comfort is powerful enough to cool about 250 square feet, which makes it sufficient for use in your bedroom, study, or living room. It also comes with an icepack that you can add to the water tank to boost its cooling capacity.
In addition to cooling, the Luma Comfort also improves the air quality in your home by removing dust. Using its customizable controls, it's easy to set the Luma how it offers you the most comfort.
8. Honeywell 300-412CFM Portable Air Cooler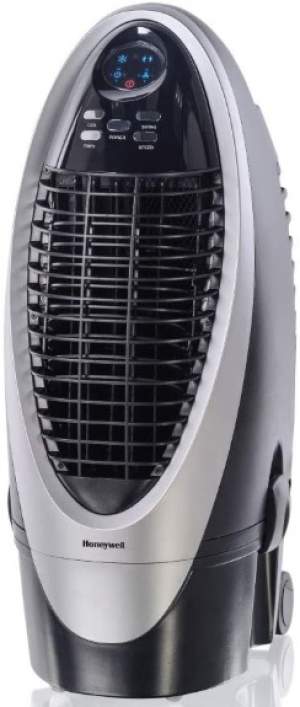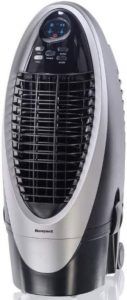 This Honeywell unit was another top contender for the best portable air cooler. It has a humidifier with an ice compartment for the coldest air, and a powerful fan for circulating that air. And to ensure that you get nothing but a refreshing, rejuvenating breeze, this portable evaporative cooler comes with a built-in carbon dust filter.
While it's not powerful enough to drop the temperature of an entire room, it's excellent for indoor spot-cooling. Point it directly at your bed, desk, sofa, or wherever it is you are relaxing, to enjoy the cool air.
Even though the cooler itself is compact, its water tank can hold up to 10 gallons that can last up to 7 hours or more. That's less refilling and more cooling for you!
9. FRIGIDAIRE Fan Cooler and Humidifier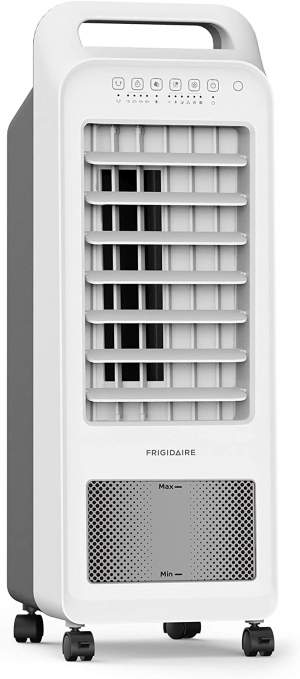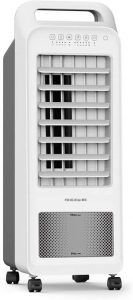 This Frigidaire unit is an affordable and portable option from a famous brand. It can hold up to 1.5 gallons of water to power its evaporative cooler and comes with a remote for convenient management of its functions.
Because of its size, this one is suitable only for spot cooling and isn't ideal for outdoor use. If you're not in the mood for the evaporative-cooler function, you also can use the Frigidaire Compact as a fan to boost ventilation and stay cool.
10. NewAir Portable Evaporative Air Cooler with Fan & Humidifier – Best Budget Option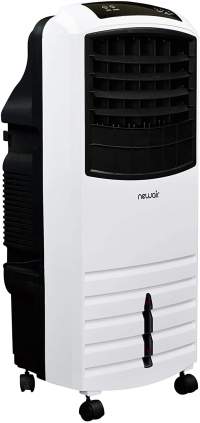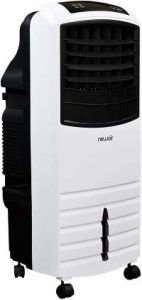 Do you want a reliable air cooler that'll cost you less than $100?
If so, the NewAir Portable Evaporative Air Cooler might be the answer. It's one of the few air coolers out there that's affordable without compromising too much on performance.
It comes with an extra-large water tank that can hold up to 5.3 gallons. And when the time comes to clean and refill the tank, it's a quick-and-easy chore.
This NewAir's oscillating fan can cool as much as 300 square feet, but you'll enjoy the evaporative cooling function more when you use it for spot cooling. Unlike other air coolers, you also can get this NewAir in one of three colors to complement the aesthetics of your interior décor.
Mobility is not an issue, either, thanks to the unit's easy-roll casters.
11. SPT SF-612R Evaporative Air Cooler with 3D Cooling Pad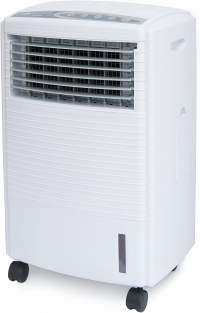 This unit is a straightforward evaporative cooler that delivers enough cool air to keep the temperature cool in a small room or office. You can decrease the temperature of the air by adding ice to this cooler.
It's easy to move the SPT SF-612R from room to room, thanks to its wheels. And whether you're using the remote control or LED, controlling the SPT SF-612R is easy to understand. It also excels at energy efficiency, consuming just 65W of power.
12. DUOLANG 1353CFM Outdoor Portable Air Cooler with Fan & Humidifier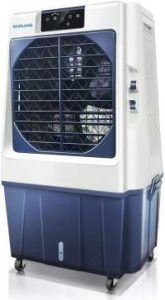 This DUOLANG cooler is pricey, at more than $300, but it does a great job as a fan, air cooler, humidifier, and air purifier. And you can control all of that from the convenience of your couch with its handy remote.
Whether you use it indoors or out, its extra-wide wind outlet is more than capable of delivering enough cool breeze to keep everyone happy with a good dose of cool air.
Another impressive feature of the DUOLAND 1353CFM is its huge water tank, almost 16 gallons. You can easily detach it to refill or clean – or even use it as a storage box when you don't need the unit's air-cooler function.
Lastly, to keep your indoor air healthy, the appliance uses a high-density plant-fiber filter to remove dust and other particles from the air.
13. Quilo 3in1 Quiet Energy Efficient Portable Tower Fan with Evaporative Cooler & Humidifier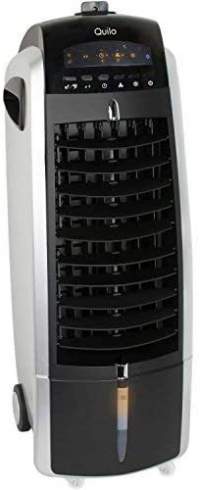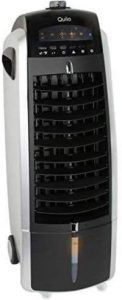 Super portable, at just 13 pounds, this silent air cooler is excellent for spot-cooling in small rooms. If you want even cooler air, you can load its ice compartment.
This unit also does an excellent job as a humidifier and has a filter that eliminates dust, hair, and other particles from your room. If you want a silent, portable, energy-efficient air cooler for your study or other small rooms, the Quilo 3-in-1 might be right for you.
14. Honeywell 470-659CFM Portable Air Cooler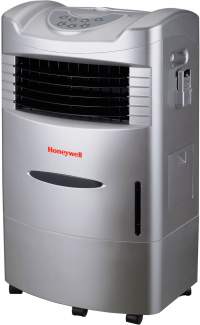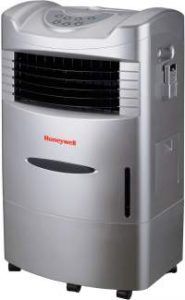 This is another top air cooler from the Honeywell brand. The 470-659CFM is powerful enough to keep small- to medium-sized rooms cool. It also offers a variety of functions for your convenience, including remote control, carbon dust air filter, and low-water alarm.
You can also use this cooler as a humidifier and control humidity levels, making the product ideal for people living in hot, arid regions.
If you're not satisfied with the evaporative water cooling, you can kick things up a notch by filling the ice compartment.
15. FRIGIDAIRE Portable Air Fan and Humidifier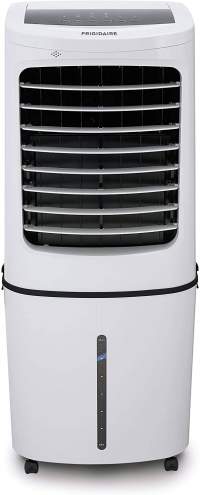 This one is pricey, but the investment can be worthwhile if you need an air cooler that requires only occasional refills and can cool 450 square feet of space.
The Evaporative Air Fan's oversized 13-gallon water tank holds enough to keep it running for days. Depending on how cool you want to be, choose from one of three cooling modes and let the oscillating fan take care of the rest.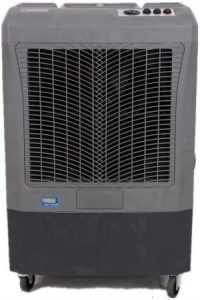 Based on customer reviews and our experience with these air coolers, the Hessaire MC37M portable Evaporative Air Cooler stands out as the best air cooler for its performance, durability, and versatility.
As long as you don't mind that it doesn't have a remote control, you won't regret choosing it as the air cooler for your home or office.
Remember, though, an air cooler will only work in a location with the right humidity level. Depending on the air-cooler model, the required humidity may be between 40 percent and 60 percent.
Be sure to verify the humidity level of your region against each product's capability before purchasing an air cooler. Then sit back, take a sip of your beverage, and relax.
How to Choose the Best Air Cooler for You?
The air cooler that is best for you is the one with the specific features and functions to satisfy your unique needs. But at the very least, the product should meet the following criteria:
Ease of Installation
Some air coolers require special skills and tools to install in walls or roofs. You can skip this hassle and expense by opting for one that you can simply stand under a window – close to your bed, or wherever else you prefer.
Maintenance Level
Some air coolers seem to need the same amount of attention as a baby. If that's too much work for you, opt for one that is low-maintenance. Coolers that require minimal maintenance typically are durable, suitable for outdoor use, and cost less to keep running.
Portability
Naturally, you'll want the cool air from your unit to stay on you at all times. Using an immobile air cooler restricts you to sitting opposite its vents. But with a portable air cooler, you can move and direct the appliance anywhere you want it for maximum effect and comfort.
The best portable air coolers usually are light enough to carry or have wheels that make them easy to move anywhere you want.
Ease of Use
The easier an air cooler is to operate, the more you can enjoy it. Most air coolers come with controls that let you select functions and decrease the temperature to suit your preference. If you want the most convenience, go for an air cooler that you can operate with a remote.
Functionality
Do you want an air cooler with a fan and cooling option? Or one that also serves as an air filter and humidifier? If you want these features or any other special features from an air cooler, be sure to verify that the appliance truly has precisely what you want before you buy it.
Energy-efficiency
Air coolers are generally more energy-efficient than traditional air conditioners.
The more energy-efficient an air cooler is, the longer you can use it without worrying about sending your electric bill through the roof. While it's true that the best energy-efficient air coolers cost more, they are, nonetheless, a worthwhile investment that can save you upwards of 20 percent on energy bills in the long haul.
Product Reviews
When comparing air coolers, reading what other customers have to say about each product is useful for determining if the product might be right for you. Customers have firsthand experience using a product, and they aren't tasked with marketing the product, so their reviews typically share genuine insights about how well the product works.
Price
Going for the cheapest air cooler you can find is rarely a good idea, especially if you want a quality product that will last and be reliable at keeping you cool.
Instead, opt for an air cooler that has all the features you need without exceeding your budget. Air coolers are cost-effective, so you shouldn't have trouble finding one between $150 and $200. But, top-of-the-line ones, like the Hessaire MC37M Evaporative Air Cooler, will cost more.
Homeheatingheroes.com is a participant in the Amazon Services LLC Affiliate Program, an affiliate program designed to provide a means for sites to earn advertising fees by advertising and linking to amazon.com.