Home Heating Heroes
Some of the links below are affiliate links, meaning, at no additional cost to you, we earn a commission if you click through and purchase. Learn more
Your Guide to Home Heating and Cooling Systems
15 Best Air Purifier For Your Home in 2022 - Buying Guide
Do you or anyone in your family suffer from allergies to mold spores, dust mites, pollen, or other airborne irritants?
Are you finding the air quality in your home is compromised by the dander kicked up from your pets or by the smells coming from your kitchen?
Perhaps you've got a smoker or vaper in the house. Even if they're smoking outside, the smoke tends to seep back inside. Whatever scenario you are facing, I have good news: a quality air purifier can neutralize all of these problems and many, many others.
If you've never used an air purifier before, you might feel confused by jargon and technical sounding terminology pertaining to air purification technology. Don't worry. We will be clearing that up for you today.
To that end, we'll be kicking off with a laser-focused buying guide that explains all you need to know in plain and simple English.
After that, you'll be well-situated to buy the perfect air purifier to meet your needs. But we won't stop there. We'll make it even easier.
We then provide you with a curated list of the 15 best air purifiers across all price-points. With all of that information, you will walk away with the world's easiest buying decision.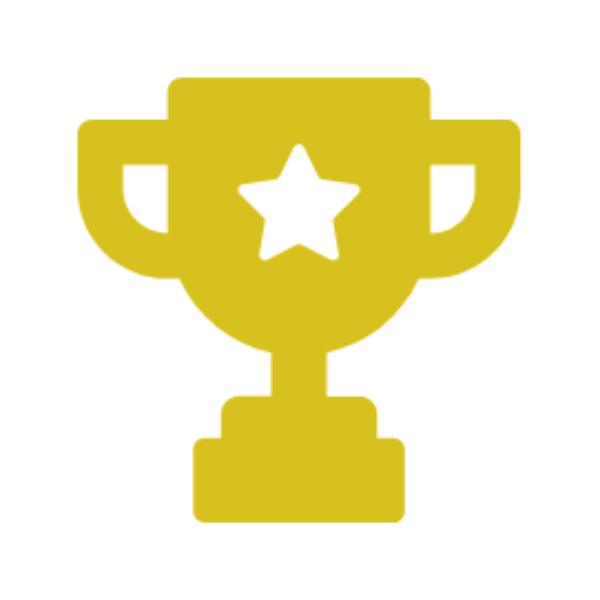 Best Choice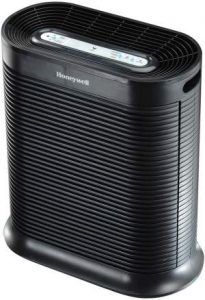 Honeywell HPA300 Air Purifier
Ideal for larger rooms

Filters and circulates air up to 5 times an hour

True HEPA filtration
Equipped with activated carbon pre-filter

Removes 99.97% of the tiniest particles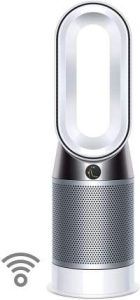 Dyson Pure Hot & Cool Air Purifier HP04
Multi functionality with purification, heating, and cooling

HEPA filtration to dispatch the tiniest contaminants from your air

Fully WiFi-enabled
Projects at the rate of 77 gallons per second

HEPA-rated medium

Hands-free operation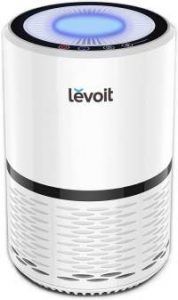 Levoit LV-H132 Air Purifier
Triple-stage filtration

Runs as quietly as 25 decibels

Unbeatable price/performance ratio
Multi-stage filtration

True HEPA filter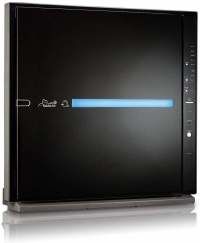 Rabbit Air MinusA2 SPA-780A Air Purifier
Class-leading 6-stage filtration

Impressive coverage: up to 815 square feet

Free-standing or wall-mountable
Captures small particles to 0.3 microns

Ideal for mold, pet dander, and spores

Recharges your indoor air with beneficial ions
Coway AP-1512HH Mighty Air Purifier
Powerful 4-stage filtration

Intelligent air quality monitor with color-coded display

Auto mode optimizes speed settings
Comes with an air quality indicator

Has a deodorization filter

Adjustable fan speeds
15 Best Air Purifier Reviews
1. Honeywell HPA300 Air Purifier – Best Overall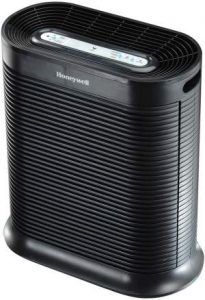 For our first air purifier review, this Honeywell air purifier is our standout winner. What makes it so good?
It is arguably the best HEPA air purifier: you'll breathe easier if you have asthma or allergies.
Bigger particles, along with VOCs (volatile organic compounds), are first filtered by an activated carbon pre-filter. (Replace this filter every 3 months for best results.)
The HEPA medium will last a year and removes 99.97% of the tiniest particles down to 0.3 microns. You'll get clean and fresh air, free of pathogens and allergens.
For a whole house air purifier (capable of coping with larger spaces) the Honeywell HPA300 is a modern classic.
2. Dyson Pure Hot & Cool HP04 – Best Air Purifier for Allergies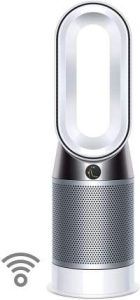 Famous for their design-driven vacuums, Dyson brings their engineering expertise to bear on this HEPA air purifier boasting impressive functionality.
Intelligently sensing air quality, this Dyson air purifier cleanses the atmosphere before projecting clean air into your room at the rate of 77 gallons per second.
With a HEPA-rated medium, the HP02 is a strong contender for the best air purifier for allergies while also serving as a heater and cooling device.
Typically, an air purifier price reflects its performance and build quality. With the Dyson Pure Hot & Cool, you might need to dig deep, but you'll be rewarded with the best home air purifier. Plus, it comes with a remote control.
3. Levoit LV-H132 – Best HEPA Air Purifier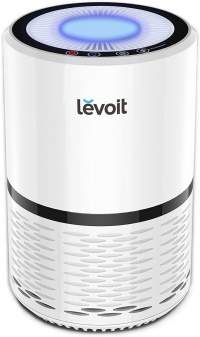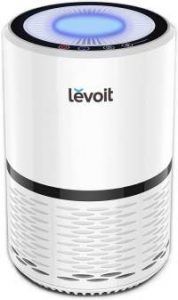 This Levoit air purifier looks like a smart speaker but delivers robust multi-stage filtration to attack airborne pathogens and neutralize the smells left behind by cooking or smoking.
An activated carbon medium attacks all the smells and larger dust particles while a true HEPA filter makes light work of the finer particles polluting your indoor air.
Compact enough to pop into your bedroom unobtrusively, you also get night mode so the lights don't disturb you. Moreover, this purifier runs almost whisper-quiet, so you'll get a better night's sleep breathing in superior air.
For a great all-rounder in your quest for cleaner air indoors, check out the Levoit right here.
4. Rabbit Air MinusA2 SPA-780A – Best Air Purifier for Molds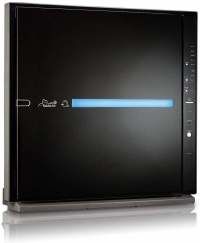 Next up is this hard-hitting Rabbit air purifier with a whopping 6 stages of filtration. Here's what you'll get:
Pre-filter

: Attacks large particles

Medium filter

: Ideal for mold, pet dander, and spores

BioGS HEPA filter

: Captures small particles to 0.3 microns

Customized filter

: Choose from odor remover, toxin absorber, pet allergy, or germ defense

Charcoal-based activated carbon filter

: Combats unpleasant household odors and chemicals

Negative ion generator

: Recharges your indoor air with beneficial ions
As you can see, if you dig deep you'll be rewarded with a comprehensive defense against the contaminants that spoil your indoor air quality.
5. Coway AP-1512HH Mighty – Best Air Purifier for Smoke

The first Coway air purifier we'll highlight today, the Mighty packs a serious punch. You'll get the following filter media:
Pre-filter

Deodorization filter

True HEPA filter

Vital ion
From large dust and debris to the finest pollen, dander, and microscopic particles, the Coway even fights off VOCs.
The air quality indicator is a nice touch. You can see at a glance if the auto mode is getting the job done or if you need to intervene.
This unit boasts a bipolar ionizer and adjustable fan speeds. And (to cut running costs) it will power down after 30 minutes if no pollution is detected.
The Coway is a serious contender for the best air purifier and deserves a place on any shortlist.
6. Winix 5500-2 – Best Room Air Purifier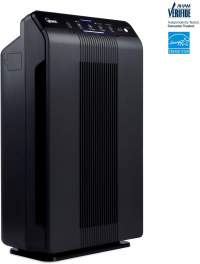 Are you looking for the best air purifier for pets, neutralizing both dander and odors? If so, you'll appreciate the 5500-2 from Winix. Commanding and utilitarian on the outside, the innards hit hard against airborne pathogens.
You'll benefit from true HEPA filtration with the bonus of a carbon filter to help neutralize odors. This filter is also washable to cut down on costs.
You'll get no unwanted ozone with this purifier, and you'll benefit from a powerful ally in the fight against indoor air contaminants.
7. Honeywell HPA200 Allergen Remover – Best Air Purifier for Viruses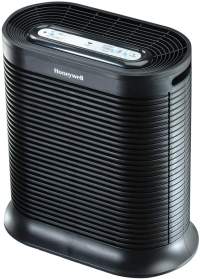 The best air purifier for asthma and allergies, the Honeywell HPA200 is a sleek, squat beast.
Capable of dealing with rooms to 310 square feet, this unit captures all irritants and allergens, leaving your air fresh and well-circulated.
Easy to use and quiet in operation, the Honeywell is also priced very reasonably. If anyone in your family has allergies, sensitivities, or asthma, this is the smartest investment you'll make this year.
8. Alen BreatheSmart Classic Air Purifier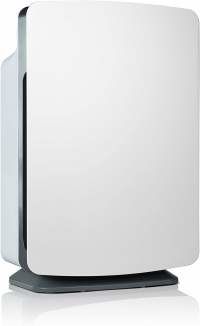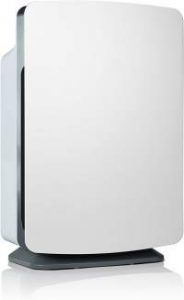 BreatheSmart is a superb Alen air purifier living up to its claims of being a solution for large rooms. Coverage is an outstanding 1100 square feet, and you'll get a full-frontal assault against all airborne menaces spoiling your indoor air quality.
HEPA filtration removes small particles, smoke, and VOCs.
Available in a broad spectrum of attractive finishes, you can find something to fit in with any design scheme.
The BreatheSmart delivers intuitive air quality control from an industry specialist, and it is crowned by a lifetime guarantee. What more can you ask for?
9. Blue Pure 211+ Air Purifier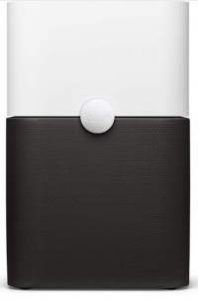 Do you have a busy kitchen with lots of smoky food cooked up daily? Are there any smokers in the house? The Pure 211+ can hit back against these unpleasant odors while also combating VOCs.
The Pure 211+ is a compact Blue air purifier with triple-stage filtration.
Even on the highest setting, the Blue runs very quietly. At low speed it kicks out just 31 decibels of noise so it won't bother you if you place it in the bedroom.
You'll get all this and more in a compact appliance that's competitively priced. Why not check one out and uprate the air quality in your home?
10. Germ Guardian AC4825 Air Purifier



This Germ Guardian air purifier is a consistently popular model. What makes it stand out?
The HEPA filtration ensures that you blitz 99.97% of even the most minute particles polluting your air indoors.
Have you got kids in the house? If so, you'll appreciate the optional UV-C light. This is designed to reduce bacteria, germs, and viruses along with mold spores. Keep your children safe and your air spotless.
Throw in a charcoal filter to help cut through smells from smoke or cooking, and you've got a comprehensive all-rounder that's priced to sell.
11. Hamilton Beach TrueAir Air Purifier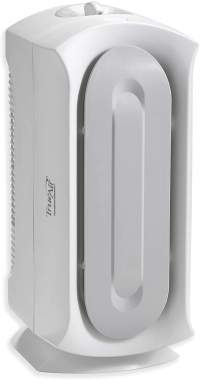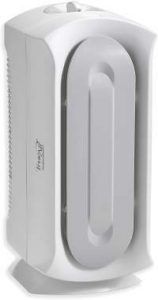 The TrueAir comes in several versions, including this line-topper with pet and odor eliminating functionality.
Here's what you get:
Pre-filter

: Captures pet hair and all larger particles

2 carbon zeolite filters

: Activated carbon to reduce household odors

True HEPA filter

: Traps the smallest particles to 0.3 microns
This purifier is best used for smaller spaces and rated for 140 square feet of coverage.
With reusable HEPA filters, you won't be continually scurrying off to restock. You won't be worrying about the expense of replacement filters either.
For a solid opponent to foul air, you can't go wrong with this Hamilton Beach.
12. Partu HEPA BS-03 Air Purifier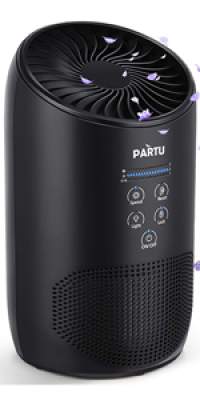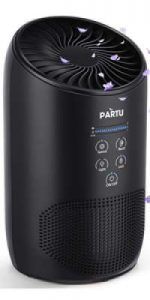 While Partu might not be the most instantly recognizable brand, the BS-03 stands out from the crowd. What makes it unique?
Well, add some essential oil beneath the outlet, and you can enjoy fragranced air after the activated charcoal filter has neutralized any unpleasant smells. Throw in the HEPA filter that removes even those particles that are invisible to the naked eye and you have a highly capable unit.
Easy to operate and taking up very little space, this is an excellent option if you're looking for an air purifier on a budget.
13. Medify MA-40 2.0 Medical Grade Filtration Air Purifier

Considering the medical-grade filtration and the show-stopping coverage, you'll be amazed at how little the Medify MA-40 costs. Is it any good, though?
In a word, "Yes." If you have a large home and you want cleaner air, the coverage area for this unit is fantastic.
Where HEPA-rated filters trap particles as small as 0.3 microns, this H11-rated filter actually removes pathogens down to 0.1 microns. This includes:
Virus carriers

All bacteria

Smoke
With this unit, you're actually getting a hospital-grade air cleaning solution at a bargain price. The MA-40 is an investment that will keep on returning dividends in the form of comfort and improved health.
14. Hathaspace HSP001 Smart True HEPA – Best Multifunctional Air Purifier

The Hathaspace HSP001 is a 5-in-1 air purifier offering the following:
Nano-cold catalyst filter

: Gets rid of larger particles, dust, and pet dander

Cellular-activated carbon filter

: Combats gases, odors, and VOCs

Antibacterial filter

: No more germs and bacteria so make your home safer

True HEPA filter

: Captures small particles to 0.3 microns

Ozone-safe ionizer

: Releases negatively-charged ions to make rogue particles and odors easier to capture
With auto-mode optimizing settings and a remote control for any fine-tuning, this air purifier will help you breathe better while neutralizing all unpleasant smells at the same time. And the Nano-cold catalyst filter may make this the very best purifier for dust.
If you're wary of any ionizer, you needn't be. This one is ozone-safe so you've nothing to worry about.
15. Coway AirMega 400 – Best Large Room Air Purifier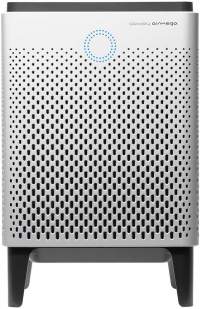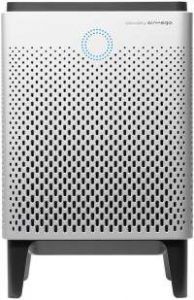 Last, but certainly not least, the Coway AirMega will purify the air in sprawling spaces up to 1560 square feet. What else stands out (beyond its huge coverage capacity)?
The onboard air quality indicator lets you see at a glance whether the air you're breathing needs further purification.
Contaminated air is drawn in from both sides and the clean air pushed out of the top. This engineering design is brilliant because it maximizes efficiency.
If you have a large home, and you want cleaner air throughout your house, consider the AirMega as your first line of defense.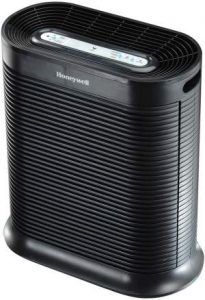 Choosing the best air purifier for your home from such a long list of high-quality products isn't easy. So why did we pick the Honeywell HPA300 as our overall winner?
Well, we took all these factors into consideration:
Ease of use

Price offset against performance

Brand heritage

Coverage area

Customer care

Filtration

Extras
Based on these categories, the Honeywell delivered fully across the board. Indeed, customer service was the only letdown.
For anyone with asthma or allergies, the highly capable Honeywell HPA300 is a magnificent weapon. It truly allows you to breathe easier without using up too much electricity.
As the crowning glory, the HPA300 comes in at a remarkably low price-point.
Go ahead and road test the Honeywell HPA300 for yourself. You will start enjoying much cleaner, better smelling, and healthier air inside your home. You and your family will benefit from this modest investment for years to come.
How to Choose the Best Air Purifier for you?
In our hunt for the best air purifier, we'll be walking you through a broad spread of models so you can easily find the most fitting purifier for your home.
Coverage Area
It's crucial that you match the coverage area of the air purifier to the size of your home. Shortchange yourself, and you'll overwork the purifier while not adequately cleaning the air. Opt for an overly large purifier for your needs and you'll squander electricity needlessly.
Some compact models have large coverage areas, so don't think you'll be limited to hulking air purifiers if you have a larger home.
The coverage area is measured in square feet.
Noise Levels
Noise levels are expressed in decibels, and most air purifiers kick out some degree of noise.
Many have multiple settings allowing you to dial the unit back overnight if you have it in the bedroom.
We will draw your attention (throughout this article) to noise levels so you can make an informed purchase.
What can you do if you want something super-silent, then?
Fan
A fan-less air purifier will run much quieter, but it comes with a severe drop in overall quality. In fact, the quality of these products is so low that we can't, in good conscience, recommend them. Stay away from any fan-less air purifier.
Filtration
You should look for purifiers that use HEPA (high-efficiency particulate air) filters.
These are the gold standard of filtration, rigorously lab-tested to trap all particles down to 0.3 microns. (Airborne contaminants that are 0.3 microns are too small to see, but you still breathe them in.)
Also, an activated carbon filter medium works well to combat smells. Make sure the air purifiers on your shortlist provide the filtration you need.
Ionizer
You may not know this: ozone that is discharged into the air can damage your lungs.
Why does that matter? Because some air purifiers feature negative ionizers, which can sometimes actually produce ozone. For the safety of you and your family, if you are going to purchase a product that uses ionization, ensure that it is ozone-friendly.
Programmability
If you plan to purify the air in your home when you're out, it pays to use a programmable model or one with auto shut-off.
Some purifiers even allow for remote access or hands-free control with your favorite digital assistant.
Related blog:
Homeheatingheroes.com is a participant in the Amazon Services LLC Affiliate Program, an affiliate program designed to provide a means for sites to earn advertising fees by advertising and linking to amazon.com.