Home Heating Heroes
Some of the links below are affiliate links, meaning, at no additional cost to you, we earn a commission if you click through and purchase. Learn more
Your Guide to Home Heating and Cooling Systems
15 Best Dehumidifiers for Your Home (2022)
If you live in an area with high humidity, you know the damage that excess moisture can do. Not only can it have a substantial impact on your health, but it also can cause damage to your home.
Even if you live in a dry climate, you may have areas in your home that are prone to high humidity, including bathrooms, closets, and kitchens.
A good dehumidifier will remove moisture quickly and effectively, helping you maintain an ideal humidity level in your home.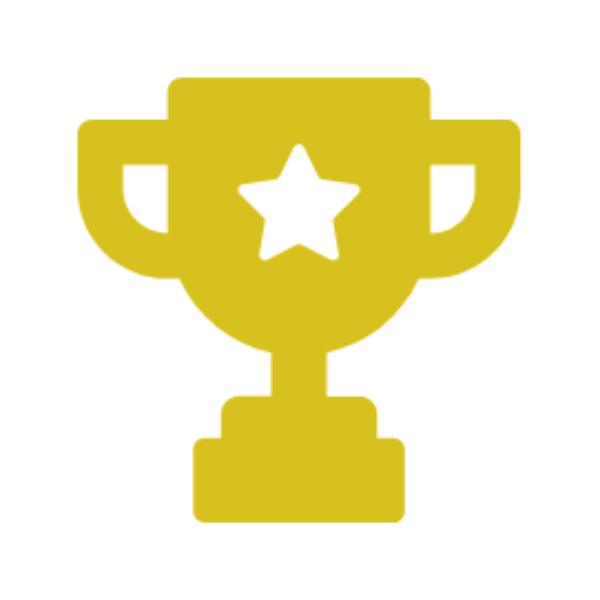 Best Choice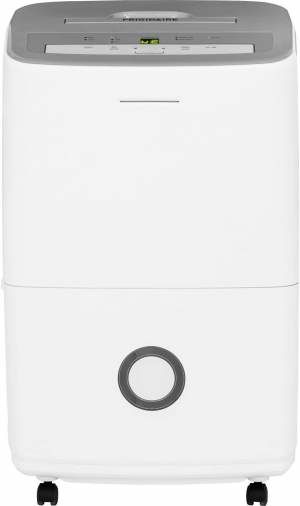 Frigidaire FFAD7033R1 Dehumidifier
ENERGY STAR certified

Excellent build quality

Speedy moisture removal
Exceptionally quiet

Comes with an electronic control panel that offers multiple settings

Digital humidity display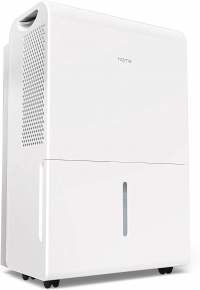 Appealing design for household living

Quiet operation

Easy-to-use digital controls
Reduces humidity in 1,500 square feet of space

Built-in timer for easy control

Auto-shutoff feature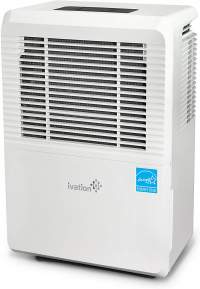 Ivation 70 Pint Energy Star Dehumidifier
Quick and effective moisture removal

Eco-friendly features

Compact design
Service areas up to 4,500 square feet

Turbo fan speed

ENERGY STAR-rated product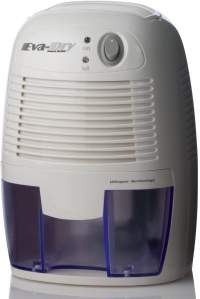 Eva-dry Edv-1100 Electric Petite Dehumidifier
Quiet

Low energy use

Compact
Uses thermo-electric technology

Has an auto-shutoff feature

Ideal for small, relatively dry spaces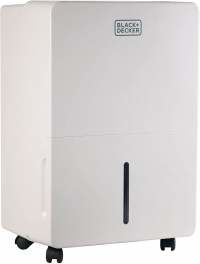 BLACK & DECKER BDT70WT Dehumidifier
Excellent moisture-capture capacity

Built-in continuous drainage pump

Energy-efficient
Comes with a continuous drainage option

Comes with several automatic features

Has auto-defrost and auto-shutoff features
15 Best Dehumidifier Reviews
1. Frigidaire FFAD7033R1 Dehumidifier – Top Overall

This Frigidaire Dehumidifier has a reputation as one of the best dehumidifiers you can buy.
It's easy to see why.
Among the multitude of devices we reviewed, it's one of the fastest dehumidifiers on the market. It can quickly dehumidify even an extremely humid room with ease.
One of the most significant drawbacks of most dehumidifiers is that they're loud.
The Frigidaire model is exceptionally quiet; you can barely hear the compressor engage on start-up.
The exhaust is the primary source of noise, but you can easily direct it away from you because it's on the side instead of the top, where many other models place it.
This Frigidaire model also comes with an electronic control panel that offers multiple settings and a digital humidity display. It's portable, which makes it an IDEAL dehumidifier for problem areas, and the handles and caster wheels make it easy to move.
2. hOmeLabs Dehumidifier for Medium to Large Rooms and Basements
The hOmeLabs dehumidifier is designed to reduce humidity in 1,500 square feet of space, removing about 50 pints of water per day.
It's great for household users who want a simple solution for keeping their homes mold and mildew-free on humid days.
This dehumidifier comes with a digital control panel that has six settings and a timer for easy control.
It includes an auto-shutoff feature and even a turbo mode for times you want to get more comfortable as soon as possible.
The unit ships with continuous mode as its default, so if you want manual control, first turn it off before trying to set your desired humidity level.
The main drawback of the hOmeLabs dehumidifier is that it doesn't come with a pump feature. Here's the deal: You must drain the water tank either manually or by attaching it to a gravity-fed hose.
The tank also is quite small compared to its removal capacity, so you might have to empty it multiple times per day in high-humidity situations.
3. Ivation 70 Pint Energy Star Dehumidifier
The Ivation 70-pint dehumidifier is an excellent choice for large spaces.
It can service areas up to 4,500 square feet, removing up to 70 pints of moisture per day! The extra-long power cord, turbo fan speed, and hose connection make this Ivation model a no-brainer as a basement dehumidifier.
In addition to the standard features of two fan speeds, filter and reservoir alerts, and timer, the Ivation also features several eco-friendly features that will save you money.
It's an ENERGY STAR-rated product and comes with an auto-shutoff mode, reusable filters, and auto-defrost options to enhance its lifespan and reduce its energy footprint.
4. Eva-dry Edv-1100 Electric Petite Dehumidifier
The Eva-dry uses thermo-electric technology to suck moisture from the air without the need for a massive, energy-intensive compressor.
Unfortunately, thermo-electric dehumidifiers have a meager rate of moisture collection because that water drips into the collection bucket at a rate of 1.25 pints per day, far below the 25 – 70 pints you can remove with a compressor-based model.
The Eva-dry is designed for ease of use and doesn't have a control panel. Instead, it has an auto-shutoff feature and will turn off when the 16-ounce reservoir is full.
This auto-shutoff feature makes this model ideal for small, relatively dry spaces that need a bit of extra attention.
We wouldn't recommend this as your primary dehumidifier, though. It simply doesn't have the capacity to dehumidify anything more than a pint per day.
5. BLACK & DECKER BDT70WT Dehumidifier

If you're looking for a permanent basement dehumidifier, look no further than this Black & Decker 70-pint model.
In addition to having the capacity to deal with high moisture in large spaces, it comes with a continuous drainage option that makes water disposal a breeze.
The Black & Decker dehumidifier also comes with several automatic features that allow you to set up the machine and forget about it for months on end.
Not only does it have an auto-restart function to get it up-and-running after a power outage, but it also has auto-defrost and auto-shutoff features to keep the machine running without manual intervention.
6. Keystone High-Efficiency 70-Pint Dehumidifier
The Keystone 70-pint dehumidifier is the best budget alternative to our top pick: the Frigidaire FFAD7033R1.
This model often appears in the same price range as 50- or 30-pint dehumidifier models, but it offers faster, more energy-efficiency than many of its competitors.
The Keystone dehumidifier is a good option for your crawl-space because it can clear an ample space of moisture quickly.
You can set this machine up for continuous drainage, and it will shut off automatically when the room reaches your desired humidity.
The Keystone High-Efficiency 70-Pint Dehumidifier also is a very quiet unit with a low power draw of 590W at 50-percent capacity.
The auto-reset and auto-defrost features keep the unit will operate with minimal human intervention, so your home stays dry and allergen-free.
7. Vremi Dehumidifier Energy Star Rated for Medium Spaces and Basements

The Vremi dehumidifier combines sleek looks with effective moisture control for medium-sized spaces.
The 22-pint model isn't the largest we've reviewed, but it's still sufficient for small areas that contain a moderate amount of moisture.
The style of the Vremi dehumidifier makes it clear that this is a dehumidifier designed for indoor, household use.
Not only does it have a stylish design, but it also sports a silent fan that you can set either to normal or turbo mode, depending on your needs.
The caster wheels and handles make this Vremi model it a portable and easy-to-use unit, PERFECT for preventing odors and removing mold from rooms in your home.
8. Eva-dry E-333 Renewable Mini Dehumidifier
There are times when a conventional dehumidifier would be overkill, and all you really need is a portable mini-unit.
The Eva-dry E-333 portable dehumidifier is designed to remove moisture from small spaces, such as bathrooms, RVs, and closets.
This MINI-dehumidifier works using renewable silica gel technology. Silica gel attracts moisture naturally, without the need for a power source.
All you have to do is plunk it down where you need moisture removed. A handy indicator window will show you when you need to renew the unit by charging it for a couple of hours in a well-ventilated space.
One of the top uses for this dehumidifier is for safes, where moisture can quickly destroy valuables if not removed.
The silica beads can remove moisture from your valuables for as long as several weeks before you have to recharge it, making the Eva-dry E-333 the PERFECT dehumidifier to set and forget.
9. Keystone White High-Efficiency 50-Pint Dehumidifier
If you're looking to control mildew and mold in a relatively small space, you most likely won't need a sizeable 70-pint dehumidifier to do the job.
The Keystone 50-pint dehumidifier can remove a lot of moisture from the air each day while consuming significantly less power than its bigger brother.
The Keystone 50-pint dehumidifier comes with all the high-quality features you'd expect from Keystone, including a 24-hour timer, transparent water-level indicator, removable dust filter, and electronic controls.
This baby does have an auto-shutoff function that kicks in when it detects a full water tank. What's more, you also can easily install a continuous draining system, if you choose.
If you're looking for the best dehumidifier for mold and don't want to spend a fortune on larger models, the Keystone 50-pint dehumidifier is a superb option at an EXCELLENT price.
10. Frigidaire FAD704DWD Dehumidifier
If you're looking for the best dehumidifier for mold allergies, look no further than the Frigidaire FAD704DWD!
In addition to its high-quality build and fast moisture-reduction times you'd expect from a Frigidaire product, the FAD704DWD also comes with an anti-bacterial mesh filter that kills any bacteria or mold with which it comes in contact.
This double-whammy of moisture reduction and active anti-bacterial mesh results in a significant improvement in your home's air quality the very moment you start using it.
The FAD704DWD can process up to 70 PINTS of water per day, making it the obvious choice for high-humidity areas or large spaces.
This unit comes with everything else you'd expect from a high-quality dehumidifier, too, including: electronic controls, digital humidity display, auto-shutoff, auto-restart, and a continuous pump.
11. Pro Breeze Electric Mini Dehumidifier
The Pro Breeze mini dehumidifier is designed to be as unobtrusive as possible.
It relies on thermo-electric cooling technology to remove moisture without the need for a loud compressor.
This feature makes it energy-efficient, quiet, and very portable.
The main drawback of the Pro Breeze mini dehumidifier is that it can remove only small amounts of moisture per day.
With this in mind, it is IDEAL for small spaces that aren't excessively humid, including closets, RVs, and small offices.
This unit won't work for larger spaces or areas with extremely high humidity. It is less effective in cooler temperatures and WON'T work in temperatures below 59-degrees Fahrenheit.
12. Hysure Portable Dehumidifier

The Hysure dehumidifier is designed mainly for use in bedrooms and bathrooms.
It uses thermoelectric technology to remove small amounts of moisture quietly and effectively.
It can remove up to 10 OUNCES of water per day, though this is dependent on the external temperature and the environmental humidity.
The Hysure mini dehumidifier isn't going to remove moisture altogether from an entire home. However, it is still useful in instances where you want to control the humidity to prevent the growth of mold or mildew.
The design of the Hysure is attractive, with clear indicators of a full tank. It's a reliable alternative to other mini dehumidifiers, especially if you like the white and purple styling.
13. Danby DDR050BDWDB Energy Star Dehumidifier
The Danby 50-pint dehumidifier is an excellent option if you can't find either the Frigidaire or Keystone humidifiers we recommended earlier.
The main feature that sets this dehumidifier apart is its fantastic energy-efficiency.
Most 50-pint dehumidifiers operate at about 450 or 500 watts, but the Danby operates at 400 watts at full capacity. When it reaches your desired humidity level, it enters a monitoring mode, where it only uses 1 watt of energy.
Despite being so energy-efficient, this Danby model still pulls moisture from the air quickly – even bringing down even 80-percent humidity to livable levels.
It's quiet, attractive and comes with all the features you'd expect from a high-end dehumidifier.
14. Whynter 40 Pint Dehumidifier

The Whynter 40-pint dehumidifier is a bit smaller than others we've reviewed, but it still packs plenty of punch.
It's one of the best dehumidifiers for a basement, as it can operate in temperatures as low as 40-degrees Fahrenheit.
Unlike many of the other dehumidifiers we've reviewed, the Whynter dehumidifier comes with a hose for continuous drainage.
One frustrating characteristic of the Whynter's design is the water bucket, which is both small and fussy to handle. If you opt to use the 7-PINT bucket rather than the direct drain option, be prepared to empty it several times a day, then struggle to get it reinserted correctly.
15. GARRISON 1028312 60 Pint Dehumidifier
So, what if you don't want to pay for a 70-pint dehumidifier, but you still need more oomph than a 50-pint one?
The Garrison 1028312 has you covered! It can process 60 pints of water per day – the sweet spot between the sheer processing power of a 70-pint dehumidifier without the heftier power consumption.
Because it is small, the Garrison is easily portable, with caster wheels and handles providing plenty of transport options.
This unit also has a long-lasting air filter that you need to clean only every 250 hours, plus a convenient water tank that's easy to access and relatively spacious.
So, now that we've taken a look at the best dehumidifiers on the market, you should be at least a junior expert on dehumidifiers. But we're happy to share our opinion, too.
Which one do we think is the best bang for your buck?
Without a doubt, the Frigidaire FFAD7033R1 takes the top spot for most household uses.
It's powerful enough to function as a permanent basement dehumidifier and quiet enough to be used in the rest of your home. What more could you want?
If the Frigidaire is too pricey for you, though, consider some of the other alternatives we reviewed here.
Our runners-up include the Black & Decker BDT70WT and the Keystone KSTAD70C. Both of these offer excellent VALUE for the money and will keep you comfortable year-round.
Remember, there are hordes of fantastic dehumidifiers on the market. So, hone in on your specific needs and refer to this review to help you choose what's right for YOU!
How to Choose the Best Dehumidifier for You?
While the Frigidaire FFAD7033R1 is our top pick, you might want something a bit more specifically tailored to YOUR needs.
For instance: You might be looking for the best dehumidifier for bedrooms rather than your entire house, in which case our top pick might be overkill for your needs.
When choosing the best dehumidifier for your needs, consider the following characteristics:
Removal Capacity
Dehumidifiers often are rated by the amount of moisture they can remove within 24 hours. The larger the area you want to dehumidify, the bigger the capacity you will need.
You can serve smaller areas with a 25-pint dehumidifier, while larger rooms will need a capacity of 40 to 70 pints.
Space isn't the only factor that you must consider when looking at a dehumidifier's removal capacity. Also, consider the base humidity of the area.
A highly humid area will need a dehumidifier with a high removal capacity, while slightly damp areas don't require as much capacity.
If you're confused about the removal capacity you need, refer to this handy chart from the Association of Home Appliance Manufacturers (AHAM). This graphic combines area size and humidity levels to estimate the extent of removal capacity you'll need.
Energy Performance
Energy performance of a dehumidifier is measured as the amount of water extracted versus the amount of power required to do so.
Typically, smaller units will consume less power, but that doesn't mean they're energy-efficient.
We recommend looking for ENERGY STAR certified dehumidifiers. These products use more-efficient coils, compressors, and fans, allowing them to remove the same amount of moisture as a conventional unit, but using as much as 15 percent less energy.
Moisture Removal Method
All dehumidifiers must dispose of the water they condense from the air. The dehumidifier model you choose will depend on the floorplan of your home, as well as your tolerance for busywork.
Most dehumidifiers have a water basin that you can remove manually and empty, while others have continuous draining features.
Those with a direct drain feature clearly serve up more convenience, but they do require a floor-level drain in the area of operation.
Additional Features
These aren't essential features, but most are nice to have, especially if you're looking for hassle-free operation:
Low-temperature setting:

This setting allows the dehumidifier to operate in temperatures as low as 41 degrees Fahrenheit.

Humidistat:

An auto-humidistat measures the moisture levels in the area and shuts down operation automatically when it reaches desired humidity levels.

Auto Reset:

This feature allows the dehumidifying unit to restart automatically after a power outage, so you don't have to set it up again.

Filter Indicator:

This light shows you when it's time to clean the air filter on your humidifier, which is essential to keep your air pristine and allergen-free.
Related articles:
Homeheatingheroes.com is a participant in the Amazon Services LLC Affiliate Program, an affiliate program designed to provide a means for sites to earn advertising fees by advertising and linking to amazon.com.