Home Heating Heroes
Some of the links below are affiliate links, meaning, at no additional cost to you, we earn a commission if you click through and purchase. Learn more
Your Guide to Home Heating and Cooling Systems
Best Humidifiers for Winter
on the Market (2022)
When winter comes in, so does the dry cold air. It the best time to whip out the humidifier to help make the frigid winter air more bearable.
We set out to find the best humidifier for winter on the market, exploring the overall moisturizing power and coverage of the unit. We're also partial to evaporative humidifiers since these units prevent over-moisturizing.
What did our research reveal about the best humidifier for winter? After much deliberation, we settled with the Honeywell HCM350W as our top overall pick.
It's a reasonably priced evaporative humidifier that also has anti-bacterial benefits. The unit also has decent coverage and sufficient water capacity for extending operations without the need to be refilled.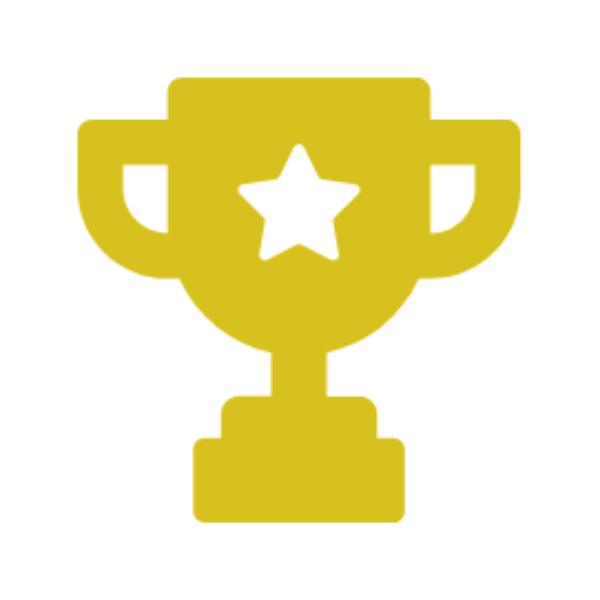 Best Choice
Cool humidifier

24 hours of run-time

UV Light Technology for air purification
Moisture Control

Unit continuously runs for 24 hours

Uses UV Light Technology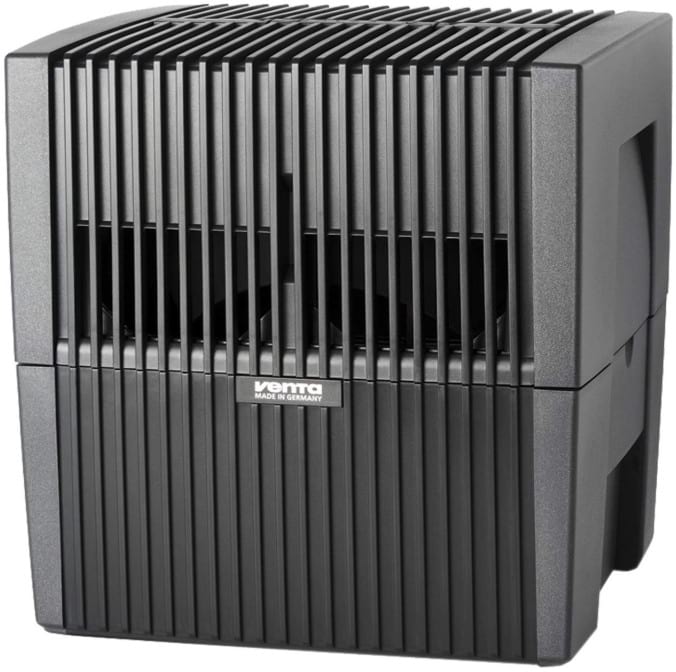 Humidifier and air purifier

Generous coverage

No over-humidifying
48 hours of run-time

Moisturizes a room of up to 400 square feet.

Sizeable 2-gallon water tank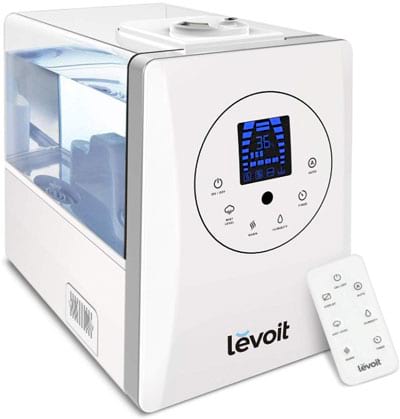 LEVOIT LV600HH Humidifiers
Extensive coverage

Handles cold and hot weather

Affordable
Automatic shut-off

Choose between a cold mist or warm mist

Built-in humidity sensor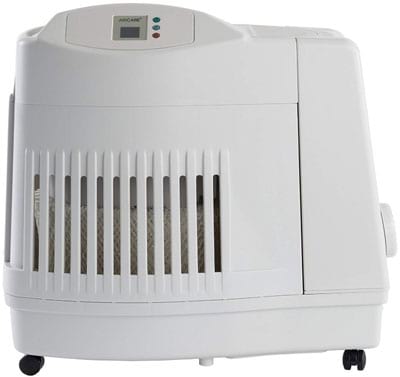 AIRCARE MA1202 Whole House Humidifier
Evaporative technology

Extensive coverage

Digital Humidity Sensor
Automatic Shut-off

36 hours of run-time

Can handle up to 3,600 square feet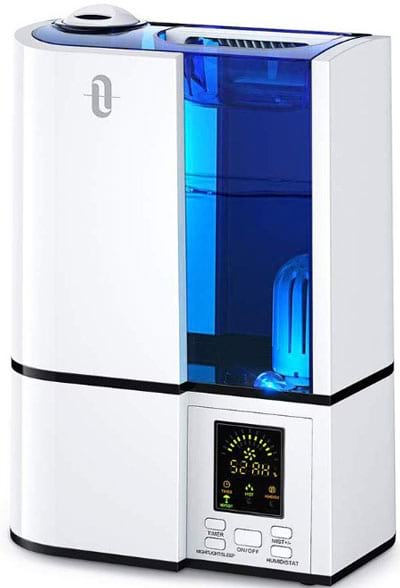 30 hours of run-time

Sleep Mode

UV Light Technology for air purification
Humidity sensor

Near-silent operation

Sleep Mode
5 Best Humidifiers for Winter Reviews
So, which humidifier is best for winter? Here are our TOP FIVE choices:
The Honeywell HCM350W is one of the most highly rated humidifiers on the Amazon catalog.
The Honeywell HCM350W is one of the best humidifiers you can use for winter. It quickly achieves the recommended humidity level of 40 to 60 percent, ensuring a more comfortable winter for the whole family.
High ratings on Amazon
Cool humidifier
24 hours of run-time
UV Light Technology for air purification
Easy to clean
It uses evaporative technology to moisturize the air, which means there's no likelihood of over-humidifying an area. It's also a cool humidifier, so there are no risks of dangerous burns.
The unit continuously runs for 24 hours (at lower settings) with a water capacity of 1 gallon.
Higher settings shorten the run-time significantly.
The HCM350W uses UV Light Technology that kills 99.9 percent of the bacteria present in the water. It sterilizes the water before being released into the air, effectively doubling as an air purifier.
The unit is easy to clean, as well. All the parts can be safely used in a dishwasher for a thorough wash. There's also Honeywell's Protec Cleaning Ball (sold separately) for even easier maintenance.
The Venta LW25 is a high-end humidifier, and air purifier rolled into one.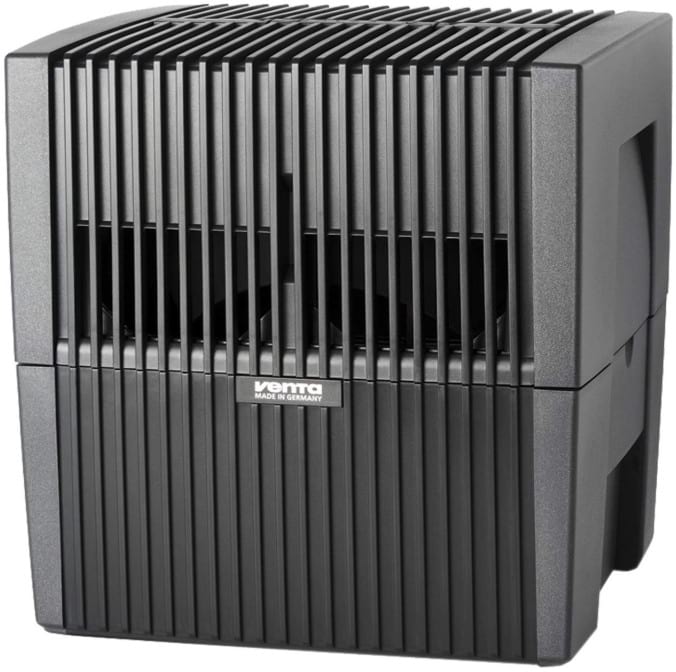 The main drawback of the LW25 is the price. It's in a class of its own in this category. If you're looking for a workhorse that can moisturize a large room for extended periods, however, the LW25 is your humidifier of choice.
Humidifier and air purifier
Generous coverage
48 hours of run-time
No over-humidifying
It uses evaporative technology effectively and moisturizes a room of up to 400 square feet. That's generous coverage and justifies its slightly higher price tag.
The unit is a cool air humidifier that surprisingly doesn't use any filter, nor does it eject mist into the air. It prevents over-humidifying, as the atmosphere will only absorb the moisture it can hold naturally.
Aside from humidifying, it cleans the air in the room by removing foreign particles, like dust and other allergens, as the air passes through the unit.
The LW25 has a sizeable 2-gallon water tank, which is double what you'll find in other humidifiers.
It can run for up to 48 hours at low settings without a refill—a truly "set it and forget it" solution.
3.

LEVOIT LV600HH Humidifiers
If your whole house needs moisturizing, consider the LEVOIT LV600HH. The humidifier has an output of 500 ml of vapor per hour, which can handle large areas of up to 753 square feet.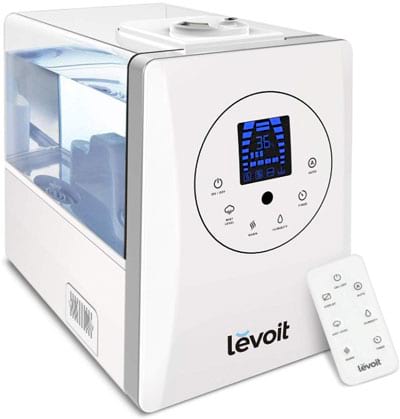 If you're looking for an inexpensive way to humidify a large room this winter, this is a good pick. The best part is that with all its features, the LEVOIT LV600HH is reasonably priced.
Extensive coverage
36 hours of run-time
Handles cold and hot weather
Automatic shut-off
Affordable
The LV600HH is flexible enough to handle both cold and hot weather, thanks to its dual mist setting. You can choose between a cold mist or warm mist. The latter is handy during winter, as it humidifies a room 25 percent faster while warming the room simultaneously.
It has a water tank of capacity of 6 liters, enough for 36 hours of continuous use. When the water level is low, it will automatically shut itself off.
This unit has a built-in humidity sensor, which automatically regulates the level. You need to set your target, and the LV600HH will autonomously turn itself on and off to maintain the settings.
Auto Mode lets the LV600HH pick a suitable level for you.
The humidifier is also convenient to use wherever you are in the room, thanks to its compact remote controller. You can adjust settings from your bed, or set the timer so that it will automatically shut off after a specified timeframe.
Read More: Best Humidifier in the Market
4.

AIRCARE MA1202 Whole House Humidifier
The MA1202 uses evaporative technology, which passes air through a moist wick instead of injecting mist into the room. It's nearly impossible to over-humidify your room with this unit.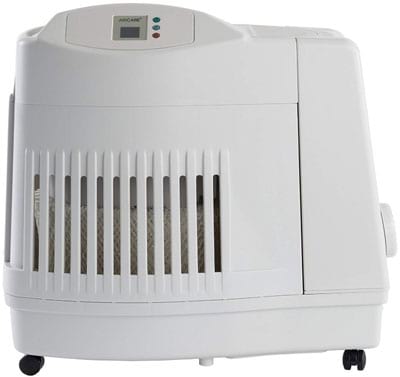 The AIRCARE MA1202 offers fantastic value for money. It has the power and capacity to moisturize a large area for longer. It is also reasonably priced, making it a more economical choice than buying smaller humidifiers for various rooms.
Evaporative technology
Extensive coverage
Digital Humidity Sensor
Automatic Shut-off
36 hours of run-time
Value for money
One of the most significant benefits with the AIRCARE MA1202 is its extensive coverage. It can handle up to 3,600 square feet, more than enough for a large house, living room, or apartment space.
As an added failsafe, the MA1202 is also equipped with a digital humidity sensor. It allows the humidifier to shut off and on in response to humidity levels, allowing for more accurate results.
The water tank capacity of 3.6 gallons is enough to run continuously for 36 hours. Once empty, the humidifier will automatically shut off to prevent damage to its components.
5.

TaoTronics 4L Humidifier
For medium to large rooms, the TaoTronics 4L Humidifier is an optimal choice.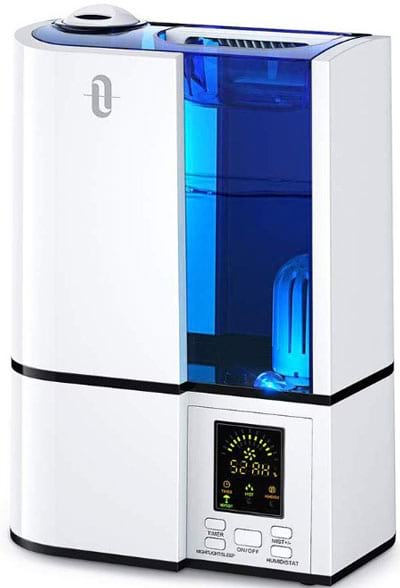 The TaoTronics 4L Humidifier functions as advertised. It has plenty of great features and is priced reasonably.
30 hours of run-time
Sleep Mode
Quiet
Humidity sensor
The humidifier is capable of covering up to 322 square feet. A 4L tank capacity ensures that it can last up to 30 hours without refills.
The TaoTronics humidifier has a near-silent operation, producing noise levels of less than 38 dB.
It also has a Sleep Mode that will turn off all of its lights and indicators—perfect for use in the bedroom or baby's room for a good night's sleep.
The humidifier is equipped with a humidity sensor, giving it the ability to regulate humidity in the room automatically. Once you set your target level, it will turn on and off to maintain that level.
An LED screen also tells you the humidity percentage in the room.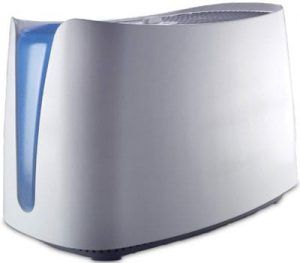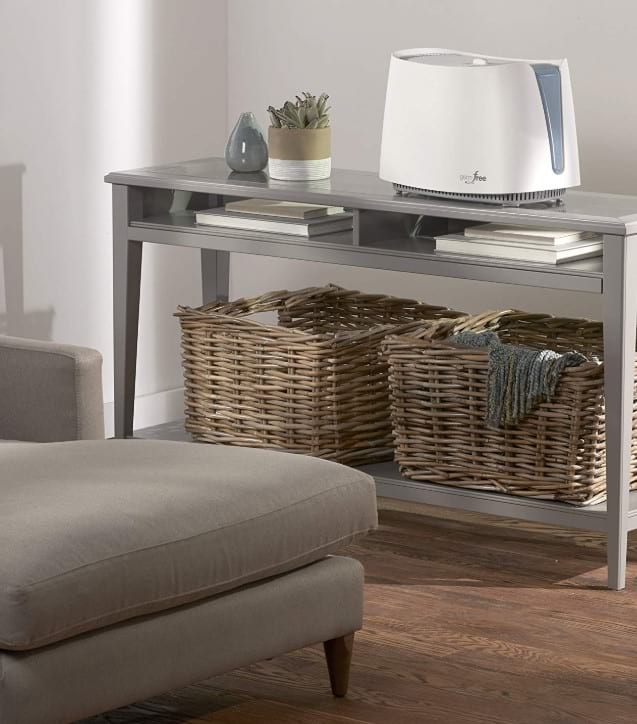 For the best humidifier for winter, our final bet goes to the Honeywell HCM350W.
The combination of evaporative techniques with UV light technology provides a safer and more comfortable atmosphere during the dry winter months.
It also runs for up to 24 hours on its own.
If you prefer an ultrasonic mist humidifier, though, we suggest the LEVOIT LV600HH.
The unit will win you over with its vast coverage area of up to 700+ square feet, dual mist (warm or cold), and automatic humidity sensors to prevent over-moisturizing an area.
Both these models will get the job done at a reasonable price and should make your winters a little more comfortable.
How to Pick the Humidifier for Winter For Your Needs
Due to the colder weather, winter presents different sets of challenges when selecting a suitable humidifier for your home. The air tends to be dryer, which is exacerbated by heaters cranked up to maximum power.
The wrong humidifier, however, can make matters worse by over-moisturizing an area.
Here are some other crucial considerations when picking out a humidifier during winter:
It might sound more intuitive to use a warm humidifier in a cold environment, but it has surprising disadvantages.
It presents a risk of deadly burns when you accidentally spill the water. It also tends to be more expensive and leads to higher maintenance costs.
It's far better to opt for a cool humidifier, which works just as well as warm humidifiers. These models are also cheaper and easier to maintain.
Ultrasonic vs. Evaporative
When buying a humidifier, you'll come across two types—ultrasonic or evaporative.
Ultrasonic humidifiers work by continuously injecting a fine mist into the air. It's basically the process of forcing moisture into the air.
These units are usually the preferred option, being cheaper in general. It is also quiet and doesn't require messing around with filters.
The biggest flaw is that it has a high risk of over-humidifying your room, especially if it doesn't have an automatic regulation system in place.
If you worry about making your room too humid, consider evaporative humidifiers instead.
It sucks air into a wet filter to impart some moisture. The most significant advantage is that the output slows down as the humidity level rises, though. It eliminates the risk of over-humidifying significantly.
The disadvantage of evaporative humidifiers is that they have filters and extra parts that need constant replacement. The tanks also need to be cleaned regularly, since these humidifiers are prone to bacterial accumulation.
We usually go for an evaporative humidifier since we want to avoid excessive humidity during winter.
Automatic Moisture Control
If you're committed to using an ultrasonic mist humidifier, consider an automatic moisture control feature.
It allows you to set a target humidity level that the unit needs to maintain. Then, it continuously detects the humidity in the air and automatically turns itself on or off to try and regulate the level.
Over-humidifying your room will be almost impossible.
Some humidifiers also have a diffuser feature, which allows you to put essential oils into your unit. It disperses together with the mist, so it's an excellent way to scent the room for a more relaxing night.
Selecting a diffuser boils down to preference.
Do the research and take note of the possible health risks of buying the wrong essential oils—a mistake can affect many health factors, including sleep quality.
The water capacity of your humidifier determines how long it can run without refilling.
At a minimum, look for a humidifier that can last 8 to 10 hours. It will prevent you from having to wake up in the middle of the night to refill the humidifier.
Transparent water tanks are ideal since it's easy to track the water level visually. Some opaque containers have a low water indicator, which is equally helpful.
A humidifier is rated by the area it can moisturize. It is usually specified in square feet, so it's easy to gauge what you need—measure the square feet of the room.
About 100 square feet is about the size of a small room or nursery.
If you're using your humidifier in a bedroom or in the baby's room, discretion is essential. You don't want the machine to wake you or the baby in the middle of the night.
You need it to operate quietly.
All humidifiers generate noise to some degree, but it's best to aim for noise levels of 35 dB or less.
Humidifiers also have lights and indicators that might distract sleepers. Some humidifiers have a Sleep Mode to compensate, which turns off all lights and indicators for a period while continuing normal operations in the background.
Avoid Water Treatment on you Humidifiers
Some humidifiers require (or recommend) that you put additives into the water prior to use. These are usually ammonium compounds, scientifically proven to have adverse health effects.
If you see this in a potential humidifier, run the other way.
Homeheatingheroes.com is a participant in the Amazon Services LLC Affiliate Program, an affiliate program designed to provide a means for sites to earn advertising fees by advertising and linking to amazon.com.