Home Heating Heroes
Some of the links below are affiliate links, meaning, at no additional cost to you, we earn a commission if you click through and purchase. Learn more
Your Guide to Home Heating and Cooling Systems
15 Best Humidifiers of 2022 - Ultimate Buying Guide
Winter: the season of giving and the season of cold weather. Though there's much to look forward to during this time of year, we could do without chapped lips and dry skin.
Moving to a tropical climate is always a wishful dream, but if you are like most ordinary people, a big move is not a feasible plan. So instead, let's focus on how we can lessen some of the consequences of dry, cold air.
These little gadgets add moisture to the air in your room. But, with so many on the market, how do you know which one to buy?
We have curated a list of 15 of the best humidifiers just for you.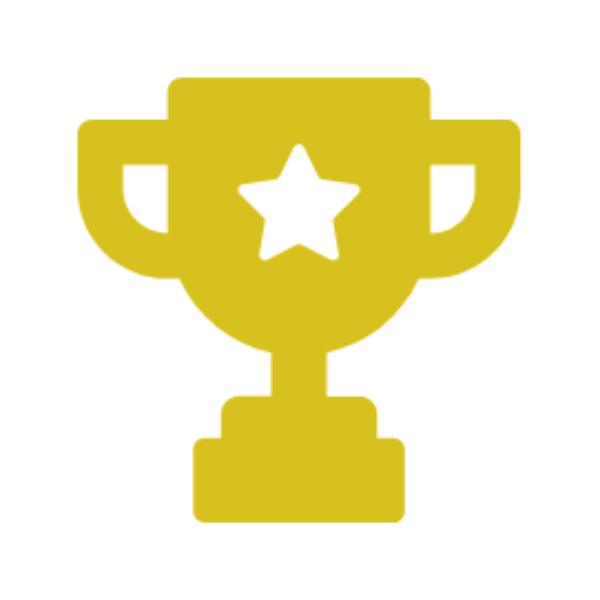 Best Choice
Honeywell HCM350W Germ Free Cool Mist
It has a big 1-gallon tank

Quiet

Easy to clean
Built-in Hygrometer

Auto shut off

Can run up to 24 hours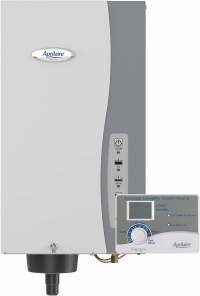 Aprilaire 800 Whole House Steam Humidifier
It can connect both to ducts, or use a fan-powered non-duct version

Can heat an entire building

Fully automatic
Uses regular non-filtered water and electrodes

Pumps humid steam

Also a great fan-powered steam humidifier option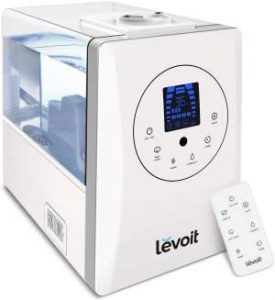 LEVOIT Humidifiers for Large Room Bedroom
Portable

Can heat and humidify a large room

Easy to clean
Filterless

Near-silent operation

Fully automatic and has a cut-off switch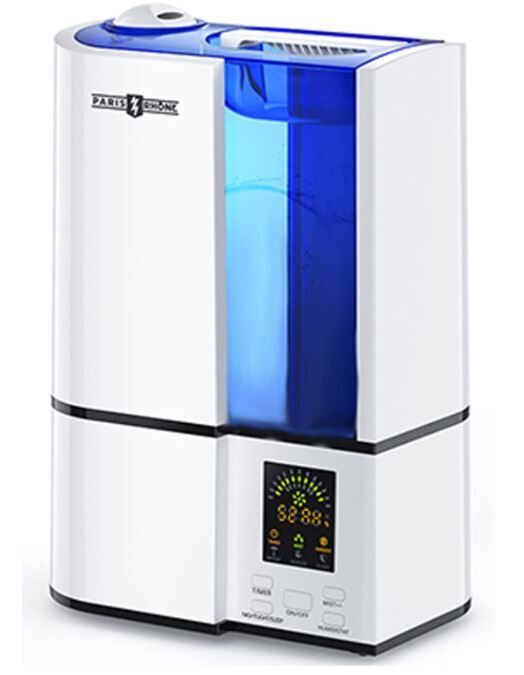 PARIS RHÔNE Cool Mist Humidifier
Portable

Near-silent operation

Great for vacations
Can go for 12 hours of operation

Useful sleep mode

Has a cut-off switch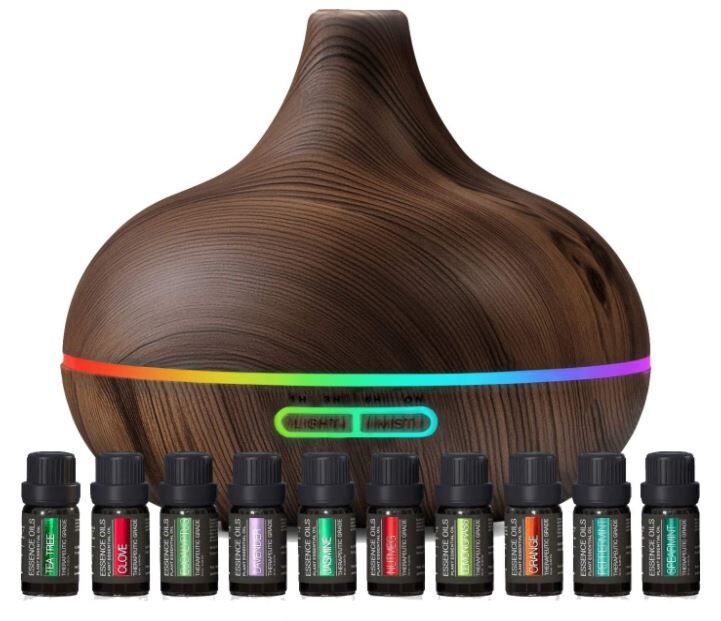 Pure Daily Care Essence Diffuser, 300ml Oil Diffuser
Perfect for shops and salons

Gorgeous design

Portable
Can control the amount of mist produced

Diffuses essential oils

Fully automatic
How Do I Choose The Right Humidifier for Me?
So hearing about humidifiers is all very well. Reading lists of the chop choices gives you a good idea of which ones other people love. But how do you know which is the right one for you? There are so many on the market, and they all seem to offer the same thing.
Don't they?
Well, no.
Humidifiers come in several different options, from how they work to how big they are, to what you intend to do with them. Choosing the right one for you depends on your requirements.
For example, you may not want the hassle of having to buy new replacement filters, so a humidifier with a permanent filter will be your best bet.
Ultrasonic Warm/Cool Mist
These humidifiers use a metal diaphragm that vibrates at ultrasonic speed to break apart water droplets. The result is a super fine mist that evaporates before it hits the ground. The mist can be either cool or warm, depending on your preferences.
An ultrasonic warm/cool mist humidifier is a great option for you if:
You want a quiet machine that just gets on with the job.

You are only looking to humidify a small area such as one room.

You want the option between cool and warm mist.

You live in the North, and your winters are pretty cold.
Evaporative Cool Mist
This humidifier uses a fan to produce a cool mist. It draws air from a room using a fan and blows it through a damp wick. The wetness of the wick humidifies the air that passes through it, resulting in slightly damper air that is blown out the other side. Because it also makes use of evaporation, the air is cooler than when it went in.
Evaporative cool mist technology will suit your needs if:
You don't want a heating option.

You are only looking to humidify a small area such as one room.

You don't mind the noise of a fan.

You don't live in a cold climate.
Air Washers
These are the most common little humidifiers that you see sitting in shops. They often have bright lights, and continuously swish water around. There is not a whole lot of science involved here; rotating disks basically "wash" air. They trap pollen particles and large dust particles, returning cleaned humidified air to the room. Surprisingly they can cover quite a big space too.
Air washers are a good option if:
You want a small, robust, and cheap humidifier option.

You are not looking for a heat option.

You aren't looking to remove sub-micron ling particles.

You don't live in a cold climate.
Steam Vaporizer Warm Mist
These are also pretty straightforward. The water in a tank is heated to create steam, which is released into the room. The steam both warms and humidifies a room. It's kind of like having a kettle on permanently.
Steam vaporizer warm mist may be perfect you if:
You don't mind a constant stream of damp steam

You only want warm mist.

You aren't looking to remove sub-micron ling particles.

You don't live in a warm climate.

You have air ducts and want a steam system to heat your entire home.
The size of your space
So the next aspect that you have to take into consideration is the size of the area that you want to humidify. Mostly we only want to do a room, such as a bedroom or living room. In this case, you most likely need a portable or a room humidifier
A portable humidifier can sit on a table and is easy to carry around
A room humidifier is a relatively big bulky unit that is a pain to get from one place to another.

Possibly you have air ducts and are looking for a whole house system that heats your entire home.
So, what's best for you?
Most likely, you are looking for something small that you can move around. So a portable unit is your best choice. You may love in a cold climate, so a unit that offers warm mist is on the top of your list. And finally, you want an ultrasonic humidifier as it is both more healthy and quieter to run.
Unless you are looking to heat your whole building, then a steam-powered air duct dependent system may be the route for you. Of course, this is all dependent on your budget.
15 Best Humidifier Reviews
1. Honeywell HCM350W Germ Free Cool Mist

The Honeywell HCM -350B has a sleek design and is available in black and white. The 1-gallon tank can run up to 24 hours if you set it on low. That means you can just let it run and forget about it.
It uses cool mist technology to run, which means that it is not only quiet, but it can also easily maintain a medium-size room. It's great for bedrooms as it won't keep you awake.
The Honeywell was voted "Easiest to Clean Humidifier" by Women's Health, and we all know how vital cleanability is. Women's Health loved it, both for adults and for kids. Keeping your kids' room warm and humid is one of the best ways to achieve a good night's sleep. And when your kids sleep well, so do you.
2. Aprilaire 800 Whole House Steam Humidifier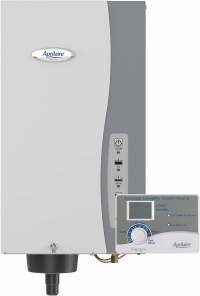 Aprilaire has been around since the 1940s with the first forced air furnace humidifier system on the market. Since then, they remain one of the leading options when it comes to both ducted and non-ducted humidification systems.
The 800 Whole House system comes in a choice of ducted and non-ducted. If you have air ducts, it hooks up to them to pump humid steam into every room of your house. If you don't have ducts, this is a great fan-powered steam humidifier option for a large room. The best for large rooms usually are steam versions, as they create a power amount of humid air.
3. LEVOIT Humidifiers for Large Room Bedroom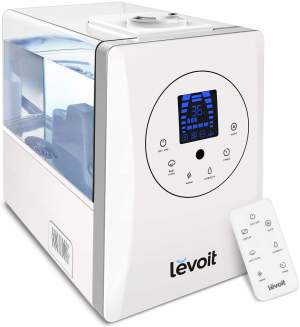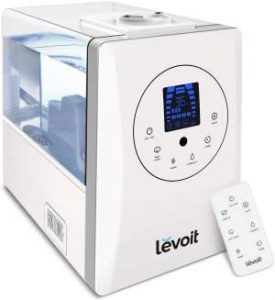 The LEVOIT is one of the best for large rooms. It uses ultrasonic technology and can produce both warm and cool mist. It has also been rated as one of the best for baby as it is BPA free and promoted healthy, germ-free air.
This humidifier has a large 3.5-gallon tank, and an automatic off switch should it run out of water. It is also filterless, which saves money on replacement filters.
4.
PARIS RHÔNE Ultrasonic Cool Mist Humidifier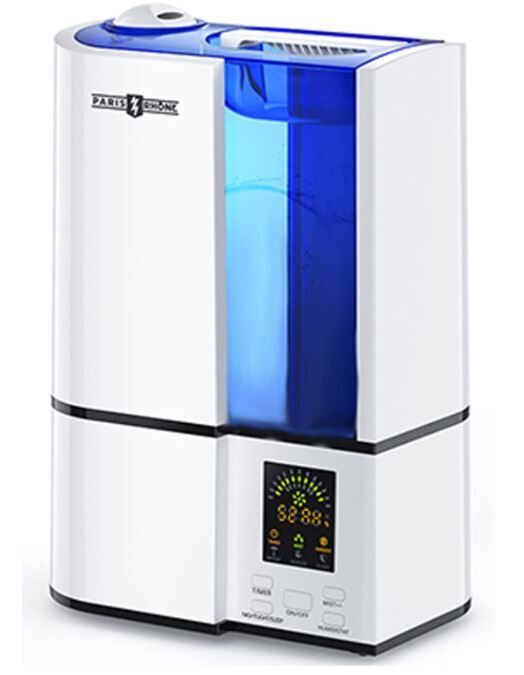 The PARIS RHÔNE Ultrasonic Cool Mist Humidifier is one of the smaller ultrasonic humidifiers on my list. It only has a 4l or 1.6-gallon tank. It can go for 12 hours at most, which makes it a great overnight humidifier.
This is one of the best for your bedroom, as it is near silent ad has a useful sleep mode, designed to help both you and baby get a good night's rest.
Bear in mind that this unit needs replacement filters every 4 to 6 months, as well as needing to be topped up with filtered water to avoid build-up.
5.
Pure Daily Care
Essence Diffuser
, 300ml Oil Diffuser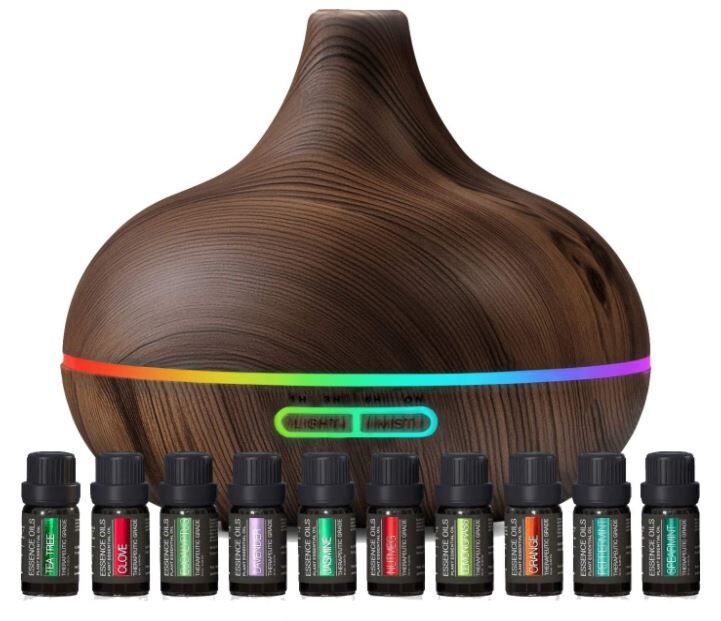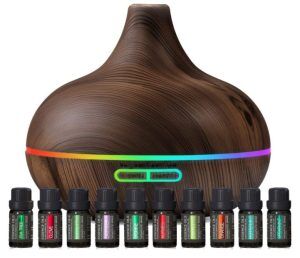 This is a neat little unit that is more of a diffuser than a humidifier. It does emit a mist and can be set to control the amount of mist produced. Mainly though, it swishes water around and diffuses water-soluble essential oils into the air.
If you are looking for a pretty object that makes your space smell great, then this is for you.
6. Aprilaire 700 Automatic Humidifier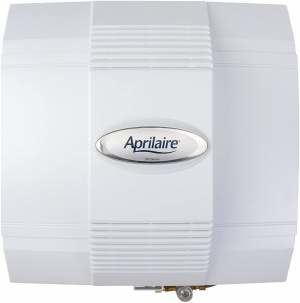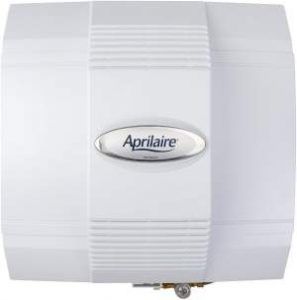 Another great offering from Aprilaire, the 700 Automatic, is a wall-mounted unit designed to humidify entire houses.
This unit is wall mounted and has to be connected to a water supply. It is quiet and is designed for homes of about 4200 square feet.
This humidifier is rated as one of the best for sinus problems as it works continuously to create moist, fresh air thought your entire home.
7. Emerson HSP2000 Whole House Steam Humidifier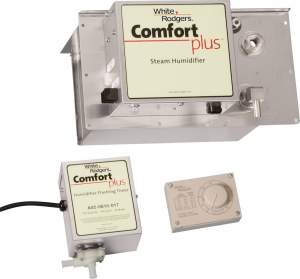 The Emerson is a whole-house unit that uses steam to create a warm moist atmosphere. It is designed for bigger spaces, and not recommended for a house under 1400 square feet unless you enjoy living in a jungle.
The water is heated in the tank via a heating unit that then distributes it into your home. Be aware that this unit does require installation. It is fully automatic, though.
It's also not at all cheap.
8. Honeywell HE360A1075 HE360A Whole House Humidifier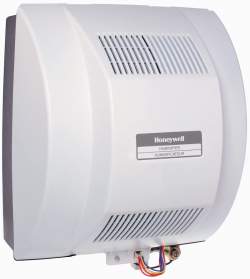 The Honeywell humidifier is one of the best known full home humidifiers. This unit is rated as one of the best for sinus problems. Having a whole-home system is beneficial in many ways, although you need an air duct system already installed in the building for this particular model to work.
This unit requires installation and needs to be set on the return air supply or warm air duct of a forced-air furnace. It also lacks an installation kit that is available for purchase separately.
9. AIRCARE MA1201 Whole-House Console-Style Evaporative Humidifier

This is a semi-portable unit that is designed to humidify an entire house up to 3600 square feet. It is also fully automatic, both in the sense that it adjusts to the desired humidity, and will shut off if empty.
It's a fan-driven humidifier, which means that it moves air through a damp wick. This results in a fan noise that is noticeably louder than an ultrasonic unit.
It also has replaceable parts such as a filter and a wick that need to be bought when they wear out. It is an excellent option if you have a decent size house, and don't want a full wall-mounted system.
10. GeneralAire 1000A Humidifier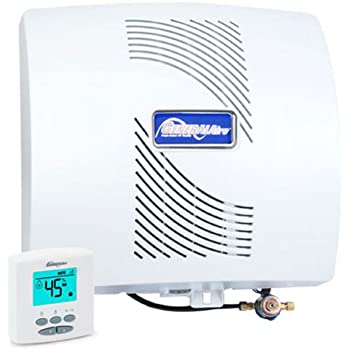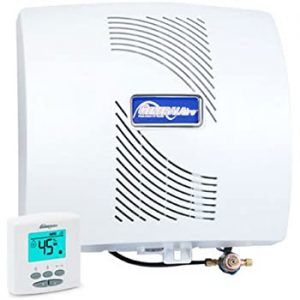 The GeneralAire is a full home system designed for up to 3200 square feet. The fan-driven humidifier pulls air through a wick and sends it into the duct system of your home.
You need to have a house with a forced-air furnace system, a water supply point, and a drain for this unit to work. It is one of the best large room humidifiers and whole-house humidifiers.
If you are looking for a system to go in your already ducted and furnaced building, then this may be the one for you.
11. Dyson AM10 Humidifier


This super sleek Dyson humidifier is a tabletop ultrasonic option. It is 99.9% bacteria-free, resulting in crisp, healthy air for your home.
Voted one of the best for baby, the Dyson humidifier uses ultraviolet technology to ultrasonically create a subtle, sterile mist that is then distributed via the ring at the top.
Intelligent climate control detects not only the temperature but also the ambient humidity and adjusts accordingly. It is fully automatic with a shut-off safety switch.
This is one of the more high-tech options available for individual rooms, and comers with an appropriately high-tech price tag.
12. Elechomes UC5501 Ultrasonic Humidifier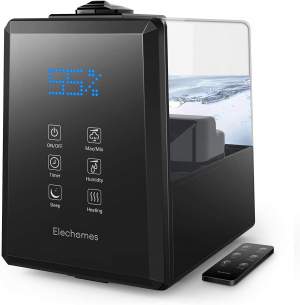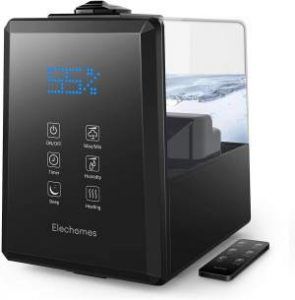 The Elechome ultrasonic humidifier is a lesser-known option compared to the Dyson humidifier and the Honeywell, but it is rated four stars on Amazon.
It uses state of the art technology to produce either cold or warm mist, making it an adjustable unit for most climates.
The large 1.6 gallon tank makes this one the best for large rooms. It lasts up to 40 hours, and the adjustable nozzle ensures that you have full control over where your mist goes.
It is also essential oil friendly!
13. Vicks Mini Filter Free Cool Mist Humidifier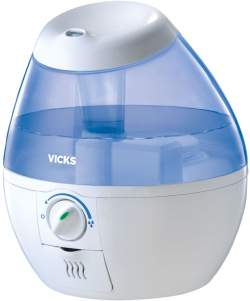 This is the cheaper option on this list. It's not high tech, it's not pretty, but it's been trusted for many years and gets the job done.
Also, who doesn't want to be able to vaporize Vicks?
It does collect a lot of build-up and needs cleaning regularly, but it is a long term stable workhorse that is super dependable and cheap to buy.
14. Venta LW25 Airwasher 2-in-1 Humidifier and Air Purifier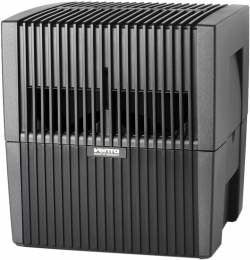 If you are looking for an air washer and humidifier, then this just may be the option for you. The Venta LW25 is designed for medium-sized rooms, up to 400 feet. It does not use filters, produces no ions, and is dust-free.
German engineering produces a compact unit that is almost silent, humidifies, and purifies the air in medium size spaces.
Great for offices!
15. EcoGecko Earth Globe – Cheapest / Student Option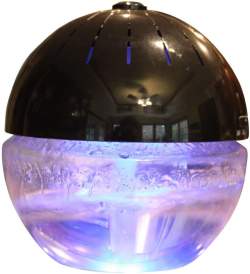 Last but not least, we have a pretty little purple option, perfect for students or those who just want an excellent humidifier for their office desk.
This little guy offers an aromatherapy option, and in fact, even comes with lavender oil. It does need to be cleaned often, and the tiny tank only lasts a few hours.
It is not automatic at all, nor does it have a shut-off switch, but it does cover up to 600 square feet.
So I have to end off with the fact that despite ALL of the humidifiers I have presented to you are decent, the best is still the Honeywell HCM-350B. It's compact, it's affordable, and it humidifies biggish rooms.
The ultraviolet light ensures that the mist is sanitized and safe for the whole family. It is, without a doubt, one of our best humidifiers on sale right now.
So what are you waiting for, go and get the Honeywell humidifier, or any other one from our list, right now on Amazon. Say goodbye to chapped skin, colds, stuffy noses, and crying kids!
So with all of this in mind, if you are looking for winter humidifiers, here are great humidifier options to help you out this winter.
Related Articles:
Homeheatingheroes.com is a participant in the Amazon Services LLC Affiliate Program, an affiliate program designed to provide a means for sites to earn advertising fees by advertising and linking to amazon.com.