Home Heating Heroes
Some of the links below are affiliate links, meaning, at no additional cost to you, we earn a commission if you click through and purchase. Learn more
Your Guide to Home Heating and Cooling Systems
7 Best Infrared Heaters in 2022 – Top Brands for Indoors and Outdoors
Infrared heating provides consistent, gentle heat that doesn't dry out the air. Since infrared heat targets objects and people instead of heating the air, moisture won't be evaporated away. This is a safe heat source that is great for space heaters, those that attach to the wall, ceiling, or floor, and fireplace heaters.
Infrared is also an excellent heat source for outside heat, since heat will be targeted at people near the heater instead. Other types of heaters waste energy by sending heat out into the air where it quickly dissipates.
Duraflame is a well known name in heating, from their innovative fire logs, to durable infrared heaters and attractive artificial fireplaces. The Duraflame 5HM8000-O142 Portable Electric Infrared Quartz Oscillating Tower Heater, Oak, in particular, is a great heater for your space, and is a safe source of gentle infrared heat.
How to Pick the Right Model For Your Needs?
Why do you need an infrared heater?
Your goals in using your new heater will define what to look for in one.
Choose a heater powerful enough to warm your space, and keep in mind that if you have extremely cold temperatures, bad insulation, or high ceilings, you may want to choose a more powerful option.
Do you want to easily move your unit from room to room or would you rather keep it out of the way and against the wall or ceiling? Perhaps you want a tall model that you can roll out to heat your porch.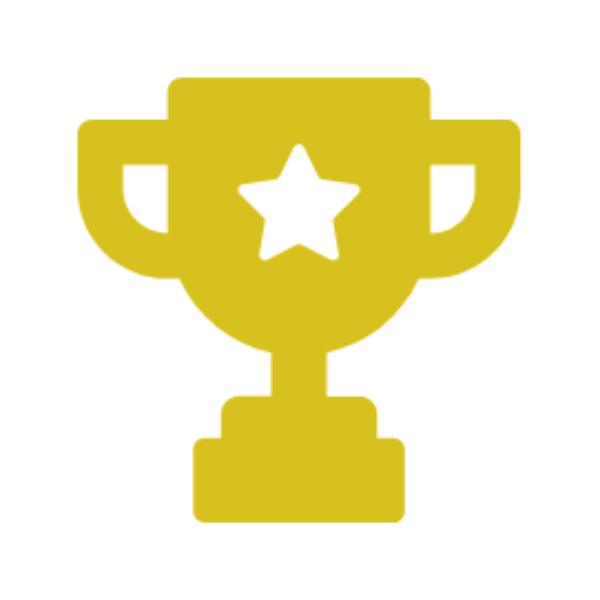 Best Choice
Tall design

Doesn't take up too much space in your room

Safe for pets and kids
5200 BTUs efficiently heat 1000 square feet

Automatically turns off

Choose to air flow stationary or use the oscillation feature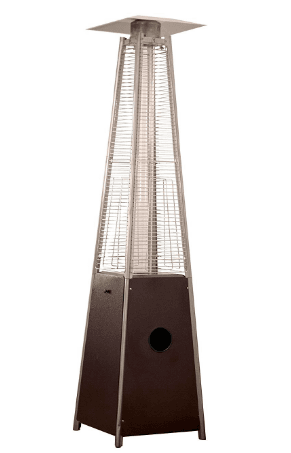 Beautiful

Hammered bronze finish

Powered by a 20lb propane tank
Stands 87" high

Heat source is a lovely quartz glass tube

Puts out a whopping 40,000 BTUs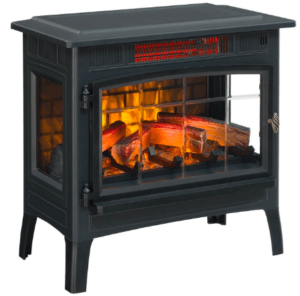 Offers realistic fire-like effects

Creates a lot of heat for up to 1000 square feet

Automatically shuts off the heater if it gets too hot
Automatic shut-off

3D flame effect

Customizable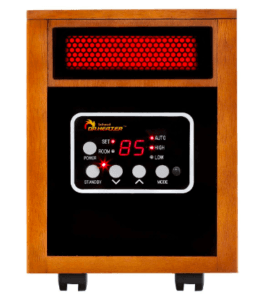 Can heat up even a large room quickly

Tip over protection

Can be controlled with an IR remote control
Auto energy-savings feature

Overheat protection

Dual-heating system
Mounts against your wall

Fantastic choice for a cabin or garage

Great emergency option to have on hand in case you lose electricity
Heats up to 1000 square feet with a powerful 30,000 BTU per hour

Covered by a one-year warranty

Built in oxygen depletion sensor
7 Best Infrared Heater Reviews
1. Duraflame 5HM8000-O142

– Best Overall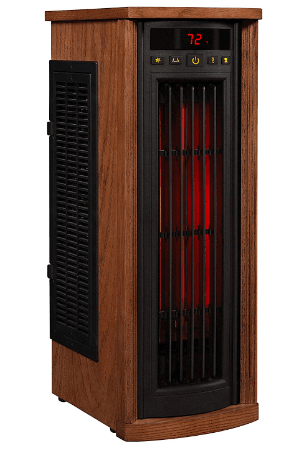 If you want to heat up your space in style and safety, the Duraflame 5HM8000-O142 Portable Electric Infrared Quartz Oscillating Tower Heater, Oak may be just the right heater for you.
This product's 5200 BTUs efficiently heat 1000 square feet. The tall design blows heat out at a comfortable height and doesn't take up too much space in your room.
This is a safe space heater that you will feel comfortable using day after day, whether you are present or not. It is safe for pets and kids. No matter how high it is set to, it won't feel hot when you touch it.
If this unit is tipped over, it will automatically turn off, making it safe to operate even when you aren't in the room.
You can choose to have your air flow remain stationary or you can use the oscillation feature to blow air from side to side.
Infrared heat keeps the humidity in the air, so you will be comfortably warm without being too dry.
2.
Hiland HLDSO1-WGTHG – Best Infrared Patio Heater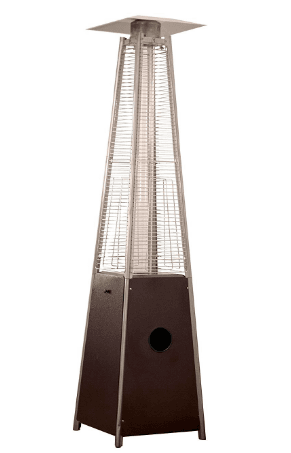 For great heat output outdoors, look no further than the AZ Patio Heaters Patio Heater, Quartz Glass Tube in Hammered Bronze. This beautiful infrared heater lets you enjoy your outdoor spaces in complete comfort every season of the year.
It stands 87" high, which is a comfortable height to warm people standing around it. The heat source is a lovely quartz glass tube that is safely protected behind a metal grate.
A hammered bronze finish completes the look for a lovely addition to the appearance of your patio.
Why settle for a heat source when you can also have a beautiful piece of architecture?
This model is powered by a 20lb propane tank. One tank will last from 8 – 10 hours if set on high, so you can have several evenings of fun on the porch from one propane or butane tank.
This powerful machine puts out a whopping 40,000 BTUs, for all the heat you will need even in cool temperatures.
You can move it with the help of convenient wheels, and the tall, narrow design makes it easy to store in any corner of your patio.
3. Duraflame DFI-5010-01 – Best Infrared Fireplace Heater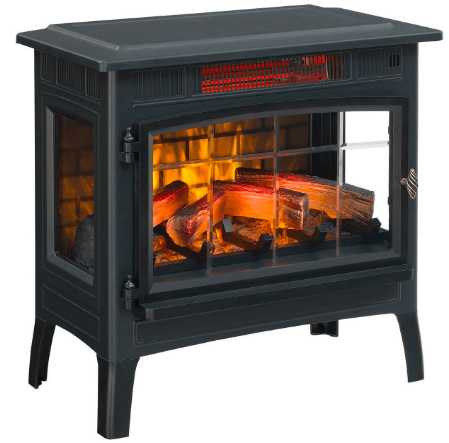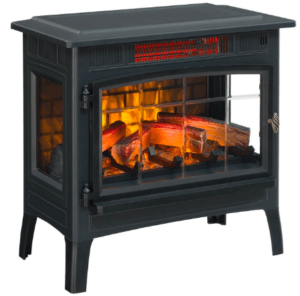 Don't give up on your dreams of having a fireplace just because you rent or live in a home without one.
This Duraflame DFI-5010-01 Infrared Quartz Fireplace Stove with 3D Flame Effect and Remote Control offers realistic fire-like effects, as well as pleasant heating.
5200 BTU creates a lot of heat for up to 1000 square feet. Heat is provided by infrared quartz which heats while still maintaining the natural humidity in the air, so that you will be comfortably warm but not too dry.
Overheat protection automatically shuts off the heater if it gets too hot, so you can feel comfortable running it even when you aren't home. The digital thermostat is fully adjustable so that you can decide what temperature you want your room to be.
A patent pending 3D flame effect creates real looking flames that dance on and behind the logs, for a mesmerizing effect. You can customize the look with five adjustable color, brightness, and speed settings.
4. Dr Infrared Heater – Best Outdoor Infrared Heater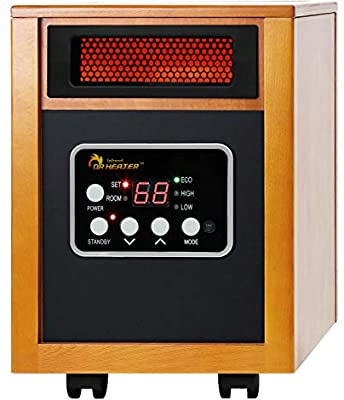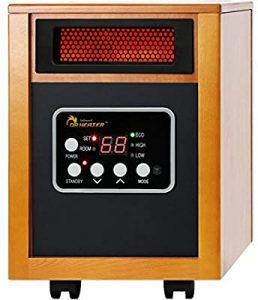 This incredibly effective Dr Infrared Heater Portable Space Heater, 1500-Watt can heat up even a large room quickly with 1500 watts of heating power. An auto energy- savings feature has high and low settings to keep your room comfortable without wasting energy.
This unit has tip over protection so you won't have to worry about it getting knocked over. Overheat protection can put your mind at ease about operating it even when you aren't in the room.
A dual- heating system is utilized to give you optimal heating and control. An infrared quartz tube and PTC are used to provide excellent heat with a 12 hour automatic shut off timer.
This unit can be controlled with an IR remote control and the blowing force is high pressure but low noise, at under 39 dB, so that you get powerful heating action without distracting noise.
This unit can be set to between 50 and 86 degrees for varied temperature control. Castor wheels make it easy to move around your space. The lifetime filter is washable so you can keep getting fresh air for years to come.
At only 24 pounds, this is an easy heater to move.
5. Dyna-Glo IR30PMDG-1 – Best Infrared Heater for Garage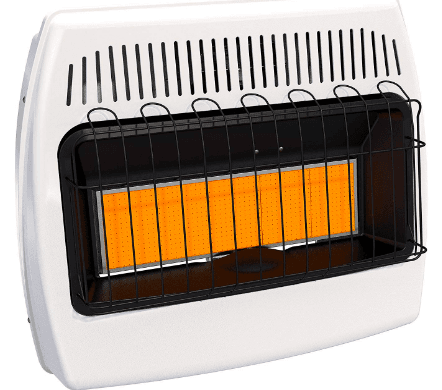 If you would rather have a sleek unit that blends with your decor than a bulky space one, the Dyna-Glo IR30PMDG-1 30,000 BTU Liquid Propane Infrared Vent Free Wall Heater might be the product that you are looking for.
This efficient little model mounts against your wall so it will blend in and stay out of the way. The Dyna-Glo will heat up to 1000 square feet with a powerful 30,000 BTU per hour.
Since it's powered by propane instead of electricity, it is a great choice for a cabin or garage as well as a home. This is also a great emergency option to have on hand in case you lose electricity.
You can heat up to 1000 feet with one small unit. It is covered by a one-year warranty, so you can feel confident about your purchase decision. A built in oxygen depletion sensor gives you confidence in the safety of this unit.
6.

Ivasion 1500-Watt

– Best Quartz Infrared Heater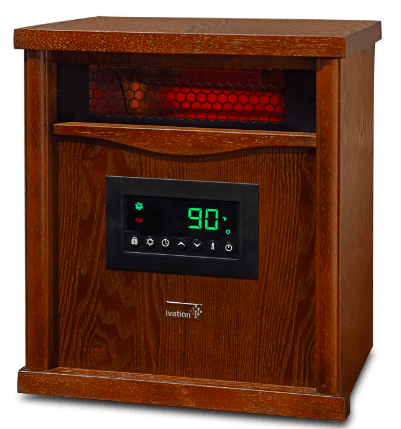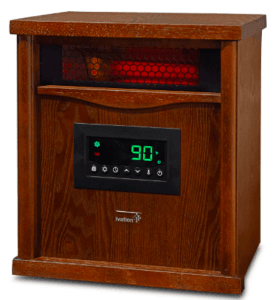 The Ivation Portable Electric Heater, 1500-Watt 6-Element Infrared Quartz Mini Heater With Digital Thermostat harnesses the power of quartz in a compact infrared model that can provide gentle warmth to any space.
The eco friendly quartz elements radiate heat without robbing the air of moisture, so you will be warm and comfortable.
It is easy to program it with the LCD control panel and digital interface display. You can utilize the timer, change temperature, and more with either the buttons on it or using the convenient remote.
There are several useful heat programs including low, high, and eco-heat. It will automatically turn off if it knocked over or if it overheats. The air filter is cleanable so you can always have fresh air.
7.

EdenPURE A5095 Gen2

– Best Infrared Space Heater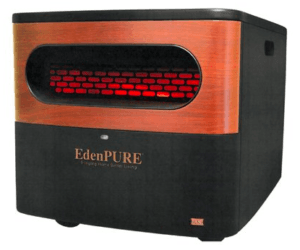 If you need to heat up to 1000 square feet quietly and efficiently, the EdenPURE A5095 Gen2 Pure Infrared Heater, Black might be the tool you have been looking for. This model is easy to move and fits conveniently into your decor.
It won't get hot enough to ignite a fire, and there is no CO2 risk, so this is a safe option for your space. The unit is easy to program with a digital function read out and automatic on and off settings.
A quiet mode and heat on or off choice let you circulate air quietly even when you aren't heating. This can be a great unit to help move air in your space even in the summertime.
A remote control is available with the air purification upgrade kit that comes separately, and it also includes a Hepa filter and a UV light.
Top Infrared Heaters - By Brand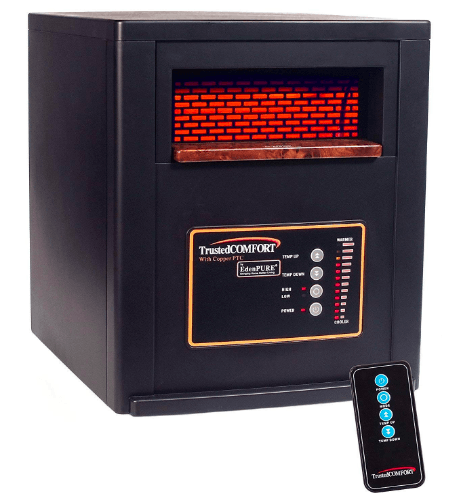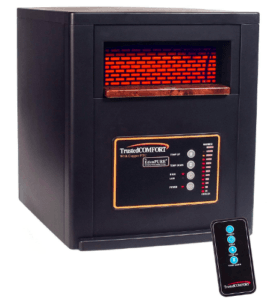 This EdenPURE A5551b Trusted Comfort Heater with Solid Copper PTC and Remote offers incredible power in a durable and compact box model. The front grill cover is ETL approved and touch-safe. A tip over sensor turns it off if it is flipped over.
An auto-reboot feature utilizes copper PTC to enable it to recover from power outages. You can set it to between 40 to 90 degrees, for highly variable choices in temperature.
Choose between high power using 1500 watts and low power using 1000 watts. It also has a remote control for your convenience.
A washable, lifetime filter is included as well. You can easily wheel it from room to room and a full two-year warranty gives you confidence in your purchase decision.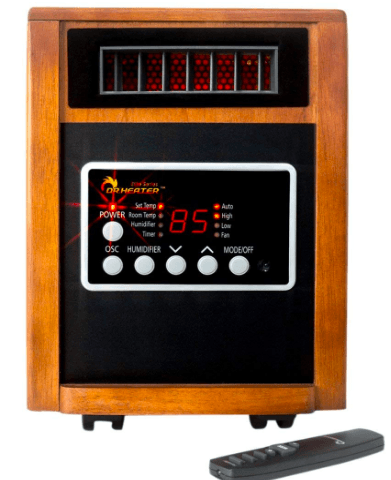 The Dr Infrared Heater DR998, 1500W, Advanced Dual Heating System with Humidifier and Oscillation Fan and Remote Control can heat up a large room, up to 1000 square feet, using dual-heating systems. Both infrared quartz tubes and PVC are used to provide powerful heating.
It will automatically turn off if it is knocked over or overheats. A humidifier is built in to provide a cool mist that counters the dry winter air. It oscillates to distribute warm air across your area more quickly.
You can use it year round, since it can operate as a fan or humidifier without heat if desired. A water bottle is used as the source of humidity. A lifetime filter is easy to clean.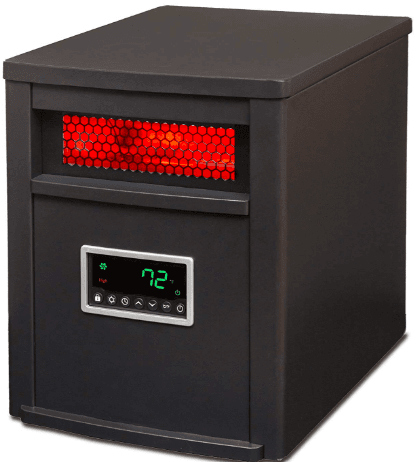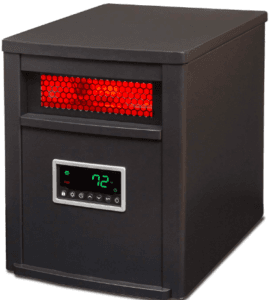 This powerful little option can warm up to 1200 feet. The LifeSmart Large Room 6 Element Infrared Heater w/Remote has three heat setting that are easily controlled using digital controls or an included remote control.
A 12 hour timer lets you conveniently set how long you would like it to be on. This is an energy efficient model which will thoroughly heat the space you're in so you don't have to heat the entire home.
Infrared heat warms people and objects instead of warming the air, so it won't dry out your air, but will maintain humidity.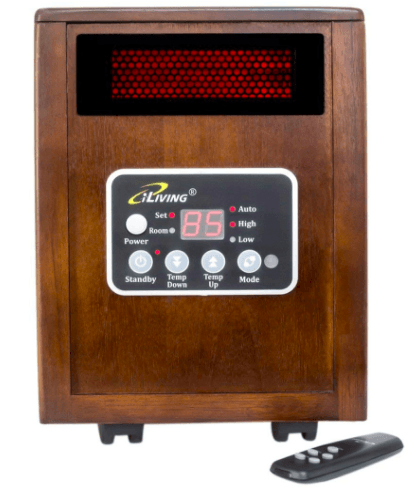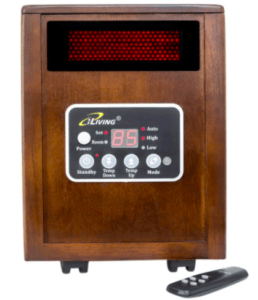 The iLIVING Infrared Portable Space Heater with Dual Heating System, 1500W, Remote Control, Dark Walnut Wooden Cabinet makes heating your space easy AND stylish. The dual heat system is newly designed to put out twice as much hot air as other models.
The blower technology lets it do its work quietly with a noise level of 39 dB. Tip-over and overheat protection put your mind at rest about the safety of children and pets around it.
An auto energy-saving mode goes even further to save money. The classy wooden cabinet design of this model looks great in any space and it won't take up too much room. What's more to want?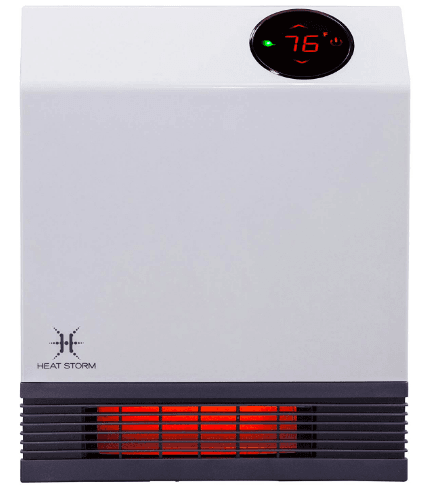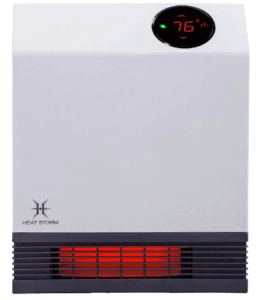 If you want to save space as well as heating your home, this Heat Storm HS-1000-WX Deluxe Indoor Infrared Wall Heater – Plugs Right Into The Wall can suit your needs. 3100 BTUs of heating power can cover up to 500 square feet.
An extremely space saving design utilizes a wall mount so you don't lose floor space. Attaching it to the wall also makes it less likely that kids or pets will knock it over.
You will only use two square feet of wall space, and it is extremely easy to plug this unit into the wall. Both it and the wall will stay cool to the touch, so you will not have any safety worries around this unit.
A built in thermostat and LED display makes programming easy. A remote control is included so you can control the temperature from across the room.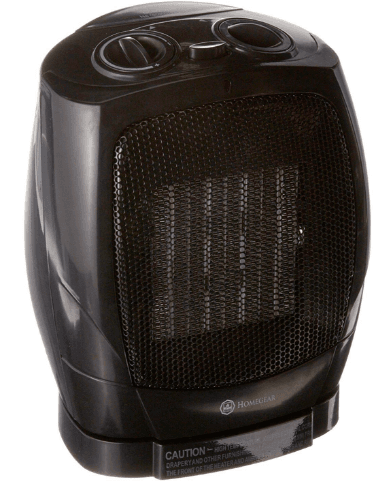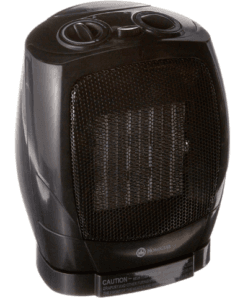 For an affordable little model that can get the job done, look no further than the Homegear 1500W Ceramic Heater with Electric Oscillating Fan Tabletop/Floor Heater with Thermostat. This convenient unit can rest on the table or floor, for versatile use.
A tip over cut of safety system and overheating safety cut-off system can set your mind at ease.
Choose between a strong 1500 watt high heat setting and a lower 750 watt eco-heater setting. The turbo fan heater can also be used as a regular fan for cooling down in the summer.
Read more about the differences between the ceramic heater and infrared heater.
The Duraflame 5HM8000-O142 Portable Electric Infrared Quartz Oscillating Tower Heater, Oak can heat 1000 square feet efficiently using 5200 BTUs while remaining cool to the touch.
It looks beautiful in your space and can be moved around as necessary. Choose between oscillating and straight blowing air.
Think about your goals and carefully choose the right infrared model for you.
Homeheatingheroes.com is a participant in the Amazon Services LLC Affiliate Program, an affiliate program designed to provide a means for sites to earn advertising fees by advertising and linking to amazon.com.