Home Heating Heroes
Some of the links below are affiliate links, meaning, at no additional cost to you, we earn a commission if you click through and purchase. Learn more
Your Guide to Home Heating and Cooling Systems
7 Best Pellet Stoves - Complete Buying Guide 2022
Are you looking for a new heater for your home? Consider purchasing a pellet heater, which is a fantastic addition to the warmth of your home. It is a furnace-style fuel burner that uses wood pellets. These stoves come in a variety of styles, allowing you to make the best choice that suits your taste.
These stoves are different from other types of heating equipment. They offer ease of use and convenience compared to others which produce soot and harmful gases. These are also safe for use in your home because they have new surfaces, unlike wood variants that emit heat through their walls.
How to Choose the Best Pellet Stove for You?
When you're buying a pellet stove, you want to be sure to consider a few things before you invest your money. Many of the stoves on the market are economical and efficient but offer different features. Consider where you'll place the stove and if that room or home has special needs. You should also look at factors like size and BTUs of the stove before deciding on the right one for you.
Size
You'll want to figure out where you want to place your stove before you buy it. Failing to do so may result in limited placement options following your purchase. If you have a special corner in mind for your pellet stove, be sure to find out the dimensions before buying. That way, you can purchase a stove that will easily fit where you plan. You'll want to factor in any extra space you may need for safety. Check with specific manufacturers for clearance needs to prevent fires.
A note about placement: many times, pellet stoves become focal points in a room. You may want to style your room around your pellet stove as it will almost certainly draw attention from any guests who come into your house.
BTUs
BTUs are important to consider because this will dictate just how much space in your home, basement, enclosed porch, or living room will get warm. The higher the amount of BTUs an appliance can output, the larger space it can heat.
If you have a 2,200 ft² house that you want to heat with your pellet stove, you'll want to make sure you find one that can burn at about 55,000 BTUs per hour. The BTUs are significantly reduced for a smaller 1,200 ft² space that may only need 20,000 BTUs.
Related Article:
7 Best Pellet Stove Reviews
1. Comfortbilt HP-22 50000 BTU Pellet Stove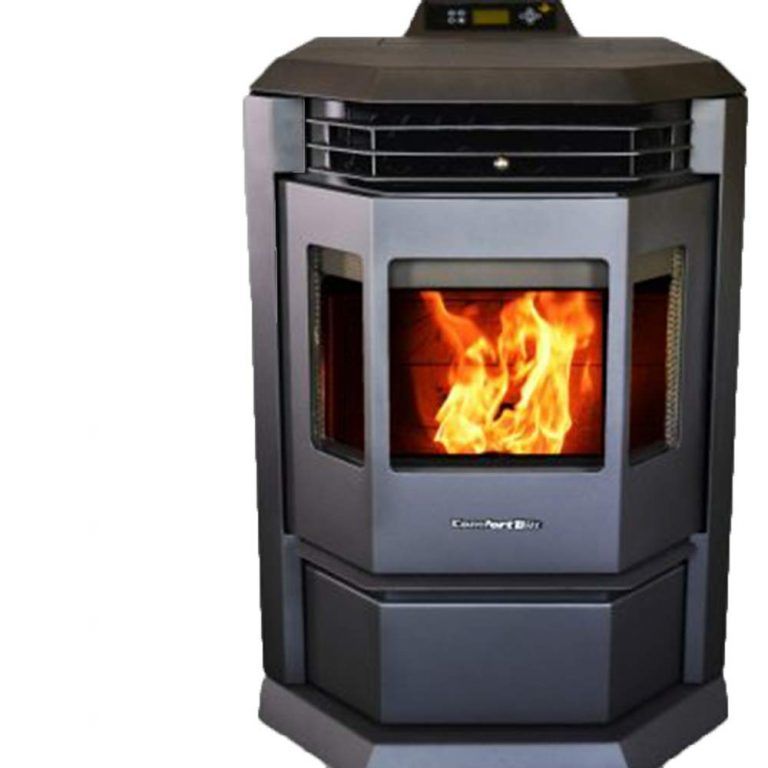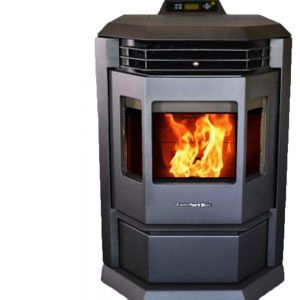 Comfortbilt is still entirely new in the market but has received among the best reviews from users.
It has gained its reputation for its high-quality craftsmanship and design.
The Comfortbilt product is slightly higher priced compared to the rest because of the quality and efficiency it offers.
It has a heating capacity of up to 2800 square feet. It has a 55lbs hopper. It also has a heat output of 50,000BTUs and 86 percent burn efficiency. It also has a burn time of 12 to 24 hours. For your convenience, Comfortbilt has an auto ignition and programmable thermostat feature. The EPA certified unit also comes with an ash pan.
It provides a broad view, thanks to its bay design. The only downside to this stove is that the hopper is relatively small, which makes refilling of pellets quite tricky.
Unit requires ONLY 110 volts to run perfectly
55 lbs. hopper capacity means fewer pellet refills
Carbon black color blends easily with any decor
Large bay window allows for viewing the fire
50,000 BTUs heats 2,800 ft²
EPA Certified helps you reduce your carbon footprint
Powerful fan blows hot air throughout your space
Company offers superior troubleshooting assistance after each purchase
1-year parts warranty KEEPS your unit running
Ashpan prevents messes and makes cleanup easy
Pellets may be fed into firebox too quickly
Paperwork accompanying stove can be hard to understand
2. Castle 12327 Serenity Pellet Stove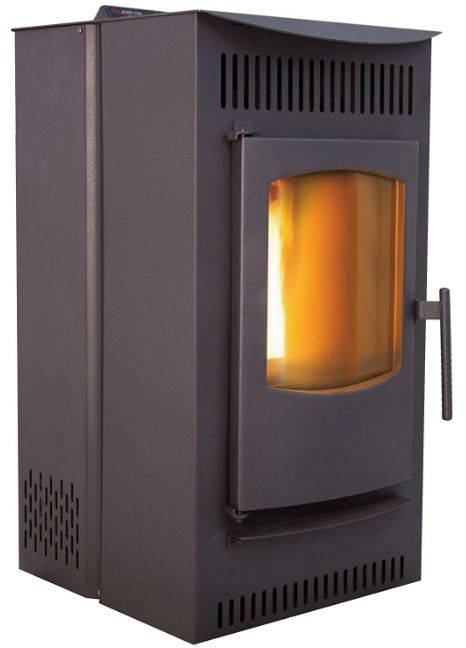 Castle Serenity is an affordable and accessible to maintain stove. If you are on a budget, then this is the product for you. It has an efficiency rating of 69.8 percent with a power output of 31,960 BTUs. The stove has a heating capacity of 1500 square feet and a 40-pound hopper.
You can adjust the heat to suit your needs with the programmable controller. If you have a busy schedule, then you should consider getting one for your home. The controller allows you to adjust heating for specific times. As a result, your house will be heated whenever you need it, like when you arrive at work. The EPA certified fireplace has five feed rates and blower speeds.
The stove is easy to clean because you do not have to remove the panels to clean it. The main drawback to this item is that you will have to turn it off when you do not need it manually.
Easy to install stove runs on wood pellets
Features easily adjustable local thermostat for YOUR comfort
Offers 5 burn levels to keep you comfortable
Smart controller allows you to program warming modes
Affordable product keeps you warm through colder months
Unit is easy to clean
Needs JUST 77 Watts, 120 volts to run
Warms up to 1,500 ft² of space
Modern design is well suited to contemporary decor
It can go anywhere thanks to compact design
Unit blower has been reported to be loud
Must be adjusted for elevation or window blackens
3. US Stove GW1949 Wiseway Non-Electric Pellet Stove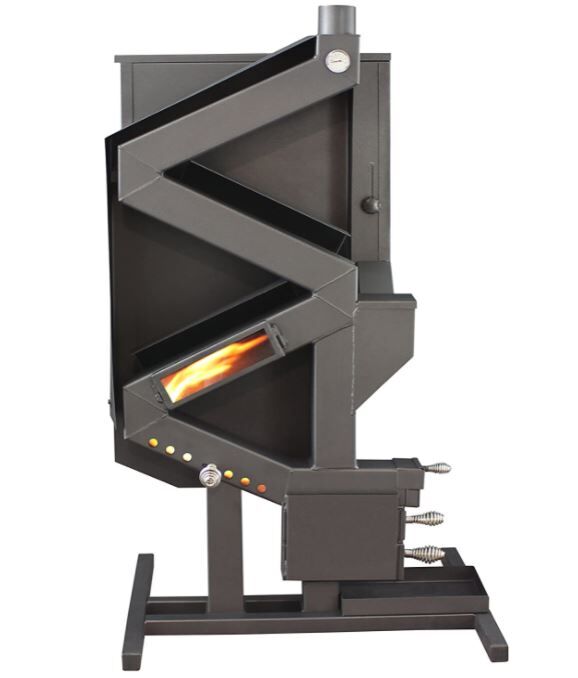 The EPA certified product is very different from other heaters. Unlike others that rely on electricity or mechanical parts, this heater utilizes the natural force of gravity to feed the system. It is well known for its low maintenance property. It is perfect for consumers who stay in areas that are power outages. It is also ideal for people who are off the grid.
It can heat a space of up to 2000 square feet with a heat output capacity of 40,000BTUs. Such output is very impressive for a heater that does not rely on electricity. It also has a 60-pound hopper that can last up to 36 hours. It has a standard 3-inch vent for feeding in the pellets. The technology behind how a pellet stove works is quite amazing.
One of its significant advantages is that it does not rely on electricity. Meaning it saves you a lot of money and it is also eco-friendly. The only main disadvantage is that it has no automated controls to manage the temperature.
Oversized 60 lbs. hopper BURNS for 30 hours
Requires less maintenance because it uses gravity feeder
Silent operation means you will never be disturbed
EPA Certified design takes protecting your environment seriously
Heats 2,000 ft² using 40,000 BTUs
Manufactured from durable steel for extended life
Modern STYLE fits in well with metropolitan decor
Safely use in place of natural gas heaters
Clean up is easy, ash byproducts are minimal
Perfect for heating your small cabin or shop
Creosote builds up if unit isn't maintained properly
Some users have had problems with temperature gauge
4. Vogelzang VG5770 Slimline Pellet Stove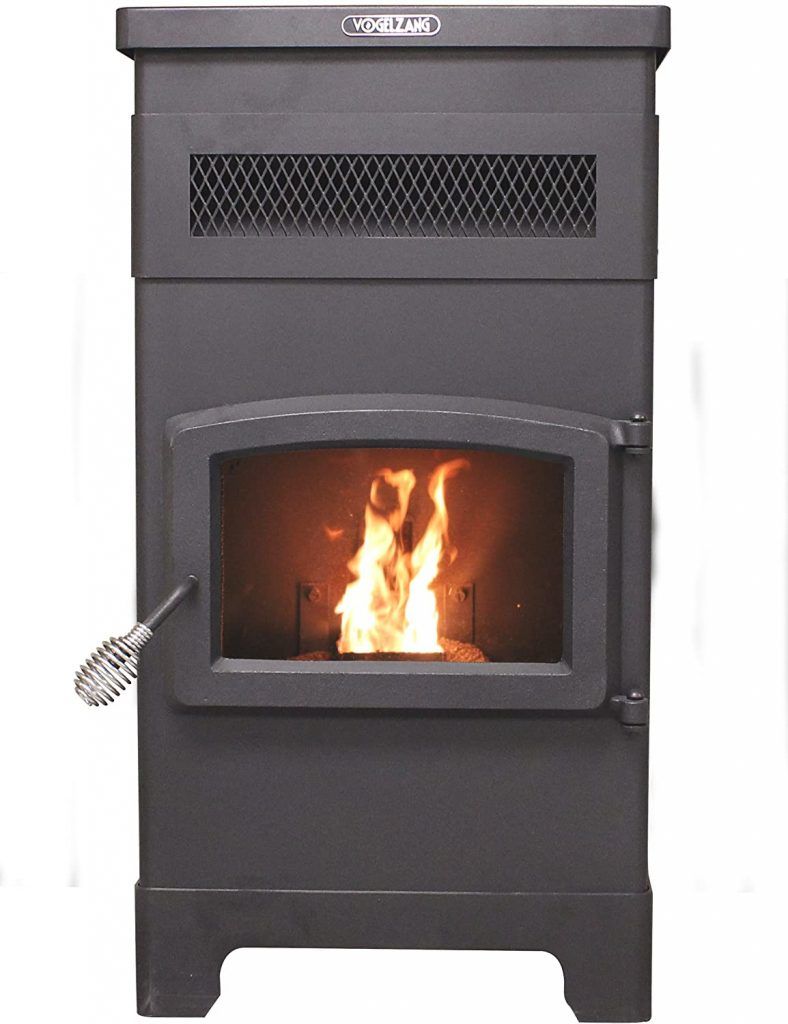 Say hello to the Vogelzang VG5770 Slimline Pellet Stove. This well-constructed stove has a compact footprint, meaning you can install it just about anywhere in your home that needs a little bit of warming up. You'll enjoy reading your books, watching TV, or doing needlework near your open fire for years to come. You'll love how clean-burning the pellets are for this stove, especially if you're used to using fuel like propane or cordwood.
The Vogelzang VG5770 Slimline Pellet Stove also reduces your risk of fire. There are no sparks from pellets like wood, and using pellets significantly reduces creosote build-up. There is no risk of burn on the sides and top of the model thanks to the solid construction and insulation. The exhaust pipes on this stove don't get dangerously hot, further reducing the risk of fire and burns when operating. Be sure to close the door on your stove completely, or else the stove will shut down to prevent fires.
This terrific investment will pay for itself in saved money on bills in no time. You're sure to love this pellet stove.
Thermostat displays on LED screen
Airwash glass keeps fire fueled with OXYGEN
Autoignition removes guesswork from lighting stove
Hopper holds 60 lbs. of pellets, reducing refueling
TOP mounted controls allow for ease of access
Slender profile means it can fit anywhere
48,000 BTUs warms 2,200 ft² economically
Easy to install, works out of the box
GREAT for use in basements, workshops, sheds, porches
Quiet fan won't disturb you during work
Onboard computer has been reported to have issues
Manufacturer does not offer good troubleshooting or support
5. ComfortBilt HP22-N Pellet Stove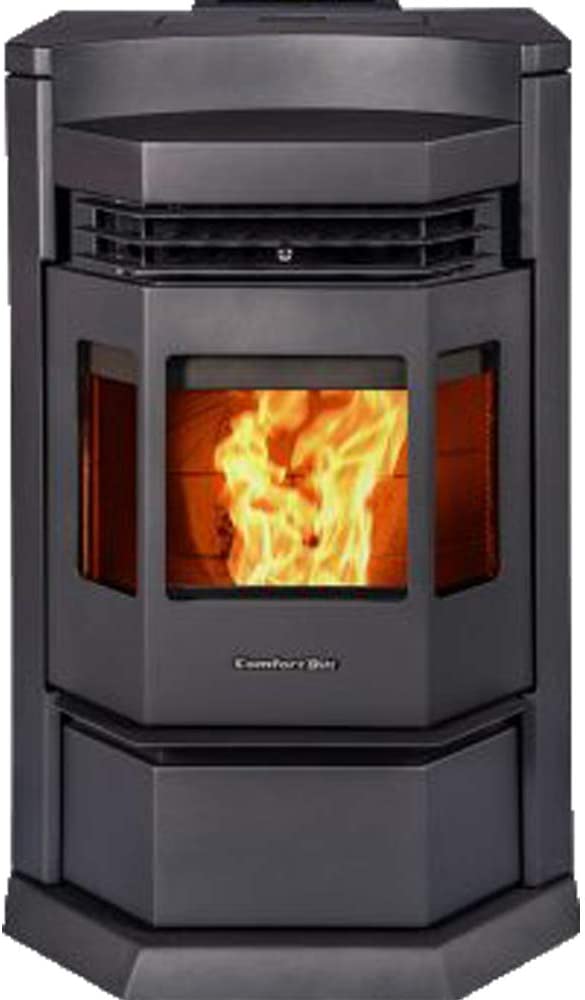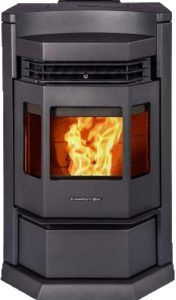 Improving on the ComfortBilt HP22 is the ComfortBilt HP22-N Pellet Stove. This awesome pellet stove has many of the same features as their first but is much larger to accommodate the room needed for its 80 lbs. hopper! The lowest heat setting of this ComfortBilt will burn for as long as 36 hours without needing refills. You'll never need to trade in a tank of propane or natural gas again thanks to the ComfortBilt HP22-N Pellet Stove. Worries of gas leaks become a thing of the past when you've got wood pellets to burn instead.
This stove is a terrific option for those who have larger finished basements, garages, or workspaces that need a bit of extra warmth. You'll never have to worry about the use of messy cordwood again when you've got hardwood pellets to burn cleanly. Wood pellets reduce to such a small amount of ash that your ash pan is almost not necessary, but ComfortBilt includes it for added convenience. All you have to do is sweep or vacuum out the drawer, and you'll be all set for your next burn session. Stay warm all winter long with your ComfortBilt HPP22-N Pellet Stove.
50,000 BTUs is EXCELLENT for heating large rooms
80 lbs. hopper reduces number of refills
Autoignition makes turning model on/off easy
Programmable thermostat keeps you comfortable
Carbon black color is reminiscent of older models
Powerful blower is EPA certified
Ashpan makes clean up easy, reduces messes
Requires only 110 volts or operation
Watch flames through oversized BAY window
1-year warranty available after purchase
Manufacturer can help with troubleshooting issues
Arrives very quickly after shipping
Hopper door is very small and hard to refill
Hopper design often causes problems with burning pellets
6. PelPro Pellet Stove PP130-B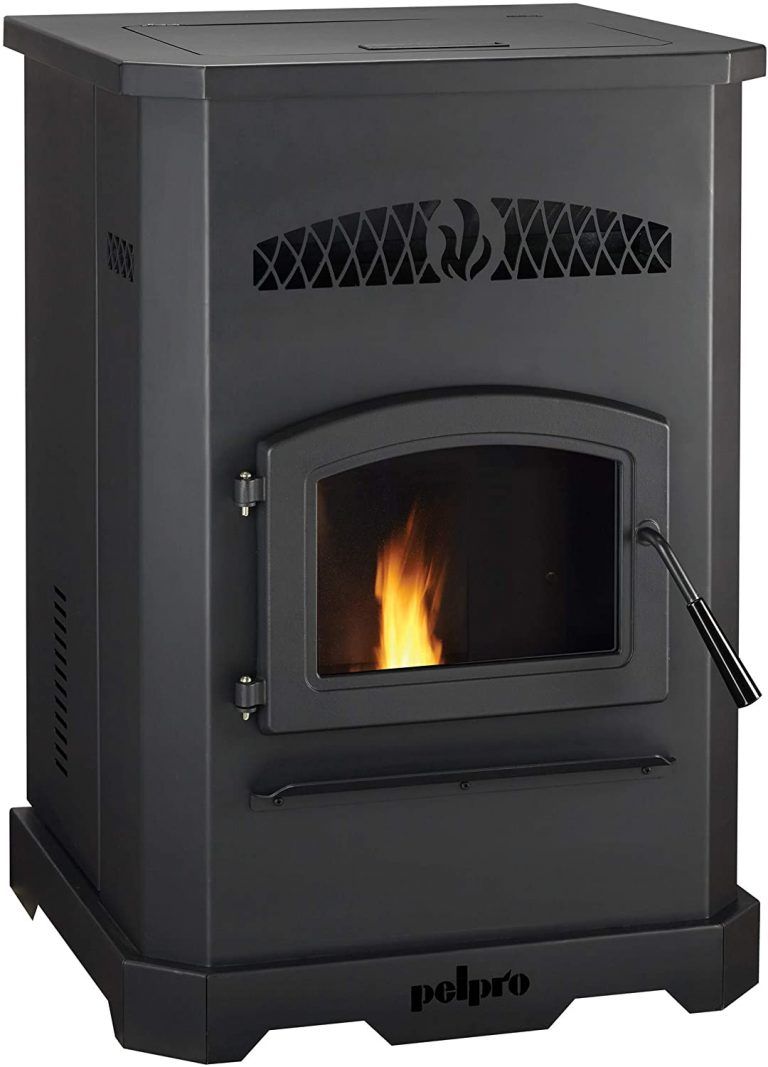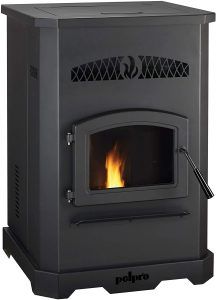 Gather friends and family in your game room or finished basement and huddle around the PelPro Pellet Stove PP130-B for warmth while watching the BIG GAME on your TV or shooting pool. You'll never have to end your evenings early because the weather turns colder thanks to this magnificent little stove.
You won't miss your fireplace since you can still watch the flames leap inside the stove, thanks to the crystal clear viewing window. You can enjoy your view staring in the early fall months, straight through winter, and on into spring. You'll get plenty of use out of your PelPro Pellet Stove PP130-B.
This stove exceeds 2020 EPA certification standards, so you know your pellet stove will reduce your carbon footprint for years. You don't have to worry about contributing to pollution because the wood pellets burn virtually clean, leaving minimal ash byproducts to clean up.
Your friends and family will be overjoyed to extend their good times into the early hours of the night with your PelPro Pellet Stove PP130-B. Everything from the color to the design of your stove is attractive, including the easy cleanup. You'll only need to vacuum or sweep out your stove once every 4 days, giving you much more time to relax and enjoy your company instead of having to tend to the fire.
Stove boasts LARGEST hopper on the market at 130 lbs.
Autoignition makes lighting stove easy
Control temperature output with settings 1 to 10
Dial thermostat is easy to use
Heat 2,500 ft² with high BTU output
Self-emptying firepot extends time between cleanings
Window lets you enjoy the flames
Large hopper allows for 4 days before refill
Provide 58% MORE heat than best competition
Clean burning performance protects your environment
Steel design builds and retains heat very well
Appliance may need troubleshooting with manufacturer
Issues with auger may persist
7. Cleveland Iron Works PS60W-CIW Pellet Stove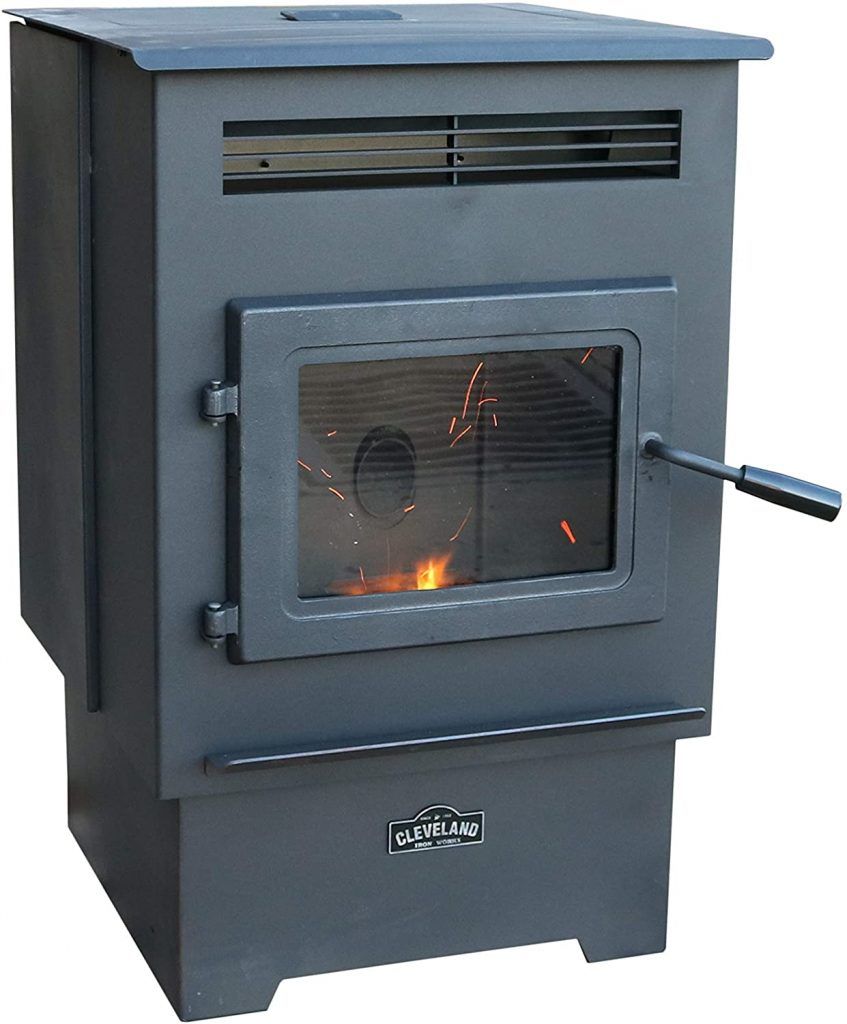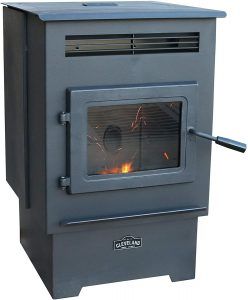 The Cleveland Iron Works PS60W-CIW Pellet Stove is the best pellet stove for smaller homes. Since it easily heats up to 1,200 ft² with 34,000 BTUs, your family, friends, and even your pets will be ditching their sweaters to sit by the fire. Comfortably chat and share fun times as the heat generously fills your home even during dark winter days.
Your living room or bedroom will feel toasty warm even on the coldest nights, thanks to the Cleveland Iron Works PS60W-CIW Pellet Stove. Kick off your blankets or flannel jammies and allow this awesome wood burning stove to keep you warm instead.
You'll love the easy airflow inside and outside the unit to keep your hardwood pellets burning for hours. Once your fire is out, you'll find that cleaning your stove is an absolute breeze. Just sweep or vacuum out the ash box, and you'll be ready to fire it up again for many more hours of warmth.
The comfort this stove provides is excellent, as well. The ambiance will throw you back to old fireside chats with parents or grandparents during a simpler time. An added bonus is the light wood scent that emanates from the stove as you burn, creating wonderful memories for years to come.
Massive 60 lbs. hopper keeps fire going for HOURS
Features a remote control for easy controls
EPA Certified so you're protecting the environment
Durable solid steel and cast iron construction
34,000 BTUs warms your entire house
Includes a fresh air intake kit
Innovative design connects to WiFi easily
Heats 1,200 ft² of space easily
Use with smartphone apps on IOS and Android
Stove is built to LAST
Stove service areas are easy to access, no guessing
Efficient way to heat your home inexpensively
Larger rooms only get 9 hours of burn time
Stove is heavy and difficult to move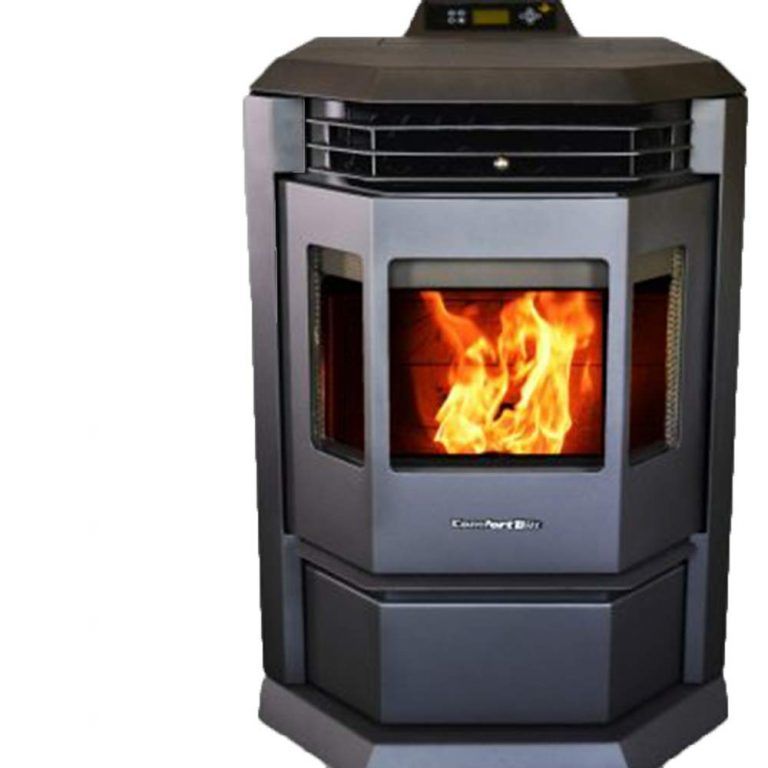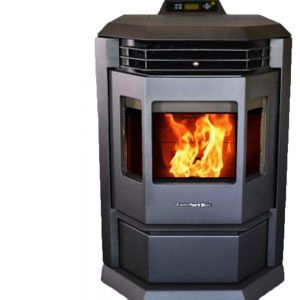 The Comfortbilt Pellet Stove HP22 50000BTU is our favorite pick because it offers value and quality at an affordable price, making it suitable for average consumers. Compared to its current price, it provides an impressive heating output of 50,000BTUs. It can also heat up a space of 2800 square feet, which is quite large compared to the rest of the heater.
It also has a Comfort Control System, which allows you to adjust the temperature to your desired level.
Finally, it boasts of a pleasing and aesthetic design, with a large viewing pane, which makes your home elegant. To know more about stoves and other home heating equipment, you can click here.
Homeheatingheroes.com is a participant in the Amazon Services LLC Affiliate Program, an affiliate program designed to provide a means for sites to earn advertising fees by advertising and linking to amazon.com.