Home Heating Heroes
Some of the links below are affiliate links, meaning, at no additional cost to you, we earn a commission if you click through and purchase. Learn more
Your Guide to Home Heating and Cooling Systems
9 Best Tower Heaters of 2022 - Buying Guide
I swear the room I stay in is ALWAYS 5 degrees colder than the rest of the house in the winter and 5 degrees hotter in the summer. I think it has something to do with the insulation, but I'm not sure. I know that having a space heater helped keep the chill at bay during the cold, snowy months.
Space heaters are the best quick fix for a cold room, and they're available in a variety of sizes and prices. I particularly liked tower heaters because they save on floor space while also canceling out the cold. To inspire you, I reviewed the 9 best tower heaters on the market today.
9 Best Tower Heater Reviews
1. TaoTronic PTC Space Heater: Best Tower Heater Overall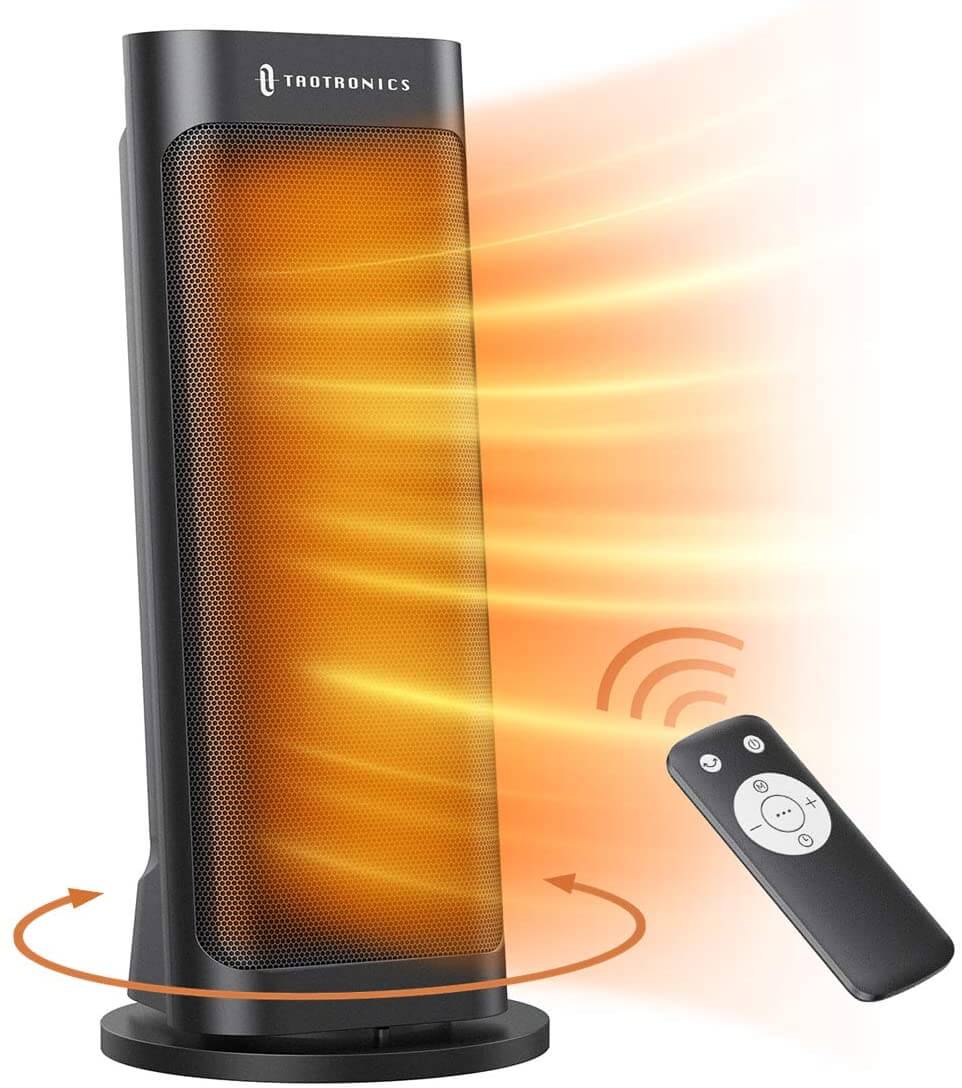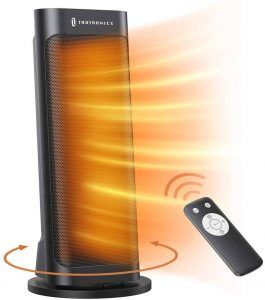 Key Features:
Temperature range: 41-95°F
V0 Flame Resistance Material
Tip-over Protection included
Overheat Protection included
Auto shut off settings
20% wider heating range
The TaoTronic PTC Space Heater is easily one of the best tower heaters on the market.
If you need a room warmed up quickly, this device will DO it. It boasts super-fast heating that can hit a pleasant 70°F within just 3 seconds. And the temperature controls give you precise control over your desired heat range.
You can control all of this from a remote, so you don't have to leave your couch to change settings or turn it on. If you want to set and forget before bed, you can set it to turn off at a specified time, so you can sleep without worries.
This fantastic tower heater comes backed up by a suite of safety features that ensure you don't burn the house down. These features include its construction out of V0 flame-retardant material and power off and tip over switches for safer operating conditions.
The last (or first) thing you might notice is that it's also INSANELY quiet. Since it runs at just 45 decibels, it's quiet enough to use when sleeping. At only 18" high, the only reason you'll notice this tower heater is the warmer air in your room.
Its small size and hidden handle mean you can take it with you when you move from the living room to the bedroom, and it fits comfortably on most tables.
SUPER fast heating

Compact and portable
Remote control for precise temperature and timer control
Who Should Get This?
This heater is for light sleepers and remote workers who need something that heats the room quietly and safely. It's also easy to set up and portable.
2. PELONIS PH-19J Tower Heater: Best for the Money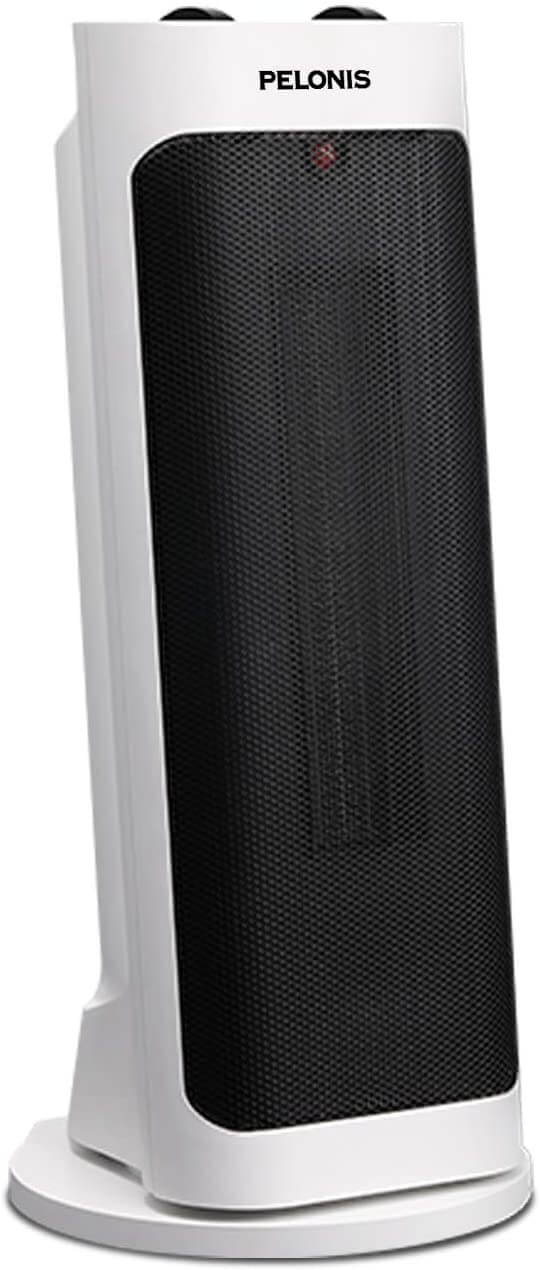 Key Features:
Overheating and tip-off protection

Cool touch material

Programmable temperature thermostat

Mechanical control knob

Tilt-proof design
This heater is an excellent pick for the price. I was blown away by how well it performs despite its low price. It has up to 1500 Watts and offers the same super-fast heating – it hits 70°F in just three seconds. If you need to get warm, this unit will do it as well as the top model for a fraction of the price.
Where it differs from the other model is in its design. It's a sleek white and black unit that adds a modern touch to whatever room it inhabits. If you're like me, you might also appreciate how lightweight and portable it is. It almost feels like a mini Apple device with its high end and polished look.
The heat it radiates is gentle and not too abrasive, meaning you can keep it close without worrying about getting burned. The design is weighted so that it won't tilt over, which should bring peace of mind to parents and dog owners.
The material it's made out of is flame resistant and also designed to be cool to the touch, so you don't have to worry about burning yourself or your pets on this heater. It comes with overheating and tip-off protection, and it has programmable temperature settings.
Good performance for the price point

Clean, high-end look

Gentle heat means you can leave it close
Who Should Get This?
Get this model if you want a heater that performs as well as the best, but at a fraction of the cost. However, be prepared to lose a few features in the process.
3. Lasko 5538 Ceramic Tower Heater: Best Ceramic


Key Features:
Corded electric power

Multi-function remote control

Comes fully assembled

2 heat settings

Easy to read digital display
Ceramic heaters are better for smaller closed-off areas, making the Lasko 5538 Ceramic Tower Heater the perfect pick for those who just need to warm up an individual room rather than a larger space.
Another notable feature that will win over the energy conscious and budget-minded is the built-in Save-Smart technology. It works by running at full heat in cold rooms before eventually switching to lower power once the room is warmer.
And it'll be able to do that FAST, as it comes equipped with fans that emit powerful high-velocity air, pushing heat throughout the room, rather than just in the area in front of the heater.
It also comes fully assembled, meaning all you'll need to do is plug it in. Its easy-grip handle allows you to quickly and safely carry it from room to room, depending on where you need the most heat.
One thing that wasn't so great was its lack of a tipping safety feature. I knocked it over and was dismayed to find that it kept running even while facing the ground, which is a fire hazard. Parents with small children or pet owners might want to choose an option with more safety features.
Save-Smart technology saves energy
Powerful air velocity pushes heat throughout room

Auto thermostat mode adjusts flow
Does not shut off if knocked over
Who Should Get This?
This is an excellent choice for the energy-conscious buyer who needs to heat small rooms. Although it will heat an area evenly, don't get this if you're prone to knocking things over.
4. TRUSTECH Electric Space Heater for Large Room: Best Large Tower Heater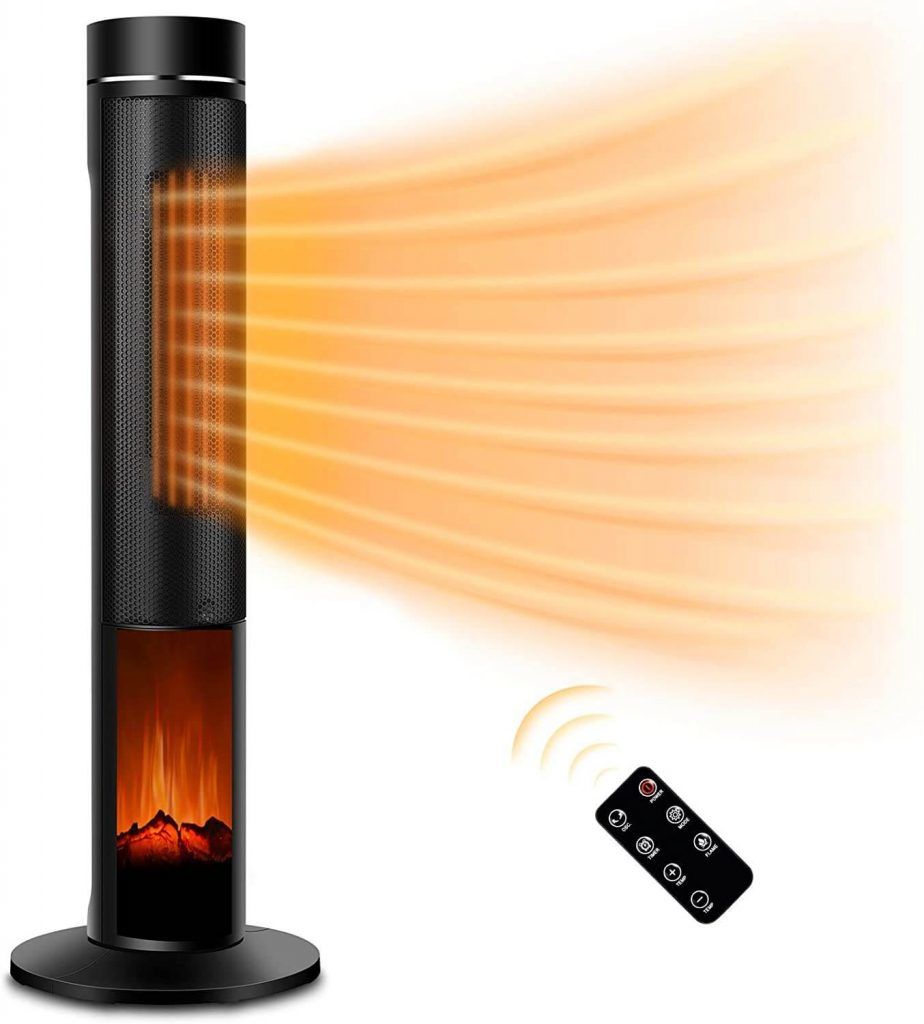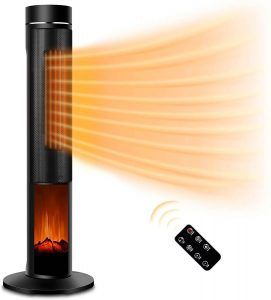 Key Features:
Tall at 36"
3D realistic flame design

Programmable timer and heat settings

One year quality assurance

Energy-efficient design
I liked that this heater came with a fan, allowing it to heat and cool you down when you need it.
This built-in feature informs the rest of this model's design, as many other aspects of the heater take advantage of the ability to go warmer or colder. For example, its ECO setting lowers your energy bill by alternating cold and hot air for IMPROVED air circulation.
The fan also means that it can auto-adjust heat both up and down when you program in a temperature. This tower heater is almost a full climate control device, which makes sense, given its higher price point.
It's worth the cost because it's a large device, suited for heating bigger rooms. Another neat little function is the realistic glowing flame at the base of the heater. It gives off a nice bit of ambient lighting that made my space feel a lot cozier. Plus, it's perfect for kids (or adults) who still need night lights.
This large tower heater also comes equipped with safety features to keep you, your pets, and your children safe from fire. Its 45° overtip protection feature means that if it falls over, it'll cut off instantly.
Suitable for heating large rooms
ECO setting for alternating cool/hot air cycling

Auto adjusts temperature up and down

Overtip protection feature
Full real estate of heater not used
Who Should Get This?
You should get this if you have a large space you want to heat with an eye-catching tower while saving on your energy bills.
5. AmazonBasics Infrared Quartz Tower Heater: Best Wood Finish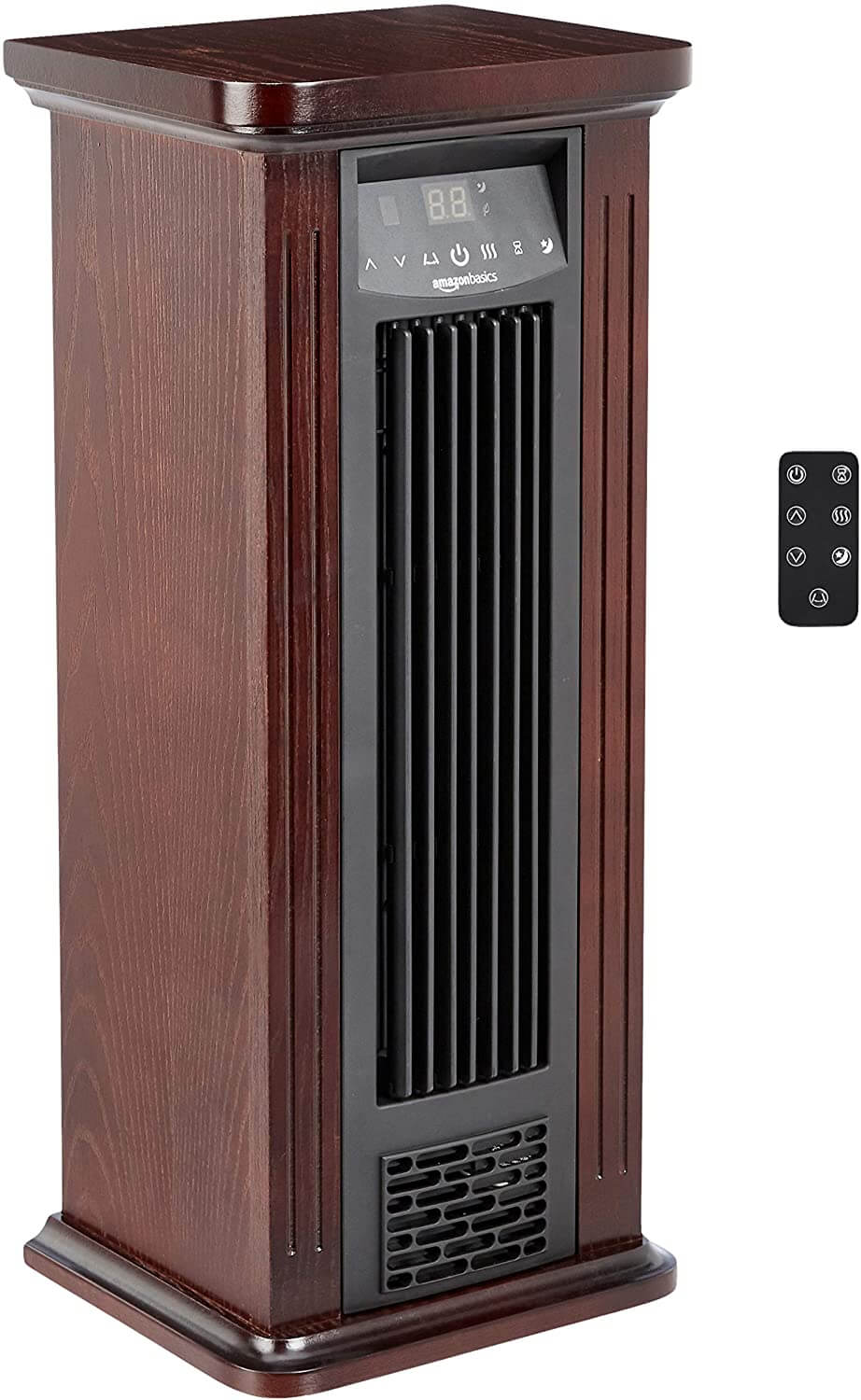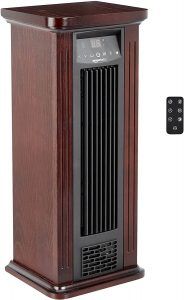 Key Features:
Woodgrain housing and construction

9-hour timer setting

Eco mode and sleep mode

Ambient temperature sensor

1500 Watt infrared quartz
A wood finish makes anything look better, whether it's hardwood floors or a tower heater. The AmazonBasics Infrared Quartz Tower Heater has a fantastic premium appearance that would suit any office or cabin, but it also comes with a rather hefty price tag. You can choose between a warm brown or a cool grey to amp up the decor in any room.
Still, this infrared heater is a good pick if you like the look, and it doesn't slouch on heating functionality either.
However, there were some things I didn't like. When it oscillates, the front grill swings out, making it difficult to tell if it's functioning as intended. I also wasn't impressed with the small temperature range, which only ranges from 60 to 85°F.
On a more positive note, the stylish wood paneling is built to take the heat, as it remained cool to the touch even when it was running. The 9-hour timer means that you don't need to worry about the heater, even if you accidentally leave it running.
Also, the one year warranty comes bundled. Even though I haven't had any issues with it, I love that I don't have to worry about this model breaking any time soon.
Premium look
Lots of modes to take advantage of

One year warranty
Paying for the premium look
Who Should Get This?
This model's perfect for you if you need something unobtrusive that can easily blend into a furnished office. However, you will pay for the appearance.
6. Lasko 6405 Designer Heater: Best Designer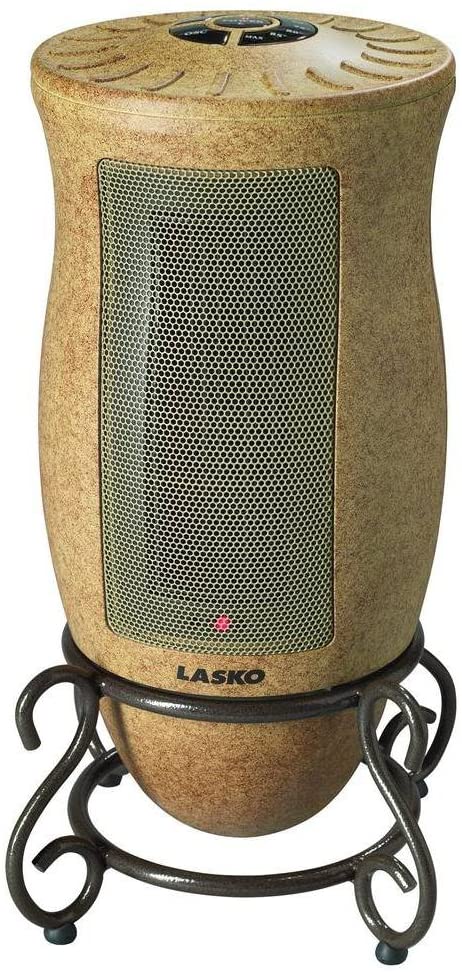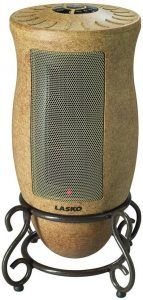 Key Features:
Comes fully assembled
1500 watts of power

Broad coverage oscillation

Decorative metal scroll base

Timer and auto shut-off included
The Lasko 6405 Designer Heater is a freestanding model that comes in a fantastic and attractive package. Eschewing the familiar tower design, it looks more like an hourglass and comes with a decorative metal base that further adds to the designer feel. Even the gold-colored finish gives off an air of style and mystique. The great thing about this tower heater is that the cost is equivalent to other similar heaters, meaning you won't pay for the look.
It also performs well when it comes to heating. The 1500 watts of power it packs in is sufficient to heat a space of 50 square feet. This is partly due to its broad coverage oscillation, which evenly disperses warm air all over the room.
I also liked how easy it was to set this unit up. It comes fully assembled, so all you have to do is plug it in. It's backed up by a 3-year warranty that means you can use it for the long haul, though you do have to be careful not to void the strict conditions of this policy – make sure not to plug it into a surge protector.
However, unlike other tower heaters, this designer option does not come with a remote, meaning more trips every time you want to change the temperature.
Looks great while still being affordable

Operates quietly, but not silently

User-friendly LED controls
Warranty policy makes it hard to get replacements
Who Should Get This?
This heater is an excellent pick if you're looking for a distinctive design that adds to the decor while also providing even heat throughout the room.
7. Air Choice Tower Heater for Office: Best for Office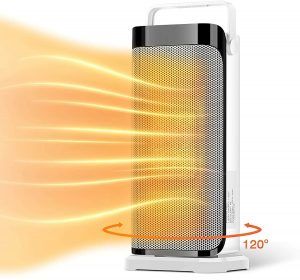 Key Features:
3 second heating time

Smart temperature control

Natural cool wind function

120° oscillation

10% larger air vents than other models
Poorly heated offices are the bane of cold workers everywhere. Thankfully, fixing the problem doesn't require massive office overhauls. It's as simple as getting a heater, and the Air Choice Space Heater for Office is the best option out there.
Critically, it's perfectly sized to fit underneath the average office desk, so you can count on it to warm up your toes through your thin dress shoes. It also comes with a three-second heating time, followed by consistent warmth, meaning it can turn an office from frigid to toasty nearly instantly.
It also works great in the summertime, as it comes with a natural cool wind function, making this tower heater a great investment for areas with extreme temperature changes throughout the year.
Regardless of what you use it for, it'll consume a minimal amount of energy owing to its huge turning radius – 70° more than competitors – and its 10% larger air vents, allowing for more heat spread.
This all comes packaged in a very low noise package that is entirely free of distracting lights, making it well suited for the times when you just need to focus and grind out some work.
Fits well under an office desk

Minimal energy consumption for heat produced
Low noise tech and light-free design
Who Should Get This?
If you're sick of freezing in the office and always have cold legs and colder hands, this heater is the one for you. It's perfectly suited for the workplace.
8. Lasko 5812 Air-Flow Tower Heater: Best Airflow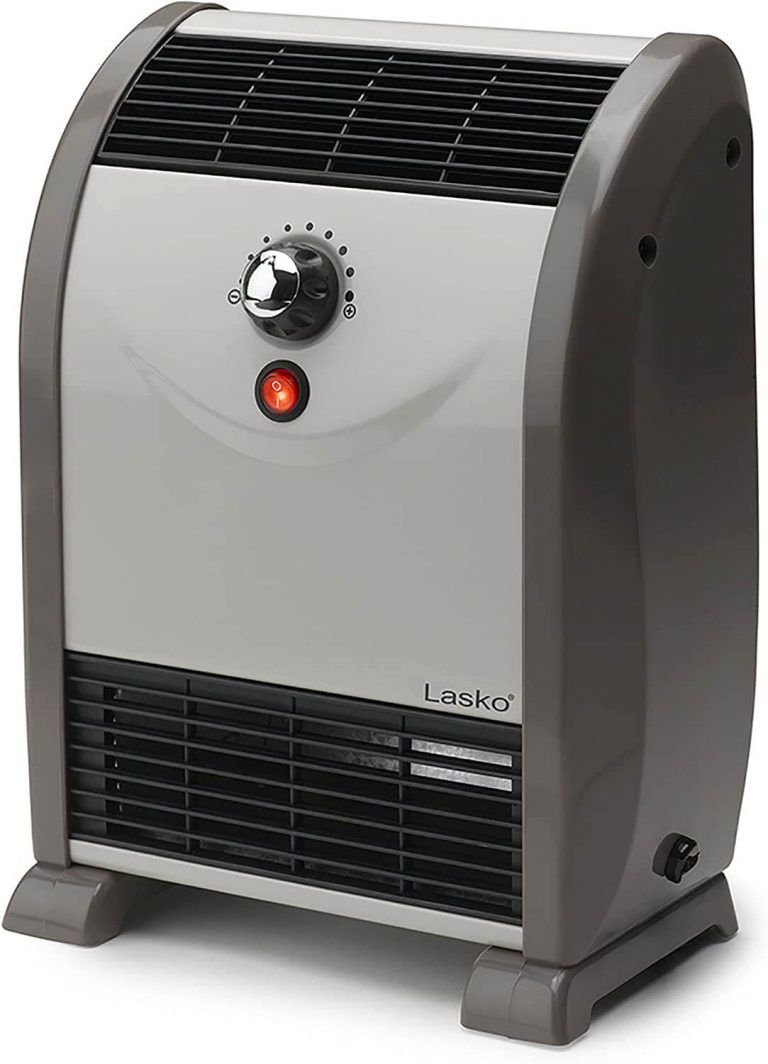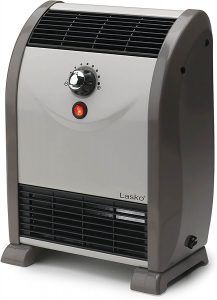 Key Features:
Built-in carrying handle
Heat regulator adjusts from 750 to 1500 watts
Warms 300 ft²

Tip-over safety switch included

Fan-forced heat directed to floor level
While other models use ceramic heating elements that are spread with fans, the Lasko 5812 uses a mainly air-flow based system. Its fans force the hot air to blow toward the floor, making it great for rooms with drafty floors.
But just because it's aimed at the ground doesn't mean it won't provide full-body warmth. The heat will naturally rise, heating the room from the ground up.
Because of its air-focused design, it's capable of covering a much larger area than other models. It can heat 300 ft², making it well suited for just about any room you want to throw it in.
Though it comes with a heat regulator that adjusts the power as needed based on ambient temperatures, it doesn't have more specific thermostat control. It can be hard to keep a room at a particular temperature point. If you need to keep a room precisely at 72°F, you might want to look at a different model.
Lastly, I appreciated the design. It's built to go up against a wall and take up a small amount of space, with most of its size stretching vertically. It'll fit neatly wherever you put it, and it'll pack a lot of heat.
Great for drafty floors

Space-saving wall design

No burnt-plastic smell
Who Should Get This?
This is the model for you if you want a relatively rare airflow-based design that heats the ground and the room around it.
9. Vornado SRTH Tower Heater: Futuristic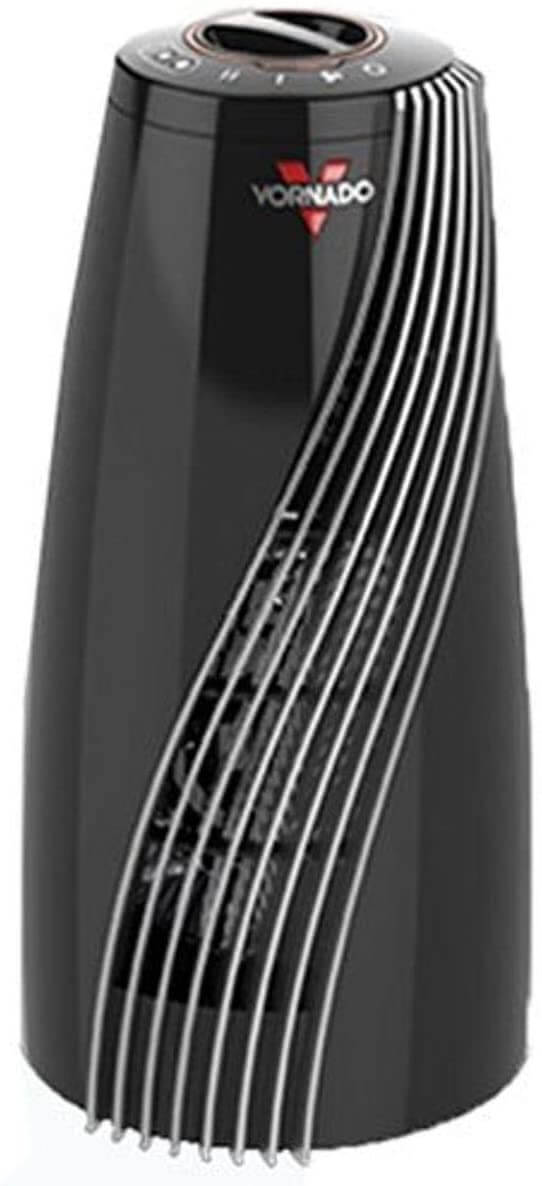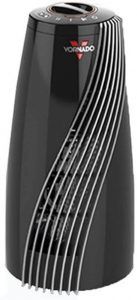 Key Features:
V-Flow heat circulation without intense heat

Five-year warranty policy

No oscillation necessary

Two heat settings

Weighted sturdy base
Its striking design features a slanted series of vents that stretch diagonally across the unit. Rather than use the typical rotating system, it instead relies on proprietary V-Flow technology. Using contoured air outlets, it can create a wide span of heat that circulates continuously throughout the room.
What's even more impressive is that it's able to do this at a much lower power setting than other units. Of its two settings, it only goes as high as 900 watts. However, because it operates so efficiently, this low power output doesn't get in the way of its reliable heating power. You'll be warm AND happy with your energy bill.
The build quality of the Vornado is also fantastic. It comes with a sturdy weighted base, so you don't have to worry about knocking it over by accident. And the casing is made with cool touch material. Parents, pet owners, and accident-prone buyers will appreciate these features.
The Vornado comes with a fan-only setting, making it perfect for year-round use. Instead of having to find a storage place, you can keep the Vornado running in the heat and the cold.
I love the slick futuristic look and appreciate its astounding five-year warranty and customer service policy.
Design enables fantastic heating potential

Cool futuristic look

Lower energy consumption
Only rated for U.S. voltage requirements
Who Should Get This?
The Vornado is for you if you want a uniquely designed, lower power heater that performs just as well as its peers while looking slick to boot.
Most tower heaters will warm you up in a small room, but it still makes sense to choose the best one possible. Of all the heaters I've reviewed, I have to say that the TaoTronics PTC Space Heater is the best pick overall.
It comes with impressively fast heating and is capable of hitting 70°F within just 3 seconds. It also comes with a remote control for ease of use.
Even better, the construction is flame-retardant, and it has power off and tip over switches to protect against the most common causes of tower heater-related fires. You won't regret this purchase.
How to Choose the Best Tower Heater?
Choosing a tower space heater can be a daunting task. With so many choices and features out there, it's hard to know which one is the right one for you. But there are some things you can consider to find the perfect fit.
However, the question remains, what exactly should you be on the lookout for when buying one of these units?
Wattage
The first thing you might want to consider is the wattage of the unit. This is directly tied to heating power, making it a critical feature of any heater. However, the figure alone doesn't say much – the real reason you should care about wattage is that it translates to total heat coverage.
Here's how to figure out how much square footage a heater covers. A watt represents 1 joule of work per second and is tied to how much total heat is produced. 10 watts works out to about 1 ft² of heat, meaning a 1500 watt heater can cover 150 square feet.
You want higher numbers for more heat. Just plug in your room size and the wattage of the tower heater to figure out how much area a specific heater can heat.
Energy Efficiency
Energy use is another critical element of the heating equation. This is also entirely dependent on wattage.
Take the watts the unit uses and divide by 1000 to get kilowatts, typically used in electric bills. Then multiply it by the hours you run the heater a day, multiply by the days you run it, and finally multiply by the kilowatt per hour rate on your electric bill to get the estimated monthly cost of running a heater.
If you want more energy efficiency, then consider choosing models that have lower wattage power settings.
Other considerations to save energy include keeping the heater in a smaller space and closing the room door to prevent heat loss. Also, make sure to use thermostat functions at low settings and turn off the heater when not in use. You may also want to lower the central house temperature if you're in the room with the heater.
Size
You should also consider the size. If you're just looking for spot heating, then consider getting a smaller, weaker heater. On the other hand, if you need to warm up a larger space, it may be prudent to get a full-room heater.
Safety
Fires happen every year due to improperly used space heaters. Avoid being caught in this situation by choosing heaters with full suites of safety features. You want the unit to have overheat protection, and preferably tip-over protection as well. You should also choose one with a sturdy power cord that won't fray or break.
A quick shorthand for safety is to look for testing lab certifications. Underwriters Laboratory (UL) and Intertek (ETL) are two companies that can verify heaters have met voluntary U.S. safety standards.
Homeheatingheroes.com is a participant in the Amazon Services LLC Affiliate Program, an affiliate program designed to provide a means for sites to earn advertising fees by advertising and linking to amazon.com.